Wrigley winds alter Cubs' fortunes in opener
Jackson gives up four runs in first; ninth-inning rally leaves bases full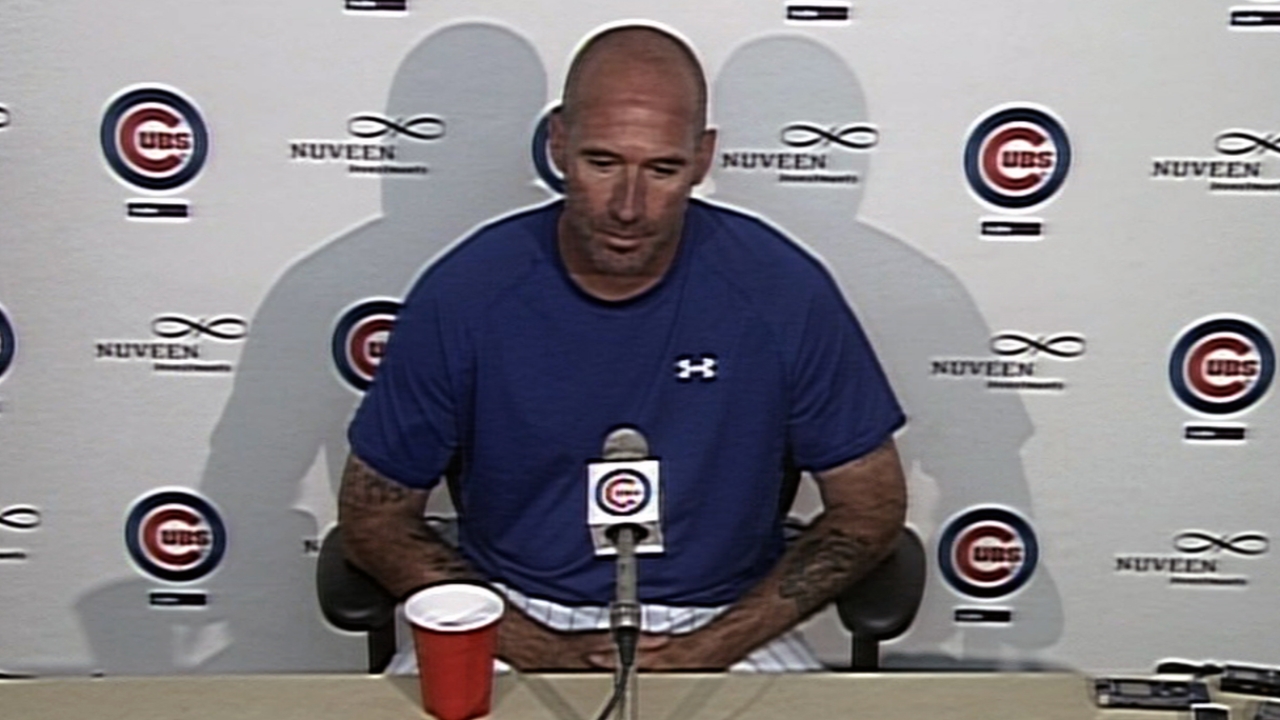 CHICAGO -- Any of the new Cubs who hadn't played much at Wrigley Field were exposed first-hand Monday to how the wind can change things.
Martin Maldonado hit a wind-aided three-run double in a four-run first inning, and the wind shifted in Milwaukee's favor in the ninth to freeze Starlin Castro's potential extra-base hit as the Brewers held on for a 7-4 victory.
The loss spoiled the fun for the 40,083 fans at the home opener. Monday marked the start of the 100th season of baseball at Wrigley Field, which was first home to Chicago teams known as the Federals and the Whales. They probably didn't have to check weather.com before every game.
The Cubs were 0-for-6 with runners in scoring position through eight innings before Alfonso Soriano singled to lead off the ninth, advanced on defensive indifference, and scored on Nate Schierholtz's single to end that trend. Luis Valbuena added an RBI single and one out later, Castro flied out deep to right with the bases loaded.
"He got it. That's a walk-off home run," Valbuena said of Castro's fly ball. "It's crazy here. One inning, it's blowing out, one it's blowing in."
"I hit that ball good -- the wind changed," Castro said.
"With the wind blowing today, I wasn't sure where the flags were going at that point," said Jim Henderson, annointed the Brewers closer on Monday. "[Castro's ball] was either going to be way out, or in [right fielder Norichika Aoki's] glove."
What if the wind hadn't shifted?
"Probably off the wall," Brewers manager Ron Roenicke said of Castro's ball. "Some things went our way, and that was good."
It's only manager Dale Sveum's second season, but he's seen the conditions change enough to know.
"I had a bad feeling when we got things rolling there [in the ninth] and had nobody out and those three guys coming up and that wind shift was going to obviously be a factor in the game, both ways," Sveum said. "The wind-blown bases-loaded ball by Maldonado, they got four [runs], and the wind shift cost us four. That's Wrigley."
The 24-mph southwest wind didn't help Edwin Jackson (0-2). The Brewers loaded the bases in the first with two outs, and Jackson then walked Alex Gonzalez to force in a run and Maldonado followed with a bases-clearing double to go ahead, 4-0. Aoki doubled to lead off the Milwaukee second and scored one out later on Ryan Braun's double to right.
After the first, Jackson changed his grip on his two-seam fastball to get better command. It worked.
"He was pulling and jerking his fastball and he couldn't get ahead or anything," Sveum said. "He changed the grip and things changed around."
Said Jackson: "It changed the comfort level. It allowed me to be more comfortable on the mound and feel like I could go out and execute my pitches."
Welington Castillo took advantage of the wind in the Chicago second, hitting his first home run into the basket rimming the top of the brick outfield wall in center and driving in Soriano, who had singled, to close to 5-2.
Jackson was pulled after throwing 101 pitches over six innings and giving up eight hits and walking five. Milwaukee loaded the bases in the seventh against Shawn Camp and tallied runs on a sacrifice fly by Yuniesky Betancourt and an RBI double by pitcher Marco Estrada (1-0).
There were plenty of dignitaries for the home opener, including Chicago Mayor Rahm Emanuel and Ald. Tom Tunney, who are involved in negotiations regarding Wrigley Field's $300 million renovation plan. They sat together in the front row near the Cubs dugout.
Hall of Famers Billy Williams and Fergie Jenkins threw out ceremonial first pitches, and 82-year-old Ernie Banks led the crowd during the seventh-inning stretch. Wrigley, which first played host to the Federals and Whales before the Cubs called it home in 1916, was decked out in red, white and blue bunting, which the strong wind whipped.
"It's 'keep the ball down' day," Sveum said.
There were some positive signs regarding the offense as Soriano notched his first multi-hit game and Castillo extended his hitting streak. Castro did triple off the right-field wall in the third. But the Cubs didn't take advantage of the hitter-friendly breeze at the start of the game, and that's something that needs to change, Sveum said.
"Nobody's pressing right now," Sveum said. "It's just a matter of getting everybody together. Our fourth hitter [Soriano] doesn't have an RBI yet, not that he's swinging horrible by no means, but we're not getting many homers or RBIs out of those spots."
Carrie Muskat is a reporter for MLB.com. She writes a blog, Muskat Ramblings, and you can follow her on Twitter @CarrieMuskat. This story was not subject to the approval of Major League Baseball or its clubs.