Nava's blast helps make winner of Buchholz, Sox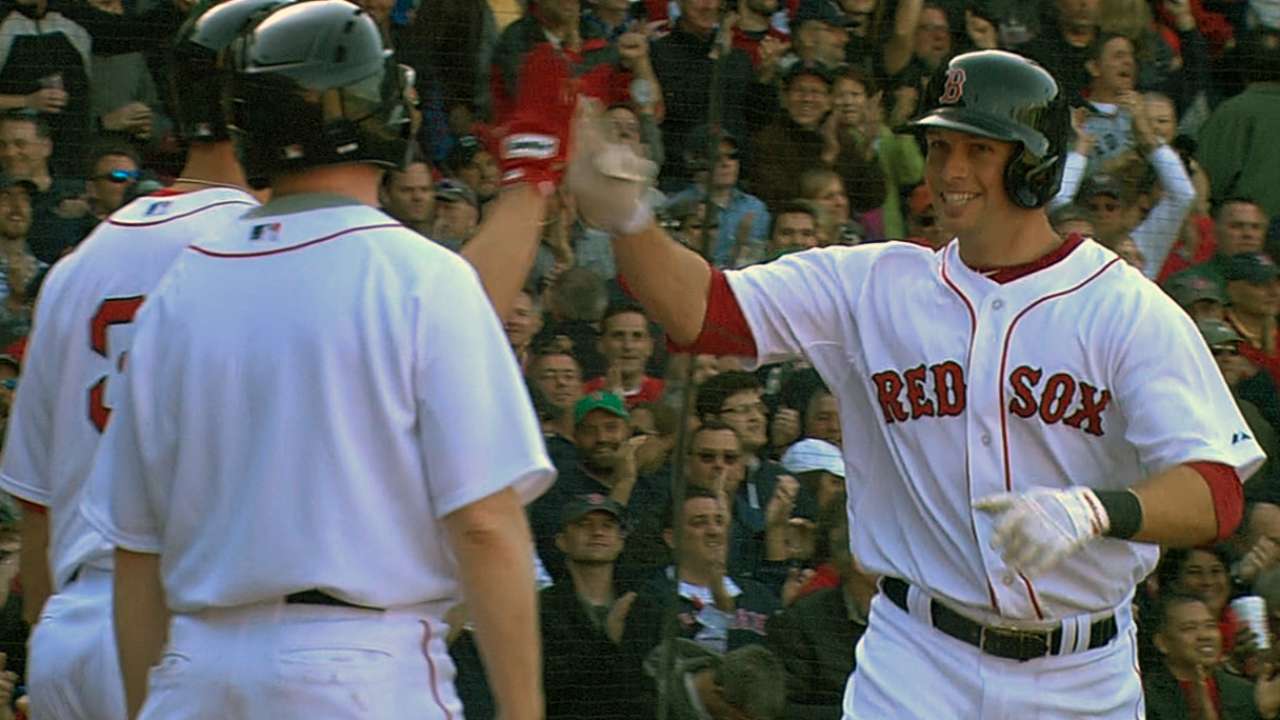 BOSTON -- With the shadows hovering over home plate for hours, the big hit seemed all too elusive for both teams in Monday's Fenway Park opener.
But Daniel Nava emerged with one out in the bottom of the seventh and unloaded for a three-run blast that soared over the Green Monster and into a garbage bin on Lansdowne Street for the game-breaking hit that led the Red Sox to a 3-1 victory over the Orioles, Boston's ninth straight win in its home opener.
The moment was somewhat symbolic because Nava's career also seemed lost in the shadows at various times.
Last year at this time, Nava wasn't even on Boston's 40-man roster. This, after a rough 2011 washed away his dream start in '10, when he smashed the first pitch of his career over Boston's bullpen for a grand slam against the Phillies on national television. And to find Nava in the first place, the Red Sox had to scour the roster of the Chico Outlaws, an independent league squad.
"It's special because it's Opening Day, which is a special experience just to begin with," said Nava. "And then for me, it's special because of the journey I've taken. I wasn't trying to hit a home run. It just worked out like that."
Speaking of that journey Nava has taken, consider that Monday was his first Major League home opener and he is 30 years old.
Yes, it's been a tricky path, but Nava has found a way to navigate it to prominence.
His moment came when he stepped up with two on and one out against Orioles lefty Wei-Yin Chen, who had been marvelous for most of the day.
With the count 1-1, Nava got a 91-mph fastball and belted it for his second homer in the last two days, snapping a scoreless tie in the process.
"Knowing that the shadows were in play, I wasn't sure how I was going to pick the ball up," Nava said. "And knowing the game situation, I was trying to get on him early, because who knew what was going to happen in that situation, so the first ball I fouled off and was a little late on it, and maybe they just read into that and thought they could get inside. Fortunately he left it a little over the middle and what happened happened. It worked out. I won't complain."
Though Nava has made an imprint in spurts for the Red Sox -- both in 2010 and last year -- he has looked like a far more polished player during the early part of 2013.
Interestingly, Nava -- a switch-hitter who is better from the left side -- sat in the three previous games Boston faced lefties this season. But with highly touted prospect Jackie Bradley Jr. going into a slump over the weekend in Toronto, Nava got the start against Chen, and the move by manager John Farrell certainly paid dividends.
"Well, the way Chen has been effective against lefties, the way Jackie has been pitched to pretty consistently here of late, and, really, the way Daniel has swung the bat of late [made the decision]," Farrell said. "I think he's done a much better job of picking out some pitches and getting a pitch to drive."
Thanks to Nava, Sox right-hander Clay Buchholz was able to get the win he deserved instead of a no-decision.
Buchholz fired seven shutout innings, allowing three hits and no runs. He walked four and struck out eight, improving to 2-0 while lowering his ERA to 0.64.
"Always good to win. We were sort of going inning by inning, both guys running out there," said Buchholz. "It's tough. Each out you do get going up to that point, you don't want runners getting on because all it takes is one pitch, as you saw. Those are fun games to pitch in, especially when you come out on top at the end."
Dustin Pedroia (infield single) and Mike Napoli (double that scraped the wall in center) started the winning rally. Chen got a temporary reprieve when he struck out Will Middlebrooks.
Instead of going to the bullpen, Orioles manager Buck Showalter gave Chen the chance to get out of his own jam, but Nava didn't let him.
The Red Sox didn't get a hit off Chen until the fourth, when Shane Victorino led off with a single. But that hit was immediately erased when Victorino was caught stealing.
Buchholz ended his 113-pitch performance with a strikeout of Steve Pearce with two outs in the seventh, stranding Matt Wieters on second.
Adam Jones got the O's on the board with a solo homer off Joel Hanrahan in the ninth before Boston's closer recorded his third save of the season.
But the moment of the day belonged to Nava. Victorino, who played for the Phillies in 2010 when Nava made that spectacular debut, was glad he was on the other side this time.
"I told him I had deja vu, because I remember his first pitch. I was standing in center field and watched him hit that grand slam off of [Joe] Blanton," Victorino said. "In a clutch situation, he came up and hit a three-run home run today. I told him it brought me back some flashbacks of his first Major League at-bat."
Ian Browne is a reporter for MLB.com. Read his blog, Brownie Points, and follow him on Twitter @IanMBrowne. This story was not subject to the approval of Major League Baseball or its clubs.