Late rally gives Royals victory in home opener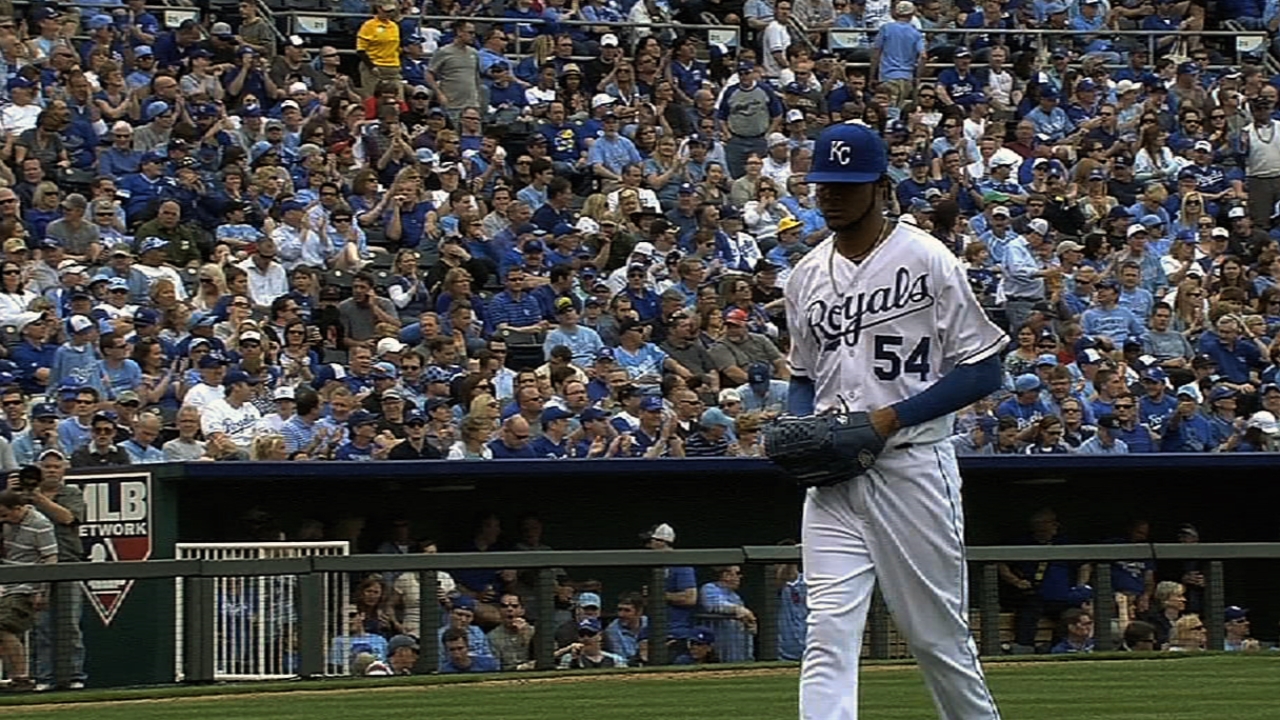 KANSAS CITY -- For the better part of eight innings, the 40,073 fans at Kauffman Stadium for the Royals' home opener were about as subdued as a packed house can be. And then ...
"The place just came alive in the eighth inning, and that was just awesome to see," said reliever Aaron Crow.
What injected life into Monday afternoon's gathering, after seeing the Royals sputter for seven scoreless innings, was a three-run rally that carried them over the Twins, 3-1.
"You don't want to wait until the eighth. You don't want to make that a habit," said Billy Butler, who had one of the big hits.
"It's better later than soon," winning pitcher Ervin Santana said, "and we did it. I thank my teammates for that."
"[We got it done] a little bit late, in the eighth inning, but it just made it that much more exciting," said manager Ned Yost.
Hoo boy, did it.
What the Royals wanted to avoid was a repeat of their dreary start at home last season. Last April they came off the road with a 3-3 record, had an eager sellout crowd and promptly gave up seven first-inning runs to Cleveland.
"Last year we came in with the same excitement, and were down seven in the first inning," Yost said, remembering it all too well.
His Royals proceeded to lose 10 straight games at home and 12 in a row overall.
So now here they were, down, 1-0, to longtime National Leaguer Kevin Correia, with Santana also pitching beautifully after giving up one run on four hits in the first inning. Yost figured that perhaps Santana was a bit charged up in his first home start as a Royal.
"You couldn't tell by looking at him, but there was probably some excitement," Yost said. "I don't want to say [it was] nervousness, but it's a little buzz you get in your body there, and it took him an inning to settle down."
And settle down he did, getting his first KC victory with an eight-inning, seven-strikeout performance.
"Santana was fantastic, really had his great slider working today," Yost said. "They took advantage of some pitches up in the first inning, but the defense bailed him out big time."
Ryan Doumit's two-out single had just driven in the Twins' run when Trevor Plouffe also singled. Left fielder Alex Gordon fielded the ball and fired home to make Justin Morneau stop at third. Meanwhile, Doumit had rounded second too far, tried to get back and was gunned out by catcher Salvador Perez's peg to Chris Getz. Instead of bases loaded, the inning was over.
"I didn't pick up the third-base coach," Doumit said. "That was my fault. There's no excuse for it. You are taught to pick up the third-base coach rounding second. I didn't, and I paid for it."
After the first inning, Santana held the Twins scoreless through the eighth. But Correia was sharp, too, over the first seven innings, giving up just five singles -- and no runs.
But Lorenzo Cain led off the Royals' eighth with a double to right-center field and was bunted to third by Getz. Gordon lashed an RBI single over pulled-in second baseman Brian Dozier to tie the score.
"Ned kept saying, 'We need to get something going,' and [that] if someone gets on, we were going to hit-and-run, but no one was getting on," Gordon said. "So finally, I got on first, and he wanted to get something going with [Alcides Escobar], who handles the bat pretty good. He was able to find the gap, and with me off and running, it was pretty easy to score."
Escobar jumped on Correia's first pitch, which was also in Yost's plan.
"After Gordon drove in the run, we were going to do it first pitch -- bam," Yost said. "During all the confusion, all the excitement, while the energy was still high throughout the stadium, we were going to try to take advantage and start the merry-go-round."
Escobar's double into the right-field corner gave the Royals a one-run lead.
"Hit-and-run on the first pitch, and I tried to hit the ball to the second-base side, and I got a double," Escobar said. "Gordon can run. That's excellent baserunning -- excellent."
That ended Correia's day. Reliever Jared Burton threw a wild pitch, moving Escobar to third, then gave up a looping single to Butler for the third run.
With closer Greg Holland and alternate closer Kelvin Herrera shut down after pitching on successive days, Crow was called in to close out the Twins. He did so with a strikeout, a walk and a double-play grounder.
"It was awesome, especially on Opening Day," Crow said. "I grew up watching the Royals play and always dreamed of being able to be out there on the mound. And I was fortunate enough to go out there and get the job done today."
Even a usually stoic Yost was ecstatic about the victory.
"It was a great day for us," Yost said. "We were very excited that we could play good baseball and win the home opener in front of our sold-out fans. When you looked at the stadium and saw all the blue and the light blue, quite literally, it took your breath away for a little bit. ... It was an amazing sight."
Dick Kaegel is a reporter for MLB.com. This story was not subject to the approval of Major League Baseball or its clubs.