Correia's gem spoiled after Royals rally late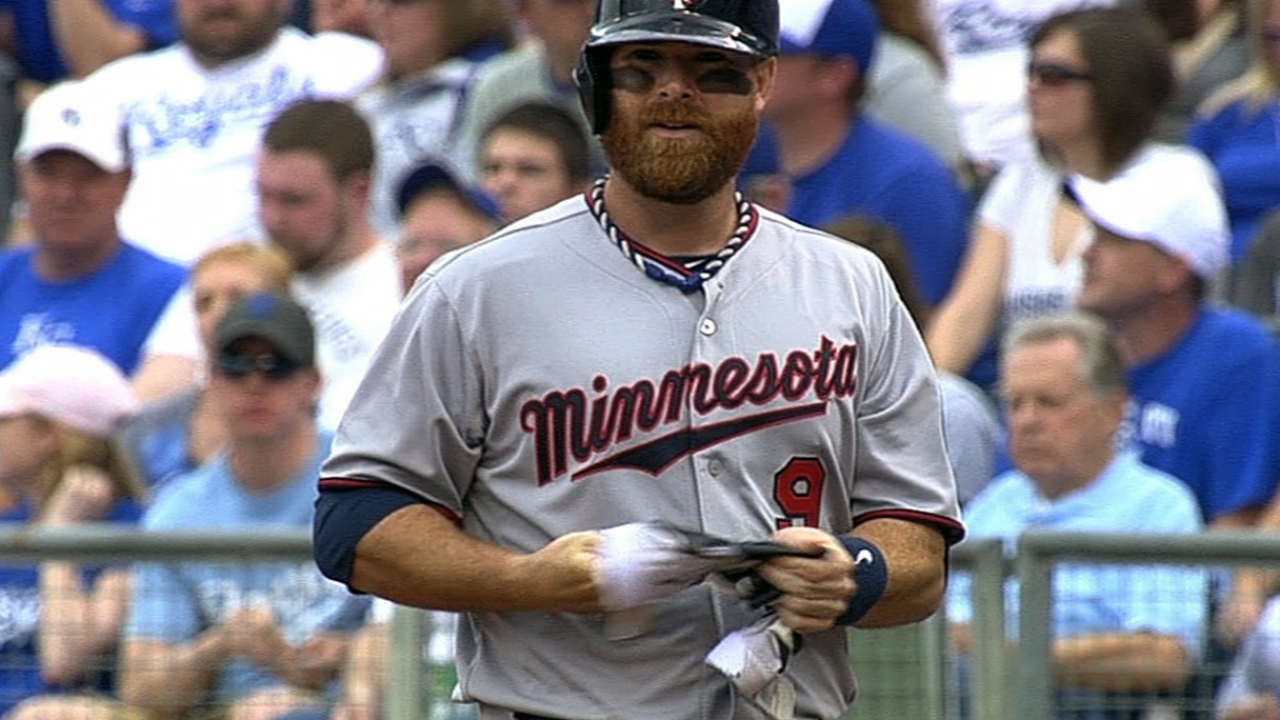 KANSAS CITY -- Minnesota dropped its third series opener in three tries on Monday, mainly because little execution errors had huge consequences in a 3-1 loss to the Royals. A baserunning mistake by Ryan Doumit took the Twins out of a promising first inning, and right fielder Chris Parmelee missed the cutoff man on Alcides Escobar's go-ahead RBI double in the eighth.
Those little things add up in tight ballgames.
"I know we're better than this," Parmelee said. "We just have to come back and win tomorrow, win the next day and take the series again."
The Twins (4-3) seemed to be over the series-opener blues in the first, when they collected four hits off Kansas City starter Ervin Santana and took a one-run lead. But that rally ended abruptly on Doumit's baserunning error, which served to give Santana new life.
With runners at first and second and two outs, Trevor Plouffe smashed a single to left. Justin Morneau held at third, but Doumit didn't immediately notice and rounded too far around second. The throw went home, and catcher Salvador Perez had plenty of time to throw out Doumit as he tried to scramble back to second.
Santana settled in, and the Twins were left to wonder how many more runs they might have scored in the first had Doumit been more alert.
Starter Kevin Correia had only that one run with which to work as he took a shutout to the eighth. But the Royals (4-3) rallied for three runs to delight a sellout crowd in their home opener.
"I just didn't pick up the third-base coach," Doumit said. "I was going to third all the way, and that was my fault. It's one of those things. There's no excuse for it. You are taught to pick up the third-base coach rounding second, and I didn't. I paid for it."
The Twins had a chance to create more offense when Parmelee led off the seventh with a single. Parmelee then appeared to steal second on a hit-and-run sequence but was out because the momentum of his slide took him off the bag.
It was that kind of slip-and-slide day for the Twins.
Correia made a strong bid to have that one run hold up, but the Royals finally got the bats working in the eighth. Correia fell behind Lorenzo Cain before Cain doubled to right-center. A sacrifice bunt by Chris Getz moved to Cain to third, and Alex Gordon lined an RBI center past a drawn-in infield to make it 1-1.
"I threw a fastball to Gordon and it kind of ran back over the middle," Correia said.
The Royals then went to the hit-and-run, and Escobar shot a liner inside the right-field line. When Parmelee couldn't hit second baseman Brian Dozier with a clean relay throw, Gordon scored the go-ahead run easily.
"It sailed a little bit on me," Parmelee said of his throw. "I've got to hit Dozier on that one."
Royals manager Ned Yost felt that with Escobar at the plate, it was a perfect time for the hit-and-run.
"After Gordon drove in the run, we were going to do it first pitch -- bam," Yost said. "During all the confusion, all the excitement, while the energy was still high throughout the stadium, we were going to try to take advantage and start the merry-go-round."
Billy Butler gave the Royals a two-run cushion with an RBI single to cap the decisive eighth. Correia, therefore, was left with a tough-luck loss.
"Our starter goes into the eighth with a five-hit shutout. He was of a mind to finish the ballgame, but it just didn't work out," manager Ron Gardenhire said. "It was a heck of an effort."
Santana worked eight innings, and Aaron Crow picked up the save by working a 1-2-3 ninth.
"Santana did his thing, but our guy matched him," Gardenhire said. "It just got away at the end with a couple of big at-bats by them."
The Twins can only hope that their trend of taking the final two games of a three-game set will hold up in Kansas City, as it did against the Tigers and Orioles.
"Any loss hurts," Doumit said. "I feel bad for Kevin. He showed up and did his job. We had some opportunities early to give him a cushion, and just weren't able to do that."
Robert Falkoff is a contributor to MLB.com. This story was not subject to the approval of Major League Baseball or its clubs.