Redmond among new line of progressive skippers
Polanco in Marlins' cleanup spot an example of outside-the-box thinking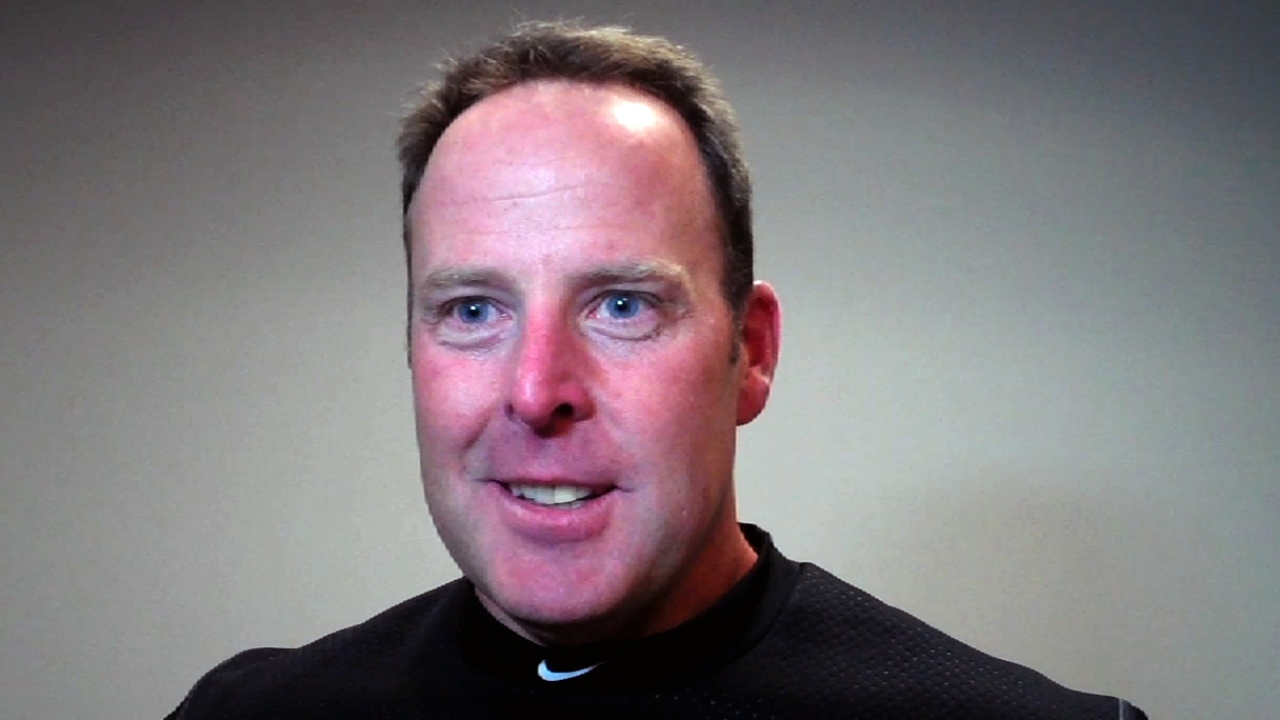 When Detroit and Miami met on March 25 in Jupiter, Fla., for a Grapefruit League game, there were sure to be some confused Tigers.
Placido Polanco, a fixture for 632 games over five years with the Tigers, was hitting cleanup for the Marlins.
Polanco's skills had never been called into question while he was in Motown -- he was a .311 hitter in Detroit, by far his best average while in any uniform over his 16-year career -- but the 5-foot-9 infielder hardly looked the part of a traditional No. 4 hitter.
In fact, in 2,819 Detroit plate appearances, Polanco hit in every spot in the order but cleanup. Still, there he was, in Mike Redmond's spring lineup in the four-hole. It was not a fluke, and that much became clear on Opening Day, when Polanco was there again.
"I like Polanco hitting there," Redmond said. "He gives you a veteran bat, a guy who puts the ball in play. He can hit behind runners, he can hit and run. He handles the bat well. He might be a nice fit behind [Giancarlo Stanton]."
Redmond is just the latest in a line of forward-thinking managers to go against baseball's grain. Rays skipper Joe Maddon is considered the founding father of this newest era, which includes unconventional bullpen configuration, five-men infields and shifts that place an infielder in shallow right field.
A lot of it starts before the first pitch, Maddon says, when he takes to heart the new-school approach of analytics and statistics to gain an advantage. So when veteran first baseman/designated hitter Carlos Pena is batting leadoff for the first time in his career, there's a method behind the madness.
"Honestly, I was into the prehistoric metrics in the '80s and '90s," Maddon said. "I tried to look at stat sheets and tried to glean information on my own. Nobody was into it. I had three heads back then. No one wanted to talk to me about it.
"I really didn't want guys to walk in and look at their batting average. Even back then, I knew there was something deeper and better that would evaluate offensive performance. When you come here and all the boys upstairs, spearheaded by [general manager Andrew Friedman], start feeding you all this great stuff, it's the kind of stuff you've been looking for."
And it's started to catch on. Managers around baseball, and even in Maddon's own division, have taken notice. After seeing opposing managers implement an infield shift against Mark Teixeira, Alex Rodriguez and Nick Swisher, Yankees manager Joe Giradi has often gone to the shift himself.
"I think it's actually kind of to all the data that's being put out now that we're all seeing," Girardi said. "Some of it is the kinds of pitchers we have, too, and how they'll affect it with how they pitch.
"When you ask a guy to play on the opposite side, it's different. You hear guys talk about how you're looking at someone in a mirror, in a sense, when you're playing on the other side of a base."
Miami's unconventional lineup has, in fact, bridged a gap in sorts in this generation of forward-thinking. It's legendary manager Tony La Russa who is famous for re-inventing the way the bullpen is used, with specialized closers and situational relievers.
And it's that same skipper who was one of the first to bat Polanco out of place. He hit ninth in his first game.
And the results with the Marlins have been just fine. Miami doesn't have a wealth of riches in terms of experienced run-producers up and down their lineup, and they need a quality hitter to protect Stanton, who is sure to draw his fair share of walks this year. In two April games at cleanup, Polanco has gone 2-for-7.
"I've seen a lot of things in this game," he said. "Nothing really surprises me."
Joey Nowak is a reporter for MLB.com. Follow him on Twitter at @joeynowak. This story was not subject to the approval of Major League Baseball or its clubs.