Cardinals ride huge inning to series victory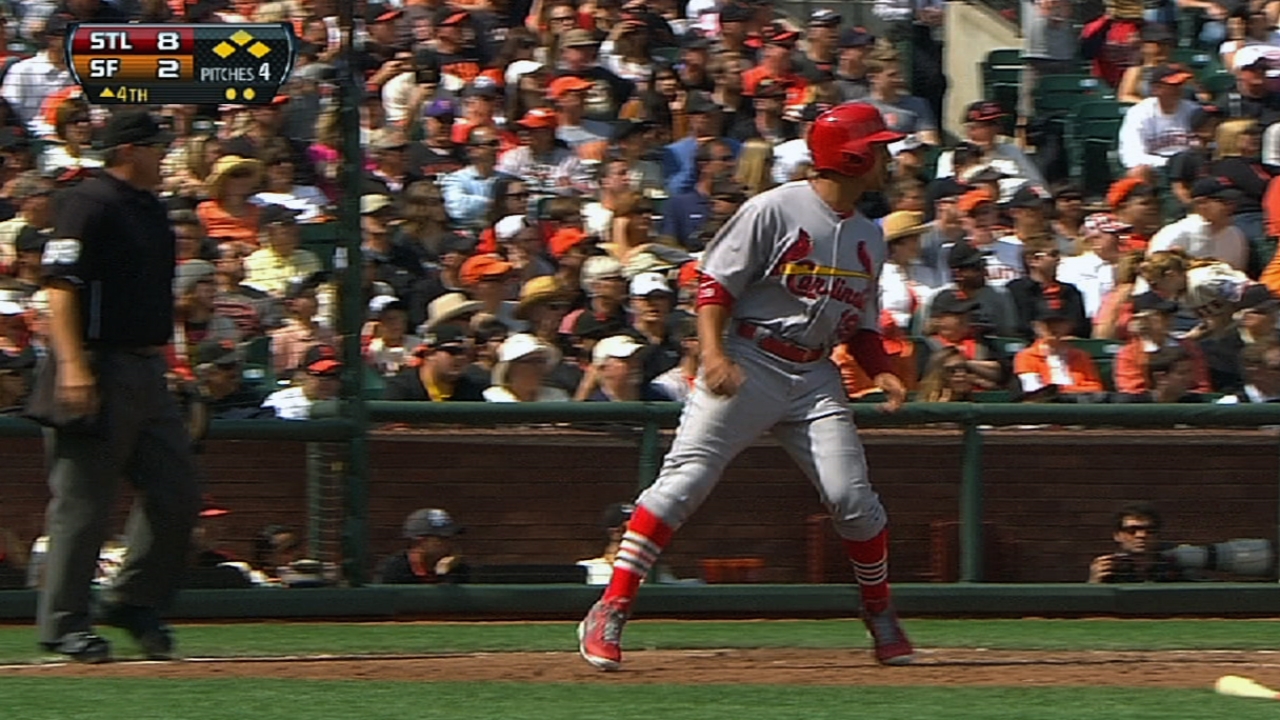 SAN FRANCISCO -- When Adam Wainwright dressed for the trip back to St. Louis on Sunday, he did so with a smile on his face.
And why not?
Wainwright's teammates roughed up his counterpart, Giants starter Matt Cain, en route to claiming a 14-3 win to earn the series victory against the reigning champions. Wainwright benefitted from a nine-run outburst in the fourth inning, one that put the game out of reach for San Francisco early.
"That'll work," Wainwright happily said of his offense. "I appreciated it today. I hope I lead the league in run support."
What started as a classic pitchers' duel between Wainwright and Cain ended as a whitewash. Perfect through his first three innings, Cain looked like his usual dominant self in the early stages of the game. Then the fourth frame came around, and so did the St. Louis offense. The Cardinals sent 14 men to the plate in the inning, hanging a nine-spot on Cain before his afternoon was over.
Perhaps it comes as no surprise that Matt Carpenter was in the middle of the action for St. Louis. He entered Sunday's contest with a lifetime 4-for-4 mark against Cain, before adding two more hits against the San Francisco ace. Carpenter's second hit, a bloop single to right field, plated two Cardinals to make it 7-2 and chased Cain from the mound. Carpenter finished the afternoon 3-for-5 with a double, three RBIs and three runs scored.
Ask him for an explanation about his success against Cain, though, and Carpenter won't have an answer.
"I don't really know what to say about it, other than I know he's an outstanding pitcher, one of the best in the game," Carpenter said. "It's crazy the way it's worked out. It's not like I have a secret or anything. Every at-bat I've had against him has been real tough; I just try to battle."
Carpenter hardly acted alone during the big fourth-inning surge. Matt Adams supplied the first big hit of the rally, belting a ground-rule double to the right-field gap to score two teammates and make it 3-2, St. Louis. Ty Wigginton and Pete Kozma followed with back-to-back singles, before Carpenter and Carlos Beltran each added two-run singles to push the margin to 9-2.
Aside from his team's ability to hit with runners in scoring position, St. Louis manager Mike Matheny was pleased with the two-strike approach. Both Carpenter and Beltran's run-scoring hits came with two strikes and two outs.
"If there was a wish for what kind of offense we have, that'd be it," Matheny said, "We just keep fighting and fighting, and we take what they give you and try not to do too much. It was nice."
In a weekend-long celebration of last year's World Series title, the Giants wrapped it up with an extravagant ring presentation ceremony before Sunday's matinee.
"They rained on our parade a little bit," San Francisco skipper Bruce Bochy said after the game.
But Matheny and his players said the celebrations didn't serve as motivation, despite being bounced by the Giants in seven games during last year's National League Championship Series.
"Every game, we're wanting to win as badly as anyone can want to win," Matheny said. "I think what we witnessed here was, one, acknowledging how a team got hot and did the right thing at the right time. And two, we got the motivation that we'd like to get back."
Given Cain's early domination and Wainwright's early struggles, the game initially looked headed for a different outcome. Wainwright gave up a leadoff triple to Angel Pagan to start the bottom of the first, but quickly got out of the jam with two strikeouts and a groundout.
Trouble brewed again in the bottom of the third when Wainright gave up two runs, but the veteran righty kept his cool and finished seven strong innings. In all, Wainwright allowed two runs on seven hits and no walks while striking out six.
"My stuff was great" Wainwright said. "I felt very good going into today, too. My arm is feeling as good as it ever has."
Specifically, Wainwright said he was able to set up his curveball with a good inside fastball and cutter. Once he got ahead in the count, Wainwright didn't hesitate to drop the hammer with his curve.
"I thought this was by far the best curveball we've seen since the start of spring," Matheny said.
For good measure, the offense added two more runs in the eighth and three in the ninth, two of those runs coming via a triple by Jon Jay. With the victory, St. Louis heads back to Busch Stadium with a 3-3 record for Monday's home opener against Cincinnati.
"Had all kinds of celebrations going on, but that was two important wins for our team," Wainwright said. "We go home with some momentum, and to give our Cardinals fans two wins was great to see."
Alex Espinoza is a contributor to MLB.com. This story was not subject to the approval of Major League Baseball or its clubs.