Rangers power way to series victory over Angels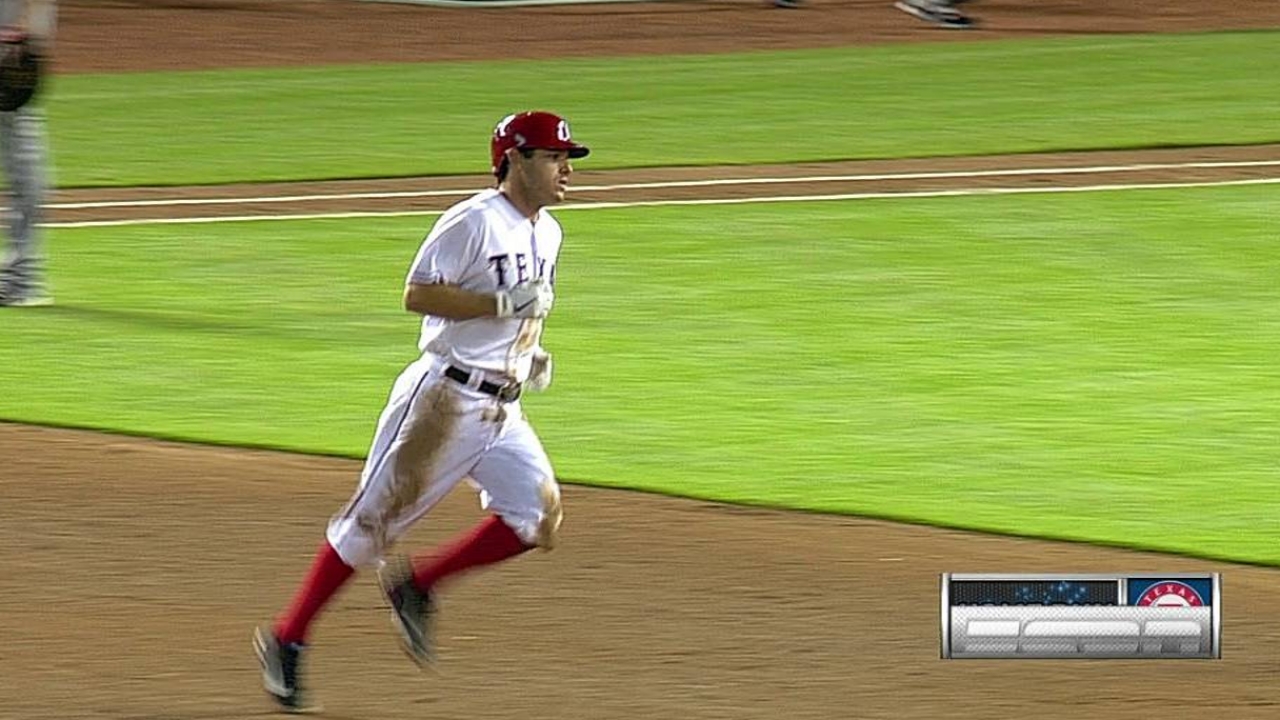 ARLINGTON -- As the Rangers' leadoff man and longest-tenured player, Ian Kinsler is expected to be a leader. And lead he did Sunday night.
Kinsler's three-run homer in the sixth inning gave the Rangers crucial insurance runs in a 7-3 victory over the Angels. Texas won two of three in the American League West rivals' first series of the season.
Kinsler walked and scored the Rangers' first run, and singled twice, including an RBI single in the fourth that made it 4-2. But his blast off reliever Mark Lowe was easily the most crushing blow.
As Kinsler's opposite-field homer cleared the right-field fence, the second baseman pumped his fist in celebration while rounding first.
"I felt like that was a big at-bat," Kinsler said.
After hitting three homers the night before, the Rangers hit three more as the wind in Arlington continued to create the "jet stream" effect for which the ballpark is well known.
Lance Berkman and David Murphy greeted Los Angeles ace Jered Weaver with homers in the first inning, erasing a 2-0 deficit after Yu Darvish got in early trouble.
"It could have been worse than what it was," manager Ron Washington said. "Yu Darvish really did some good damage control right there. But we came out, [Weaver] left a breaking ball up to Berkman, he got him. And then put a fastball right down the middle on Murphy, and he got him. We got back in the game, and Yu settled down and kept us around until we were able to put some more runs on the board."
Darvish, who pitched 8 2/3 perfect innings in his season debut, earned a victory on an unimpressive night by his standards. He went five innings, allowing three earned runs on six hits and four walks and leaving because of peeled skin on his right ring finger after only 85 pitches. He struck out six.
Weaver, too, was nowhere near his best and left due to an injury, a strained left elbow he sustained avoiding Mitch Moreland's leadoff single up the middle in the sixth. Weaver shouldered the loss and allowed five runs on seven hits and four walks.
"You know what you're going to get from him every game," Moreland said of Weaver, who was 20-5 for the Angels last season. "It's going to be a battle. We were able to to put some runs on the board early and just kind of chip away at at him. We grinded out our at-bats and got his pitch count up a little bit."
Weaver surrendered multiple home runs for the first time since September against the Rangers.
"I think we did a good job on Weaver making him get the ball up in the zone," Washington said.
Lowe took over for Weaver and walked Leonys Martin, Texas' No. 9 hitter, then served up Kinsler's homer.
"I think he's trying to make contact there, and he got a fastball out over the plate and went with it," Angels manager Mike Scioscia said. "He usually pulls the ball, but he hit that one good."
Washington said Kinsler's play made the difference Sunday.
"He came up big for us," Washington said. "That single he got was huge for us. He was involved in everything that went on tonight. He turned a heck of a double play, too."
The double play came with no outs in the fifth, when Albert Pujols hit a grounder to third baseman Adrian Beltre, who turned to make a quick throw from an unusually close angle to second base. Kinsler got the ball to first quickly for the out, though Pujols appeared unhappy with the call.
The Rangers held onto the lead with four scoreless innings from the combination of Robbie Ross, Tanner Scheppers (who threw the seventh and eighth innings) and closer Joe Nathan.
Kinsler also hit a two-run homer in Saturday's loss to the Angels, who hit four long balls of their own that night. But Kinsler's all-around performance Sunday was easily his finest of the young Rangers season.
"When you can put together a game like that, it's definitely gratifying," Kinsler said.
Dave Sessions is a contributor to MLB.com. This story was not subject to the approval of Major League Baseball or its clubs.