Gonzo fuels Dodgers' attack in sweep of Bucs
First baseman racks up four RBIs; Ryu notches first MLB win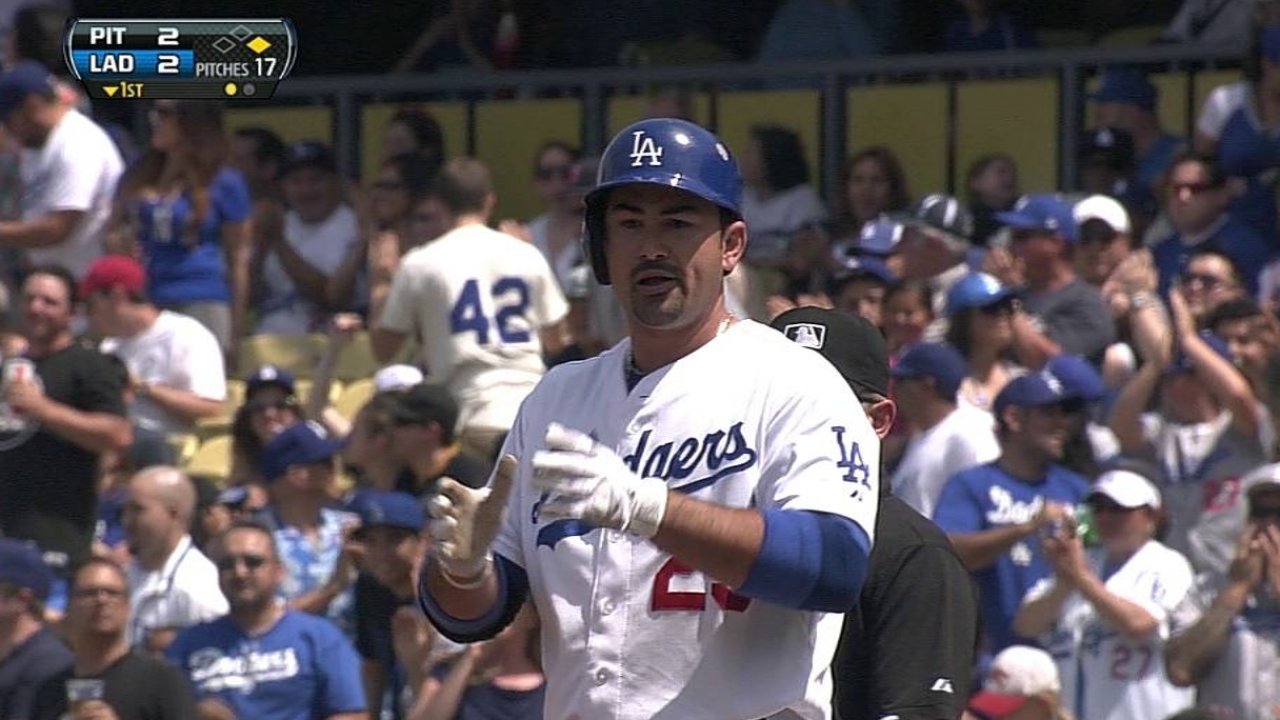 LOS ANGELES -- The Dodgers' offense finally busted loose on Sunday afternoon, helping rookie left-hander Hyun-Jin Ryu earn his first Major League win.
Adrian Gonzalez drove in four runs on three hits, Carl Crawford provided a spark at the top of the lineup and Justin Sellers homered for his first hit of the season as the Dodgers beat the Pirates, 6-2, at Dodger Stadium to complete a three-game sweep.
Ryu looked shaky in the first inning, but he settled in and had another solid outing in only his second big league start. The Korean native allowed three hits and struck out six against two walks in 6 1/3 innings. He made 101 pitches and retired the final seven batters he faced.
"I'm just happy that the team won," Ryu said through interpreter Martin Kim. "I had made a few promises to some people back in Korea that I would get my first win today, and I'm just happy I kept the promise."
The Dodgers received strong outings from each starting pitcher in the series. Zack Greinke tossed 6 1/3 scoreless innings on Friday. Clayton Kershaw blanked the Pirates over seven innings Saturday night. Ryu only made one mistake, a two-run shot to Andrew McCutchen in the first inning, the first home run for Pittsburgh this season.
The Dodgers retooled their rotation over the winter and have received positive results early in the season.
"I expect these guys to keep us in a ton of games," manager Don Mattingly said. "I do expect us to pitch well. Every time out with our starters, I feel like we're going to get a game that the guys are going to keep you in. They're not just going to go out and throw duds very often."
Ryu hasn't been a dud early into his first season in the big leagues. He didn't get rattled by McCutchen's early blast, and retired 17 of the next 20 batters.
"He started to mix it up, and that big curve came into play," said Pirates manager Clint Hurdle. "And he got ahead of people. He got into a good place."
The Dodgers helped their starter with a quick response as Gonzalez ripped a two-run single to right in the first. Nick Punto had singled and Matt Kemp followed with a double to set the table for Gonzalez, who entered the game with one RBI.
"That was a big hit in the first, because it gets us right back on the board," Mattingly said. "It was kind of like a do-over. Hyun-Jin gets to be back square, he's not behind, and he just settles in and does his thing. That's a big hit by Adrian."
The Dodgers entered the series finale with only 11 runs in their first five games. But Mattingly said his club had better at-bats on Sunday.
Kemp broke the tie in the third with a sacrifice fly that scored Crawford, who led off the frame with a double. It was Kemp's second RBI on the year.
Gonzalez added to the Dodgers' lead with an RBI single in the fifth as Crawford scored his second run of the game. The first baseman smoked another RBI single to right in the seventh. It was Gonzalez's first four-RBI performance with the Dodgers and the 22nd of his career.
With runners in scoring position, Gonzalez said he simplifies his approach at the plate.
"I just take what the pitcher gives me, I'm not trying to drive the ball," Gonzalez said. "When there's nobody on base, I'm looking for a double or homer. When there's people on base, I'm just looking for singles."
Gonzalez had plenty of support offensively, too.
Crawford and Punto each had two hits. For Crawford, it was his fourth multi-hit effort in five starts.
Sellers provided insurance with a solo shot to left off reliever Chris Leroux to begin the seventh. The shortstop broke out of a 0-for-15 slump.
"It felt great, I felt like I was pressing early on," Sellers said. "If I get that pitch to hit, I know I can do something with it. I've been having better at-bats lately and worked hard on my swing with the coaches."
The Dodgers bullpen shut the door once again as three relievers combined for 2 2/3 scoreless innings. The 'pen has not allowed a run in its past 13 innings.
"It's unbelievable, our pitching staff is incredible all the way up and down," Gonzalez said. "Our pitchers execute."
And on Sunday, so did the offense.
Austin Laymance is an associate reporter for MLB.com. This story was not subject to the approval of Major League Baseball or its clubs.