Axford struggles again as Brewers fall in extras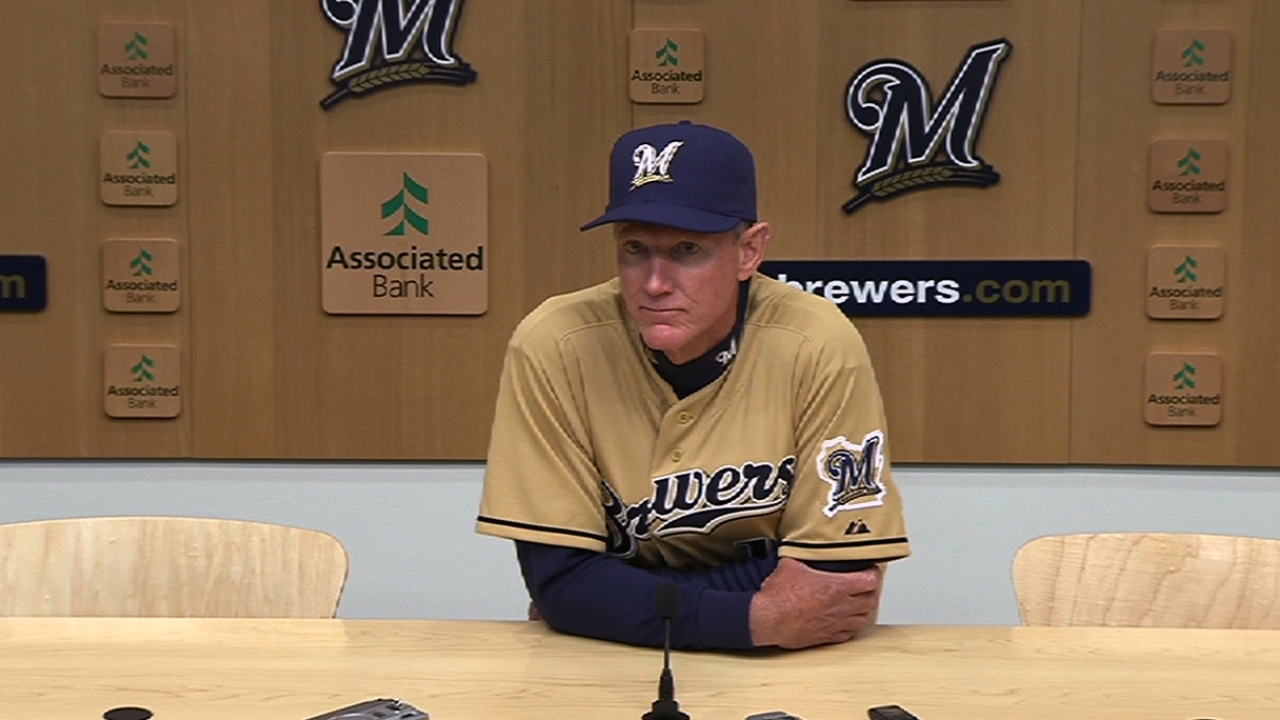 MILWAUKEE -- You can blame Brewers closer John Axford for allowing another home run. You can blame the Brewers' decision to sacrifice a bench bat for a bullpen arm, or blame Brewers starters for having already worn that bullpen thin. You can blame injuries, which cost the team its best two hitters (Ryan Braun and Aramis Ramirez) beginning Friday before claiming its hottest hitter (shortstop Jean Segura) on Sunday afternoon.
There was plenty of blame to assign after the Brewers' 8-7, 11-inning loss to the D-backs, but manager Ron Roenicke was more focused on the fact his team had another game to play on Monday afternoon in Chicago.
Will there be enough able bodies?
"To start a season, this is tough," Roenicke said. "You don't expect to have this many injuries early, and when you do, it's hard to figure out how you cover everything."
Norichika Aoki had three RBIs and a career-high four hits on his bobblehead day, Alex Gonzalez homered in the fourth inning for a brief Brewers lead and Josh Prince's first Major League hit sparked a tying, two-run rally in the bottom of the ninth.
Yet the Brewers dressed for their first road trip in silence. They were defeated by Wisconsin native Eric Hinske's two-run homer off Axford in the top of the 11th inning.
More on Axford to come. First, to the bottom of the 11th, when the Brewers were trying to mount their third comeback of the day with a roster so depleted that, with one run already in and the tying run 90 feet from the plate, Roenicke was forced to pinch-hit a pitcher who missed all but the Brewers' final Cactus League game. Kyle Lohse looked at a called third strike from Heath Bell, whose celebratory yell was audible to all of those remaining from a crowd of 37,733 at Miller Park.
Moments earlier, with Rickie Weeks at the plate and two men on base, left fielder Ryan Braun stood on deck and gave those fans brief hope that he'd sufficiently recovered from the neck stiffness that sidelined him all weekend to log an at-bat.
"I had a feeling it might be a decoy," D-backs manager Kirk Gibson said.
Gibson was right. After Weeks was called out on a pitch at the bottom of the strike zone, Braun returned to the dugout and Lohse emerged.
"[Braun] couldn't hit," Roenicke said. "He was up there, so when it came down to it, they were going to have to figure out if he could hit or not and make a decision whether to maybe walk Rickie or not. So we sent him up here to see what happens, but he couldn't swing."
The Brewers have lost five straight games since overcoming Axford's blown save to beat the Rockies in extra innings on Opening Day. With Braun day to day and Ramirez on the disabled list with a sprained left knee, they were outscored in the D-backs series, 20-9.
Milwaukee played the final seven innings Sunday without Segura, the second-year shortstop who entered the day with a .500 batting average but was taken out by a hard Gerardo Parra slide in the third inning. Segura exited two innings later with a bruised left thigh and was unsure whether he'd be able to play Monday afternoon at Wrigley Field.
Yet the game was still close -- 6-4 -- entering the bottom of the ninth, when Prince led off against Arizona closer J.J. Putz with a double that bounced over the center-field wall. Prince then scored on a single by Aoki, who stole second base before catcher Jonathan Lucroy poked a tying single to right field and pushed the game to extra innings.
That late rally erased what would have been Yovani Gallardo's first loss to the D-backs. He had never allowed more than two earned runs in nine previous starts against Arizona, including two in the 2011 postseason, but he surrendered four runs in six innings on Sunday and was the pitcher of record going into the bottom of the ninth.
For the 10th, enter Axford, who surrendered three home runs in a pair of appearances against the Rockies in the opening series, including a one-inning stint on Wednesday in which his fastball velocity dipped to 91-92 mph. He was back to 94-95 mph on Sunday and worked a 1-2-3 inning, though the first two outs were fly balls to the warning track, and the third -- an Eric Chavez strikeout -- included an Axford fastball that sailed over the catcher's head.
"I felt good," Axford said. "I felt good the last couple times out, too. It was nice to get three outs clean."
Sent back out for the 11th, Axford did not record an out. He surrendered a Cliff Pennington double before Hinske hammered a curveball for the winning home run.
Roenicke was asked if he was having thoughts of a change at closer.
"No, none at all," Roenicke said. "Really, he should have pitched one inning. I didn't want him to have to go back out there, but the circumstances are our bullpen is getting beat up and I had to put him out there a second inning. The first inning, he threw the ball well."
This is not to say that Roenicke is not concerned about his closer.
"Ax isn't happy with the way he's throwing," Roenicke said. "He knows he's better than what's been doing. We all know that. If I would have got him out of that after that first inning, he would have had a positive thought in his mind going into [Monday] and the next day."
The Brewers will play in the Cubs' home opener on Monday. That team has already made a switch at closer.
"Right now, we have a few guys who are hurt or struggling, all at the same time," Axford said. "But that's what we're here for, to pick each other up, and that's what we're going to keep trying to do."
Adam McCalvy is a reporter for MLB.com. Read his blog, Brew Beat, and follow him on Twitter at @AdamMcCalvy. This story was not subject to the approval of Major League Baseball or its clubs.