'Pen can't hold Mets after Fernandez's stellar start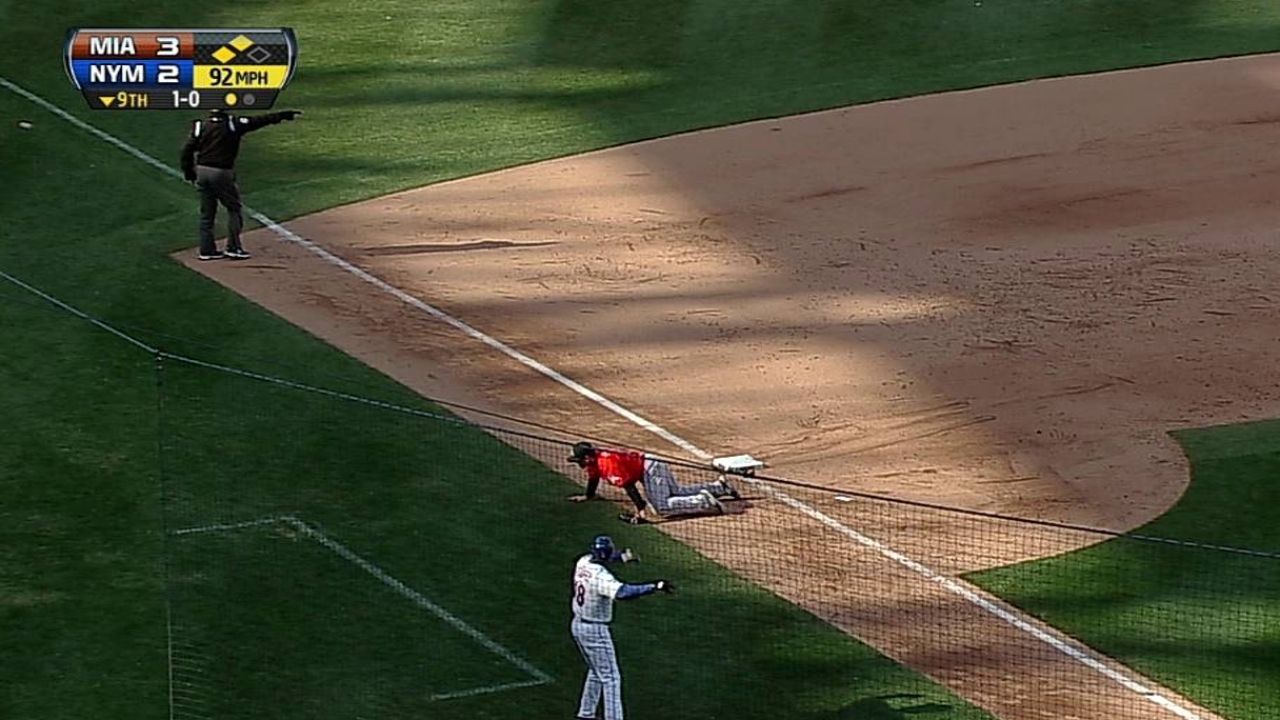 NEW YORK -- It may be a no-decision, but that can't erase the risk and the reward.
The Marlins were bold enough to promote prized prospect Jose Fernandez well ahead of schedule, and they sat back Sunday and watched as he set a club record for strikeouts in a Major League debut.
Fernandez, just 20 years old, stifled the Mets Sunday, retiring the first 10 batters he faced and leaving with a two-run lead. Fernandez struck out eight and allowed just three hits, but the Miami bullpen couldn't seal the deal in a 4-3 loss to the Mets.
Still, in the aftermath, the focus was on Miami's phenom and his astoundingly bright future.
"I'm disappointed that the team didn't win. I don't really care about me," he said. "Every time I go out there, my job is to give the team a chance to win. We didn't win this time. Next time, we will."
Miami had control of the game from the third inning all the way to the ninth. But that's where it fell apart. Closer Steve Cishek, who converted 15-of-18 save opportunities in 2012, came into a one-run game Sunday, and he put the outcome in jeopardy by hitting Ruben Tejada with a pitch.
That play happened with one out, and Kirk Nieuwenhuis made things even more interesting by dropping a hit into left field. Tejada charged to third on the play -- allowing Nieuwenhuis to move to second -- and moments later Marlon Byrd chased both runners home with another hit to left field.
The Marlins had more than twice as many hits (13) as the Mets (six) on Sunday, but they batted 2-for-14 with runners in scoring position and left 12 runners on base. New York only had four hits when the fateful ninth inning began.
"It's incredibly disappointing," said a somber Cishek of the sudden reversal of fortune. "It's all on me. It's my job to go out there and shut it down. I hate losing. I'll do anything to help this team win."
Fernandez became the youngest Marlin to pitch in the Majors, and he'll go down in history as the third-youngest player in franchise history. Only Miguel Cabrera and Giancarlo Stanton were younger at the time of their debut than Fernandez, who skipped Double-A and Triple-A entirely.
And he never missed a beat. Fernandez, who went 14-1 with a 1.75 ERA in 25 Class A starts last year, was just as dominant against big league hitters. Fernandez got All-Star David Wright to fly out and strike out on Sunday, and he held the Mets scoreless for the first four innings.
"Fernandez pitched great, deserved to win that game. That one hurts," said manager Mike Redmond. "We talked about what he can do. He's got a great fastball. For a 20-year-old kid, he's got some great secondary pitches. He showed a good changeup, curveball, slider. And he competes. I think that was obviously a huge test for him and a great first outing. Tough to lose that one."
The Marlins owned the early innings and pushed opposing starter Aaron Laffey to his limit. Miami had two hits in each of the first two innings but couldn't push any baserunners home. That changed in the third, when Justin Ruggiano's gap double scored Greg Dobbs all the way from first base.
Two more doubles -- one by Chris Valaika and one by Donovan Solano -- gave Fernandez a three-run cushion after four innings, but Miami never broke the game open. The Marlins loaded the bases but couldn't score in the fifth, and they stranded two runners in the seventh.
"We had so many opportunities to score runs in that game," said Redmond. "I think we were 2-for-14 with runners in scoring position. It seemed like every inning we had first-and-second or second-and-third. We just couldn't punch any more runs across to give us a little bit of cushion."
Fernandez finally allowed a hit in the fourth inning -- a one-out single by veteran Daniel Murphy -- but managed to escape that rally unscathed. He wasn't as fortunate in the fifth, as backup catcher Anthony Recker broke up his shutout with a run-scoring double into the left-field corner.
"That guy was everything everybody talked about," said Mets manager Terry Collins. "Outstanding stuff. But we hung in there and we didn't let the game get away, which I thought was the biggest factor."
Fernandez, the 11th overall selection in the 2011 First-Year Player Draft, said after the game that he felt like he had been pitching a Spring Training game.
"I was actually more nervous when I was warming up in the bullpen," he said of performing at Citi Field. "I think after the first pitch, I kind got it in and said, 'All right.' First start in the big leagues. I wasn't trying to think it was a big deal. I was just trying to be out there and trying to do the best I can."
Juan Pierre, who went into Saturday's game with more hits (2,146) than the rest of Miami's starting lineup combined (1,165), said that he was present for the big league debuts of Clayton Kershaw and Dontrelle Willis, among other phenoms.
All things considered, said Pierre, Fernandez fit among the most impressive debuts he had seen. Even from all the way out in left field, Pierre could see what makes Fernandez special.
"You can tell the stuff he had, the swings guys were taking off him," said Pierre. "They didn't look as comfortable. The first time you see a guy, you never know. And the second or third time through, he was real effective. It's one start, but you can see where the potential is in him. He's 20 years old. That's big, doing that at 20 years old. Hopefully he can build on it and keep going for us."
Spencer Fordin is a reporter for MLB.com. This story was not subject to the approval of Major League Baseball or its clubs.