Trout, Reds' Frazier linked by Jersey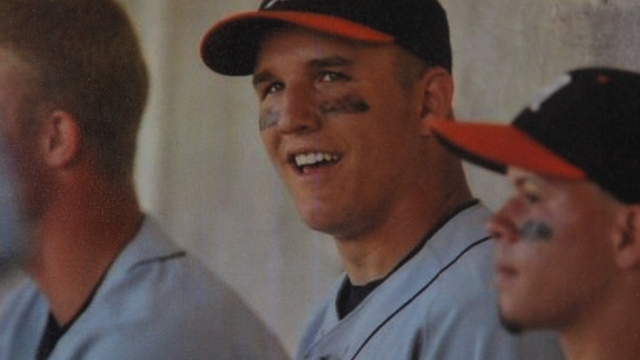 CINCINNATI -- It was in the fall of 2010, while playing for USA Baseball at the Pan-American Qualifying tournament in Puerto Rico, when Todd Frazier finally got a chance to meet that fellow New Jersey kid everyone kept raving about.
Mike Trout was only 19 then, coming off his first pro season and about 18 months removed from his senior prom, but Frazier was already in awe.
"It was crazy," the Reds' up-and-coming third baseman recalled. "I was sitting there with [Leon] Durham, the Triple-A hitting coach for the Detroit Tigers, and we were like, 'Holy cow, this guy's going to be for real.' I was talking to [pitcher] Todd Redmond, who played here. We were all looking; we were like, 'God, this guy's the real deal.' And we knew he was going to be something special. We really did. Just the way he played, the way he tracked balls down in the outfield, just how he went about himself. He was a pro."
Trout hit .350 in that tournament, providing just a taste of what would lead into an historic rookie season in 2012. And ever since then, Frazier and Trout have been buddies.
It's a Jersey thing.
The Garden State doesn't produce many Major Leaguers. In fact, only 19 native New Jersey guys played in the big leagues last year. But Trout and Frazier, who finished third in National League Rookie of the Year voting, are doing their part to show bright, young talent can come out of there.
"We take pride in guys from the East Coast, especially from Jersey, knowing there's a handful of guys that came out of Jersey," Trout said. "For him being up here now, at a young age, as well, it makes you feel good, to put Jersey on the map a little bit."
Frazier is six years older than Trout -- even though they have almost exactly the same amount of service time -- and grew up about 100 miles north of Trout's Millville, N.J., home. But the two have grown close the last few years -- and Frazier hasn't missed an opportunity to get on the Angels' 21-year-old outfielder.
"All the stuff he does, man," Frazier said. "I'm with him 100 percent, but I have to [talk some trash]. He's like one of my teammates because he's like a brother to me. He deserves everything that has come his way, he's a great person. But I have to put him in his place every once in a while because we don't want to get him too big real quick."
What has Frazier been on Trout about the most?
"Well, he's huge now," Frazier joked. "I don't know what happened this offseason -- he blew up. I'm confused why he didn't ask me to work out with him so I could look like him."
Alden Gonzalez is a reporter for MLB.com. Read his blog, Gonzo and "The Show", and follow him on Twitter @Alden_Gonzalez. This story was not subject to the approval of Major League Baseball or its clubs.