Big leaguers ready to bounce back after year away
Hard work of rehabilitation paying off for players sidelined by injuries in 2012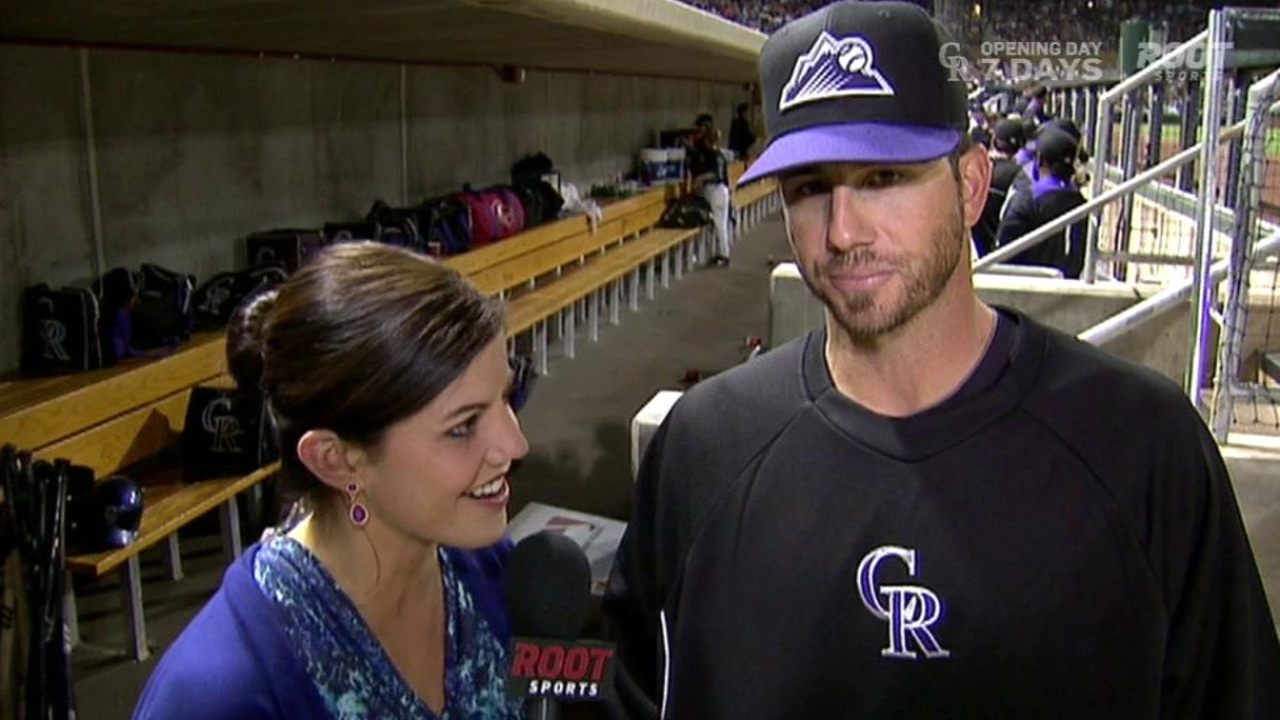 They've passed every test, sometimes exceeding expectations in exhibitions after a full season away from the Major Leagues, demonstrating that they're ready to be back in the bigs.
As the 2013 season begins, the goal has become reality for a select group of players who are back after missing last season, and in some cases more than that.
This weekend, for instance, right-hander Jon Garland will start a game for the first time since June 2011, having undergone shoulder surgery and then existing in professional limbo for all of last year. Garland will take the ball Friday for the Rockies against the Padres, completing a successful journey back to the big leagues.
After sitting out all of 2012 and rehabbing his injury without an organization to call home, Garland first signed a Minor League deal with the Mariners in February. But in the final week of Spring Training, he exercised an opt-out with the Mariners and signed a Major League deal with the Rockies, having put his surgery in the past with a strong -- and healthy -- Spring Training performance.
"There's always a little doubt when you're coming back from major surgery, but as an athlete, as a competitor, you're used to it one way, you're used to going full bore," said Garland, who will be pitching for his fourth of the five National League West clubs. "I think that whole year off last year helped me with this spring."
Instead of wondering if he was coming back too soon or how his arm might hold up, Garland came into Spring Training confident and ready for whatever it would take to be in the Majors on Opening Day -- and here he is with the Rockies to start the season.
Other starters of note are back, or on their way back, after being off the radar last year. John Lackey, out for all of a 2012 season that went downhill fast for the Red Sox, is back in the rotation, hoping to be part of what rights the ship in Boston this year.
And then there's the case of Cleveland's Scott Kazmir, so close to making his comeback but then scratched from his Saturday start with an abdominal strain. He's now a possible candidate for the disabled list. After spending some time in the independent Atlantic League, making 14 starts for the Sugar Land Skeeters, Kazmir will have to wait a little longer for his first start in the Majors since April 3, 2011.
Among position players, Victor Martinez already has experienced the feeling of being back on the field after missing an entire season, and he might even expand his role from the Tigers' everyday designated hitter to playing catcher to get his bat in the lineup during Interleague Play. Oakland's Scott Sizemore, too, got the first-game jitters out of the way Wednesday, when he made his first start at second base for the A's after making 91 starts at third base in 2011, before a knee injury on the first day of Spring Training last year wiped out his '12 season.
"To get through Spring Training when you still have trepidation about an injury and get out on the field for a regular-season game, it's got to be rewarding for him, for a guy that put himself in this position again," A's manager Bob Melvin said of Sizemore.
A few returns are pending, including a couple of closers who are closer to returning to the mound. Ryan Madson, now of the Angels after missing all of 2012 with the Reds, is expected to return from Tommy John surgery sometime in late April or early May, but he joined the Angels on the road to start the season, simply to be part of the game environment.
"I want to be part of the team," Madson said. "If we win all three games, I want to be there. If we lose all three games, I want to be there. I want to experience the full season. That's a big thing for me."
Joakim Soria is working his way back from a second Tommy John procedure and might be back in mid-May or June, making his return for the Rangers after hitting the Major League scene with the Royals.
And, of course, there's one closer who's already there: Mariano Rivera of the Yankees, back from missing almost all of 2012 when sustaining a season-ending knee injury last May 3.
For those who return after having missed an entire season or more, it's a special feeling, a sense of gratification to get back on the field, something Tigers manager Jim Leyland knows is really significant for an All-Star performer like Martinez, and his team.
Said Leyland: "[Martinez] asked me not too long ago, 'Did you ever miss the whole season when you were a player?' I said, 'No, I did not, but it wouldn't have made much difference. With you, it made a difference. With me, there were probably some people that were very happy about that.'"
John Schlegel is a national reporter for MLB.com. This story was not subject to the approval of Major League Baseball or its clubs.