Braves beat up on Halladay, Phillies
J. Upton, Gattis homer off righty, as Atlanta backs solid Maholm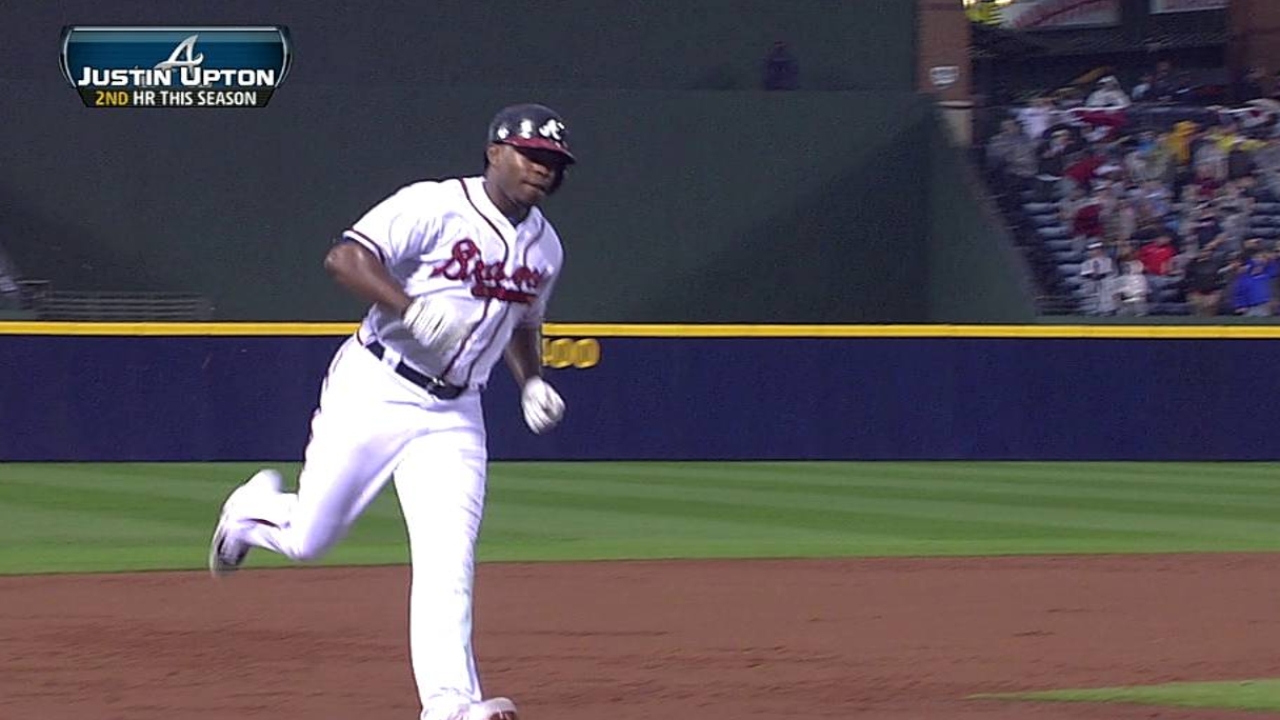 ATLANTA -- Facing Cole Hamels and Roy Halladay in consecutive games has never been viewed as an enviable task. But the Braves certainly have not been bothered by this challenge that awaited them at the start of this season.
Two days after bashing Hamels during an Opening Day win, the Braves returned to Turner Field on Wednesday and continued to show their impressive power potential. They hit three home runs and chased Halladay in a four-run fourth inning that propelled them to a 9-2 win over the Phillies.
"They're going to torture pitchers," said Braves left-handed pitcher Paul Maholm after benefiting from this latest offensive eruption. "They're going to have their nights when they won't. But I'll take this lineup over any other."
Justin Upton has homered in both of his first two games with the Braves, and Jason Heyward got into the act with a two-run, eighth-inning shot that only ensured the final score was as ugly as the rainy elements that surrounded the game.
But the most memorable home run of the evening came in the fourth inning when Evan Gattis celebrated his Major League debut by hitting the first home run of his career. The solo shot off Halladay got knocked down by a strong wind and barely cleared the left-center-field wall.
"I thought I killed that ball," said Gattis, who admitted he got a little nervous as he watched the ball after he had already flipped his bat in celebratory fashion.
Through these first two games against the Phillies, the Braves have totaled 16 runs and six home runs. Sure they have also come as advertised while striking out 24 times. But as Halladay realized as he struck out nine in 3 1/3 innings, this Atlanta lineup can do a lot of damage in between strikeouts.
"We know we have the roster to put up a lot of runs," Heyward said. "Roy struck out nine. So that says he had plenty good enough stuff. But I feel like we did a good job of making him throw pitches to get those strikeouts. When it came down to it, we did hit some pitches on the plate and got ahead of him early."
The tone of the evening was set as the Braves drew two walks and forced Halladay to throw 40 pitches in a three-run first inning that was highlighted by Upton's opposite-field, two-run home run.
Halladay notched four straight strikeouts after Juan Francisco capped the first inning with a single that scored Freddie Freeman. But the righty's velocity was certainly not where it was during his Cy Young Award-winning days, and he needed 79 pitches to get through the first three innings. He was charged with five runs and six hits.
Nine of the 10 outs Halladay recorded were strikeouts. But he certainly is nothing like he was when he went 3-1 with a 1.72 ERA in the six starts he made against Atlanta from 2009-11. He has gone 0-3 with a 11.57 ERA in the five starts he has made against the Braves since the start of the 2012 season. "Not velocity-wise," Heyward said when asked if Halladay looked like he had in the past. "But he has a lot of weapons. So it was no surprise to see the strikeouts. Once he gets two strikes against you with him, he can go whatever way he wants and pick at you. We did wear him down and we made sure we got some pitches to hit. When we hit him, we hit him hard."
Halladay, who has not completed five innings in any of his past three starts against the Braves, exited after allowing Andrelton Simmons' one-out single in the fourth. Raul Valdes then issued consecutive walks to load the bases. Freeman followed with a three-run double that vaulted the Braves toward their second straight rout.
While Halladay endured a frustration-filled evening that enhanced doubt about his future, Maholm scattered six hits over 5 2/3 scoreless innings. The Phillies were unable to cross the plate after putting at least one runner in scoring position in three of the first four innings.
Maholm, who did not allow an earned run in his last 20 1/3 innings of the exhibition season, certainly appreciated the comfortable lead. It allowed him to have some fun with the 58-mph slow curveball that he snuck past an unsuspecting Chase Utley for a third strike to end the fifth inning.
"Chase isn't the ideal guy to throw it to," Maholm said. "But I figured I'd thrown him pretty much everything I had. It was a seven-run lead with two outs and two strikes. So go ahead and break it out. I threw it in the right spot. So it was good."
Mark Bowman is a reporter for MLB.com. This story was not subject to the approval of Major League Baseball or its clubs.