Jackson effective in Cubs debut, but bats go cold
Offense manages just two hits in shutout loss to Rodriguez, Pirates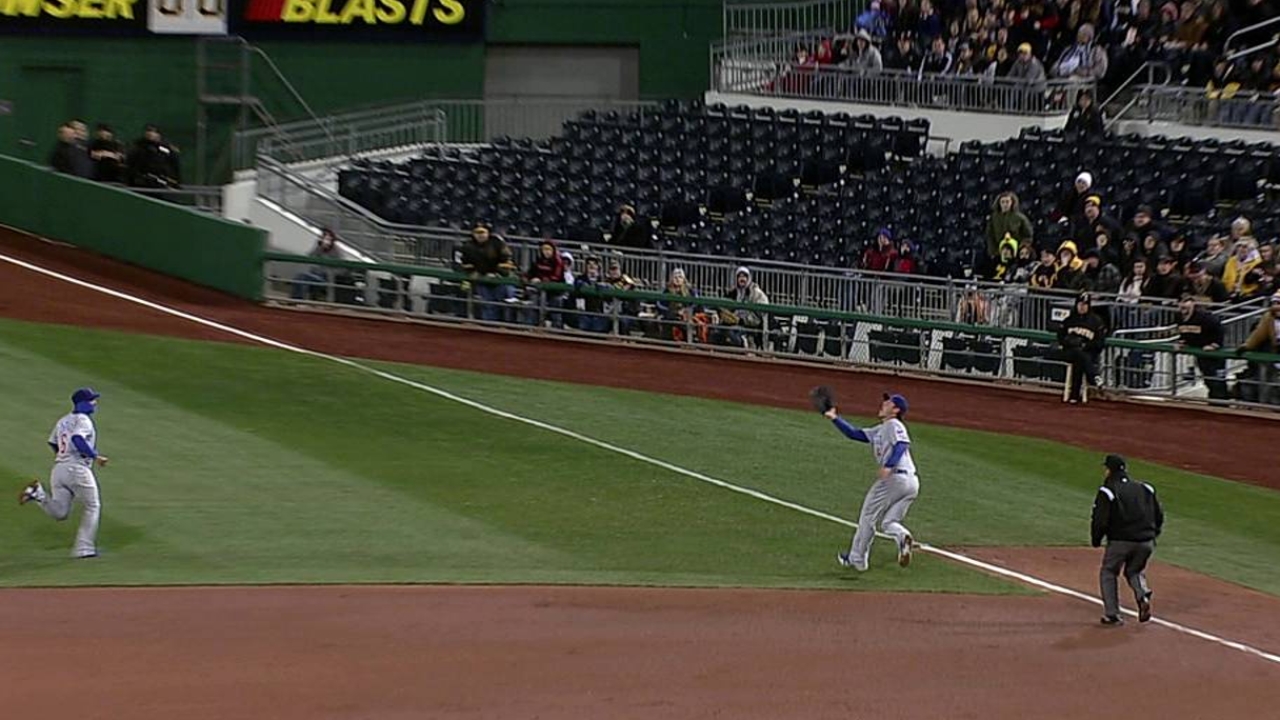 PITTSBURGH -- The Cubs wore face masks and extra layers to cope with the 35-degree cold, and overloaded the lineup with right-handed hitters in an attempt to deal with lefty Wandy Rodriguez.
Rodriguez and the weather won.
Andrew McCutchen hit a RBI double and scored on an error by shortstop Starlin Castro to lead the Pirates to a 3-0 victory Wednesday over the Cubs.
The temperature at game time was 35 degrees, but it felt colder, and Cubs manager Dale Sveum was wearing a battery-operated heated vest. What's the best way to hit in the cold?
"Punt," Sveum said. "I had to do it when I came up with Milwaukee, playing in County Stadium. It's not about the cold sometimes, but how much your eyes water, especially if there's any kind of breeze in your face. That's the most difficult thing. When you're in the batter's box, you don't know it's that cold."
Rodriguez (1-0) was the problem at PNC Park. The lefty limited the Cubs to two hits over 6 2/3 innings to spoil Edwin Jackson's Cubs debut.
"The pitchers are at a disadvantage [in the cold] sometimes, too, trying to get a feel for the ball and all that, but Wandy obviously had a pretty good feel," Sveum said.
Jackson (0-1) struck out the side in the first, effectively fooling the Pirates with his slider, and gave up one hit over the first three innings. Garrett Jones then singled to open the Pirates fourth and scored on McCutchen's double to left. One out later, the Cubs infield was in, and McCutchen tallied on Castro's error when the shortstop muffed an attempt at a backhanded grab of a grounder by Gaby Sanchez.
"When the infield's in, and the ball's hit to your right and they're going on contact, it's kind of a do or die -- you can't really do much setting yourself or anything," Sveum said. "You've got to somehow backhand that and get rid of it, and with McCutchen running, too, there's not a whole lot you're going to do with that."
This was Jackson's first loss to the Pirates in seven career starts, and not how he wanted his first Cubs start to go.
"I felt I made one mistake that inning and that was the double," Jackson said. "I still feel like we had a chance to try to get out of that inning and try to salvage it. That was pretty much my rough inning, and the inning they got two runs. With a team like we have that's capable of doing the things we can, if that's a rough inning and you give up two runs, then I'll take that. It's just a tough one for us tonight."
"Obviously, he has the stuff," Sveum said of the right-hander, who signed a four-year, $52 million contract with the Cubs this offseason. "I think now for him, it's time to take it to another level with that kind of stuff."
With the loss, the Cubs have not opened a season 2-0 since the 1995 team began 4-0. Jackson tried to stay upbeat.
"The main thing is, you want to get the season jump-started in a positive direction," Jackson said. "It wasn't a bad game, it wasn't the best game. You try to keep the team close.
"It's a long season and you can help yourself out, getting ahead of batters a little earlier," he said. "Wandy went out and pitched a good game. Sometimes you just have to tip your hat. He made pitches when he had to."
The Cubs had a chance in the seventh. They loaded the bases with one out when Anthony Rizzo was hit by a pitch, Alfonso Soriano singled and Welington Castillo was plunked. Brent Lillibridge battled Rodriguez in a 10-pitch at-bat, which ended with the Cubs infielder called out on strikes on a curve.
"I couldn't locate my fastball," Rodriguez said. "[Catcher] Russell [Martin] came out and asked me what I wanted to throw, so I said, 'Breaking ball, because I can't locate the fastball.'"
Said Pirates manager Clint Hurdle: "That's a pro's pitch. A kid isn't going to throw that pitch. Maybe for a chase, but not for a strike."
That was Rodriguez's last pitch, and Tony Watson took over and got Alberto Gonzalez to fly out to end the inning.
In two games, Chicago is 0-for-13 with runners in scoring position.
"We've got to get better at that," Sveum said.
Jackson's next start will be the Cubs' home opener Monday against the Brewers at Wrigley Field.
"It should be fun, home opener, especially if we can come off this road trip with a winning road trip," Jackson said. "I'm sure it'll be exciting and there will be a lot of adrenaline."
And, hopefully warmer.
Carrie Muskat is a reporter for MLB.com. She writes a blog, Muskat Ramblings, and you can follow her on Twitter @CarrieMuskat. This story was not subject to the approval of Major League Baseball or its clubs.