Wandy, bullpen combine to blank Cubs on two hits
Veteran lefty whiffs six in 6 2/3 innings; McCutchen, Marte notch RBIs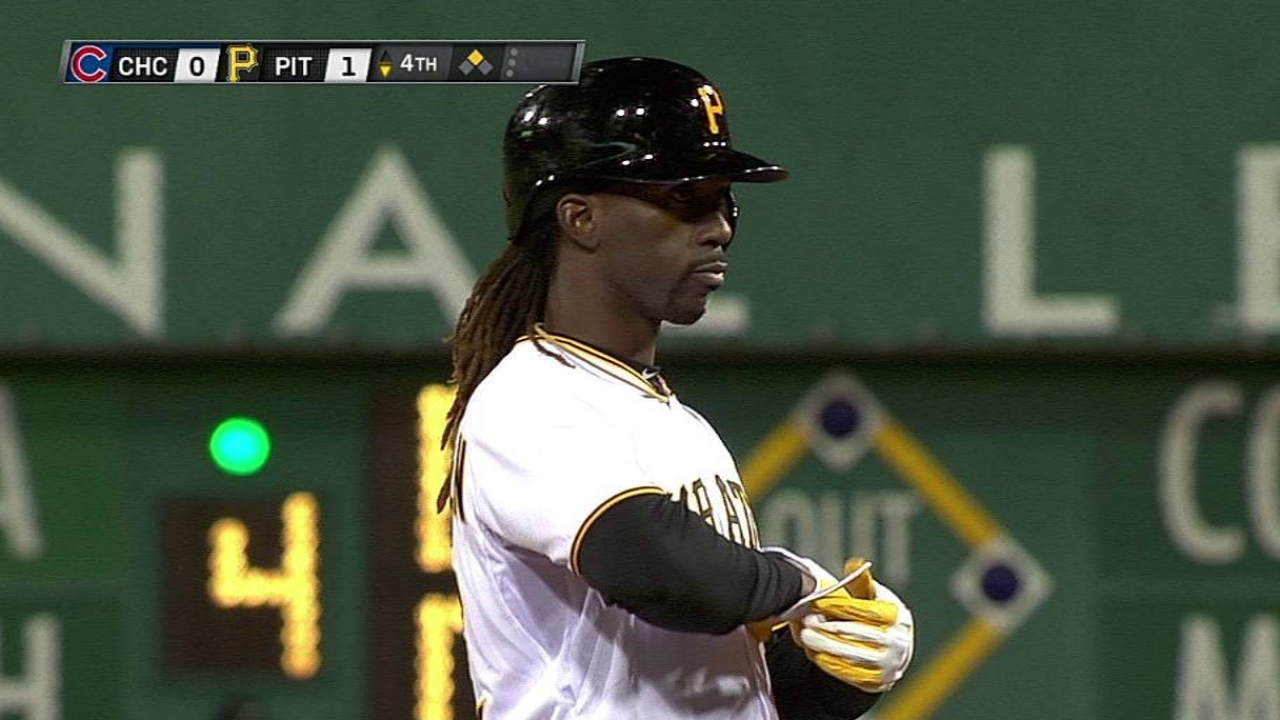 PITTSBURGH -- It was a night pitchers should have had to pay their way into the park, for the privilege of throwing the rock at hitters swinging bats with iced hands.
Making the most of that privilege, Pirates lefty Wandy Rodriguez fired 6 2/3 innings of two-hit ball Wednesday night to edge mound foe Edwin Jackson and his Cubs, 3-0, in front of 27,667 at PNC Park.
Not much offense in this game -- eight hits between the two teams -- but Cubs manager Dale Sveum called the cold an equal-opportunity hardship.
"The pitchers are at a disadvantage sometimes, too, trying to get a feel for the ball and all that, but Wandy obviously had a pretty good feel," Sveum said.
Rodriguez had two big accomplices: Tony Watson, who icily got out of the bases-loaded situation he inherited in the seventh, and Jason Grilli, who debuted as the Bucs' closer in spotless style.
"When you're the closer, this is what happens," said Grilli, surveying the media mob around him. "You get lots of questions and have to come up with lots of answers. But I just get the baton at the end of a relay; Wandy and Watson made great pitches to put us in a great situation to win."
There are Eight Wonders of the World, and one Wandy of the World Baseball Classic. The left-hander worked in wondrous fashion on this challenging night, with a game-time temperature of 35 degrees, securing the Pirates' first win of the season by picking up right where he had left off last month for the champion Dominican Republic (allowing five hits and a run in 9 1/3 innings).
"I started to work earlier this year because of the Classic, and as a result, I do feel stronger," said Rodriguez, ordinarily a very tough April pitcher anyway.
Alberto Gonzalez led off the Cubs' third with a single, and Rodriguez's response was to retire the next 12. That string ended when he clipped Anthony Rizzo with a pitch leading off the seventh, the beginning of a hairy threat to the 2-0 lead the Bucs had taken in the fourth.
Alfonso Soriano followed with the second, and final, hit off Rodriguez, who got one out before also plunking Welington Castillo to load the bases. Then ensued an epic 10-pitch battle with Brent Lillibridge. It ended when Rodriguez froze Lillibridge -- not a difficult thing to do this night -- with a back-door 3-and-2 curve for a called third strike.
"That was a pro's pitch," saluted manager Clint Hurdle. "A young guy's not going to throw that pitch. Maybe for a chase. But not for a strike."
"I couldn't locate my fastball," said Rodriguez, who got a mound visit from catcher Russell Martin when the count ran full. "He asked me what I wanted to throw. I said let's go with the breaking ball, because I can't locate the fastball."
Grilli's view from the bullpen of the clutch pitch: "Gutsy."
At that point, Watson took over and preserved Rodriguez's clean line by fighting back from 3-and-0 to run the count full before retiring Gonzalez on a fly to shallow center.
"I was just yanking the ball a little bit," Watson said of the first three pitches. "Not ideal, 3-and-0 with nowhere to put him. But I came all the way back, and was fortunate to get a popup."
In his 6 2/3 innings, Rodriguez allowed one walk besides the two hits and struck out six. The two hit batters in one inning were notable, given that all last season, he had hit only three in 205 2/3 innings, and one in 75 innings with the Bucs after his acquisition from the Astros.
Jackson, who began by striking out the side in the first, blinked only once in his five innings. Before departing for a pinch-hitter in the sixth, he allowed three hits and a pair of runs, walked one and struck out five.
Rodriguez had begun the game tied with the Phillies' Cole Hamels for the most innings among active National League left-handers. He departed the game with a career total of 1,388 1/3 innings.
Hurdle's decision to put -- and keep -- Garrett Jones in the two-hole paid off in the fourth. The inspiration for tucking Jones' power bat so high in the order was the left-handed hitter's high OPS (.888) last season versus right-handers; the chances of getting someone on base ahead of Andrew McCutchen.
Leaping off the drawing board, Jones led off the fourth with a sharp single and scored on McCutchen's even sharper double. When McCutchen moved to third on Pedro Alvarez's grounder and scored as Gaby Sanchez's grounder went through drawn-in shortstop Starlin Castro for an error, the Pirates had a 2-0 lead.
They upped that to 3-0 in the seventh, when Clint Barmes led off with a ground-rule double off reliever Michael Bowden, took third on Watson's sacrifice bunt and came home on a single by Starling Marte.
"I've been involved in a lot of cold games," said Hurdle, who could recall sitting through a Double-A doubleheader in Canton, Ohio, in the late '70s in sub-zero temperatures. "This is nowhere close to it. But it is difficult; this game wasn't made for skates."
Tom Singer is a reporter for MLB.com and writes an MLBlog Change for a Nickel. He can also be found on Twitter @Tom_Singer. This story was not subject to the approval of Major League Baseball or its clubs.