Dodgers squander chances, drop opening series
Offense unable to make Lincecum pay for issuing seven walks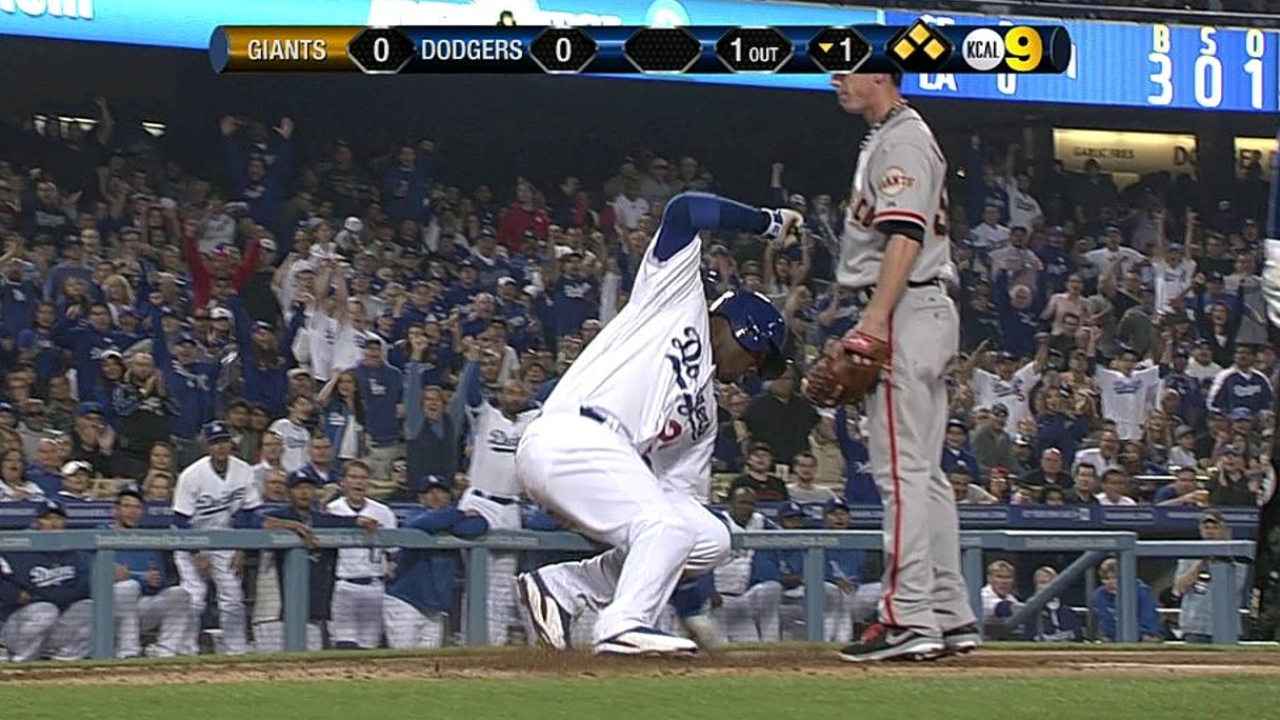 LOS ANGELES -- The Dodgers already are showing their new hitting coach why they have a new hitting coach.
They lost Wednesday night's rubber game of the season-opening series against the defending champion Giants with a wasteful offensive flashback to last year, the 5-3 final score not doing justice to how the Dodgers beat themselves.
Pablo Sandoval and Hunter Pence homered for the Giants off Josh Beckett, who didn't allow as many baserunners as his opposing former ace, Tim Lincecum, who probably can't believe he was the winner after tying a career high by allowing seven walks in five innings.
But the Dodgers went 1-for-14 with runners in scoring position, stranded a dozen and gifted the Giants a pair of runs in a four-run third inning on an error by Skip Schumaker, playing second base to give Mark Ellis an early day off.
The trouble is, the Dodgers struggled to score throughout the series. Madison Bumgarner shut them down on two hits in eight innings Tuesday night and even Monday, when they won, 4-0, it took a solo home run by Clayton Kershaw in the eighth inning to get them on the board.
The Dodgers envision dethroning the Giants six months from now, but in this series, it looked like not much has changed in the past six months.
In fact, of the seven runs they scored in the series, Kershaw's homer was the only RBI hit. The other runs scored on a wild pitch, passed ball, two groundouts, a double-play grounder and a sacrifice fly.
"We had seven hits, seven walks, a hit batter -- 15 runners and we didn't do a lot with it tonight," said manager Don Mattingly, a former hitting coach now overseeing new hitting coach Mark McGwire and assistant John Valentin.
"You see seven walks and it means being somewhat patient, but we're still somewhat anxious when we get chances to drive in runs."
The fact that Matt Kemp is hitless for 2013 (0-for-10 with three strikeouts) is the most logical place to start, especially with Kemp coming off shoulder surgery and the vivid memories of last year's injury and the way the club foundered without him.
"I think Matt's pressing little bit, that's for sure," said Mattingly. "He's trying to get it going the third game and hasn't got a hit yet, it's the opposite of getting off to a good start. He wants to get the monkey off his back. But I thought he swung well tonight early. I don't think the shoulder is an issue. I think Matt's a little too fast right now."
Kemp said he actually felt normal Wednesday night after being "amped up" the first two games.
"It's only three games of the season, we're not panicking," Kemp said. "They got big hits and we didn't get the job done. Bases loaded and I hit into a double play. I've got to find a better pitch to swing at. It won't be the last time I have a bad series. I'm turning the page, not worried about that at-bat anymore. Today I felt really good, hit the ball hard a couple times, drew a walk. If I stay within myself, I'll be the 2011 version of Matt Kemp that everybody knows."
The Dodgers scored first, with Carl Crawford (3-for-4) getting it started with a single off Lincecum and coming around to score on a passed ball by Hector Sanchez. The Dodgers had the bases loaded with one out in the second inning and failed to score, then the Giants put up the four-run third.
"The game changed from the second to third inning," Mattingly said. "We don't get a run with the bases loaded and one out and they come right back and get four. The game swung right there."
Mattingly absolved Beckett of blame, even though he was ahead in the count of all six batters who got hits off him. Beckett went six innings, with three of the five runs earned. Sandoval's home run came on a high fastball that wasn't high enough and Pence's on a breaking ball.
"I made some pitches when I needed to and didn't make some when I needed to," Beckett said. "On Sandoval, I tried to go up there and the video showed I got it up, and I don't know if he was looking for it but he hit it good. Overall, I felt I was getting on top of the ball better today than the last couple spring starts."
The decisive inning for the Dodgers was the bottom of the sixth, when they loaded the bases with no outs and didn't score, as George Kontos came on and got a run-scoring double-play grounder from Kemp.
"We went at him with sinkers inside and with that closed-off stance, he doesn't really get to that inside heater very well," Kontos said of Kemp. "I threw him an inside heater and he kind of had a little bit of a defensive swing on it and luckily he kind of rolled it over to third base and we were able to turn two."
Ken Gurnick is a reporter for MLB.com. This story was not subject to the approval of Major League Baseball or its clubs.