Two homers help Lincecum, Giants grind out win
Righty limits damage despite seven walks; Panda, Pence go deep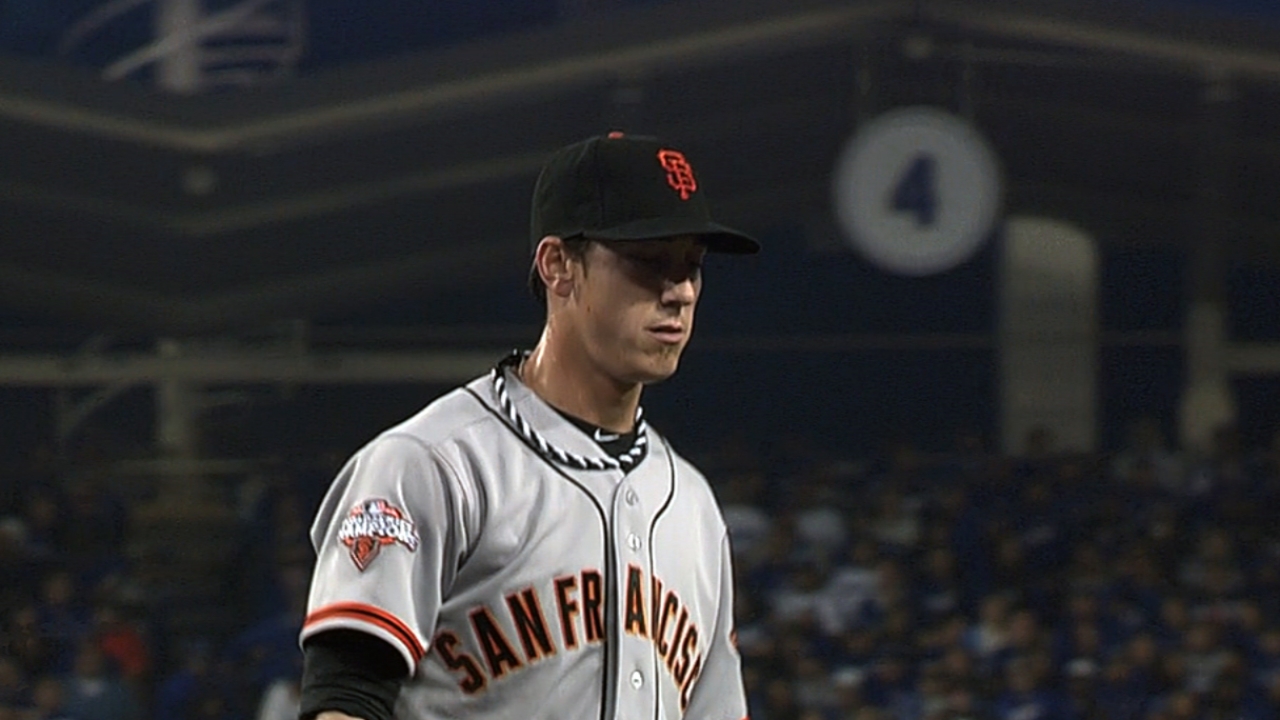 LOS ANGELES -- The 80th victory of Tim Lincecum's Major League career looked nothing like the previous 79.
But in the wake of Lincecum's 10-15 finish in 2012, any game with a "W" by his name in the box score is a welcome one for him and the Giants, who outlasted the Los Angeles Dodgers on Wednesday, 5-3.
Lincecum was flawed, matching a career high by walking seven. But he also was tough, limiting Los Angeles to one hit in nine at-bats with runners in scoring position. Bent on improving upon last year, he allowed just two unearned runs and three hits while lasting five innings.
"I felt like today I was more competing than pitching," said Lincecum, who barely threw more than 50 percent strikes -- 46 in 91 pitches.
Lincecum also was competitive enough as a hitter in the third inning to work the count to 2-2 against Dodgers starter Josh Beckett and produce a groundout that opened the scoring in a four-run uprising.
Lincecum's multifaceted effort hastened the Giants' second consecutive triumph that gave them the series victory -- though participants differed on the significance of that accomplishment.
"It is really satisfying for us," Lincecum said of subduing the Dodgers, who outspent every Major League team to build a perceived contender. "A lot of guys were looking forward to this series. I know I was, personally. We took it to heart and left it out there on the field."
Said Giants right fielder Hunter Pence, "It's meaningless. There's a long way to go. A Major League season is a lot more than the first series."
Dodgers center fielder Matt Kemp, who went 0-for-4 to extend his seven-game hitless streak against the Giants to 25 at-bats, echoed Pence. "Any loss is frustrating. This series is over. We're not worried about it anymore."
Still, the Giants made this a noteworthy series for themselves in various ways. Starters Matt Cain, Madison Bumgarner and Lincecum combined to throw 19 innings without surrendering an earned run. Sergio Romo saved both victories, lengthening his streak of converted save chances to 11, dating to Aug. 23.
The Giants relied on power, another unusual element for them. Pablo Sandoval tomahawked a two-run homer on a shoulder-high fastball from Beckett to highlight San Francisco's third-inning outburst.
"He's one of those guys who can expand the [strike] zone and find a way to get good wood on it," Giants manager Bruce Bochy said.
Pence added a two-out homer off Beckett in the sixth to conclude the scoring for the team that ranked last in the Majors in roundtrippers last year.
"I didn't have that much time to think because he had paused on me and I called time," Pence said, "and as soon as I got back in the box he was throwing. I happened to be ready to catch one."
Though both runs Lincecum permitted were unearned, the two-time National League Cy Young Award winner absorbed responsibility for each due to his shaky fastball command. He allowed a hit and walked two as Los Angeles scored in the first inning -- recalling the Major League-high 28 first-inning runs he surrendered last year -- then issued another free pass to christen the Dodgers' fifth when they trimmed the difference to 4-2.
Lincecum's departure didn't end the suspense, in which the Giants' bullpen played a starring role. The Dodgers loaded the bases with nobody out in the sixth inning against left-hander Jose Mijares. But George Kontos repeated history by coaxing Kemp's double-play grounder as a run scored. Kontos recorded the biggest out of his 2012 rookie season when he fanned Kemp to strand a runner at third base and preserve a one-run Giants lead in the seventh inning of an Oct. 2 game at Dodger Stadium. Javier Lopez stranded a runner on first base by striking out Adrian Gonzalez.
"At that point with no outs, you definitely want them to hit the ball on the ground," Kontos said. "We went at him with sinkers inside and with that closed-off stance, he doesn't really get to that inside heater [fastball] very well. I threw him an inside heater and he kind of had a little bit of a defensive swing on it and luckily he kind of rolled it over to third base and we were able to turn two."
Andre Ethier doubled to open Los Angeles' seventh. Chad Gaudin then relieved Lopez and retired the next three hitters without Ethier advancing to begin an effective two-inning stint. Gaudin also marooned a Dodger on first base in the eighth inning by slipping a 79-mph slider past Kemp for a called third strike.
San Francisco's six pitchers stranded 12 baserunners as the Dodgers went 1-for-14 with men in scoring position.
Chris Haft is a reporter for MLB.com. This story was not subject to the approval of Major League Baseball or its clubs.