Cards battle, but fall in 16-inning marathon vs. D-backs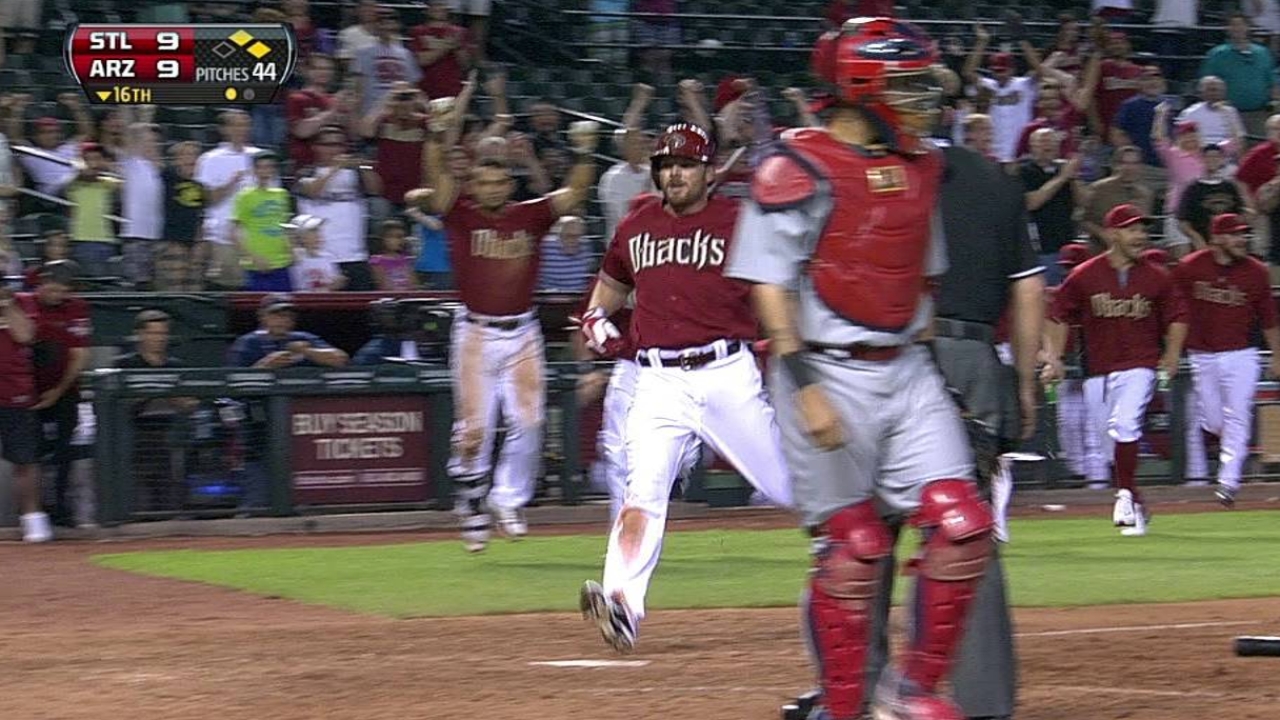 PHOENIX -- It hardly mattered who manager Mike Matheny sent to the mound at Chase Field on Wednesday night turned Thursday morning. The result was routinely the same -- leads were lost and eventually, a tie game tipped permanently in Arizona's favor
The D-backs climbed out of a deficit four times against a porous Cardinals bullpen that finally gave up the game in the 16th. Fernando Salas -- the team's last available reliever -- surrendered the game-winner, Cliff Pennington's single past a diving Daniel Descalso to send Arizona celebrating with a 10-9 win to close out the series.
"That was just a really fun game to be a part of, back and forth," said Allen Craig, one of five Cardinals players to accrue eight plate appearances in the game. "I wish it was a little bit shorter and we would have won, but it was fun to be a part of."
By the time the 5-hour, 32-minute game ended, it had become the longest (in terms of time) in Chase Field history. The D-backs had played 16 innings in their ballpark only twice prior, most recently in 2006. The Cardinals last played a road game of this length in 2003, when the team took a 20-inning victory from the Marlins.
The inability to end this game earlier -- and open the year with a series win -- sat on the shoulders of a pitching staff that was supported by nine runs and a 16-hit night. But the Cardinals' new-look bullpen didn't pass its first serious test of the season.
Starter Lance Lynn lasted only four innings. Joe Kelly served up a pair of two-run homers. Trevor Rosenthal didn't hold a lead in the eighth and Mitchell Boggs couldn't in the 12th.
Had any of that gone right, Salas would not have been asked to try and cover a third inning in an appearance for the first time since April 2011.
"In a perfect world, you'd like to have a three-run lead for these guys the first time they go through for a save situation or a hold," Matheny said. "But this is how it was for today. It was a tough assignment to come in against a team that is hitting the ball well. You give them bases and it makes your job harder."
Perhaps Gerardo Parra's leadoff home run on Lynn's fourth pitch should have been a harbinger for the tough night ahead for the pitching staff. Lynn lasted into the fifth, but was fortunate that several hard-hit balls off him didn't find holes until then.
With the Cardinals leading by three, Arizona opened the fifth with three straight hits. That was it for Lynn, who, with a pitch count at 94, turned the game over to the bullpen.
"I just have to be better than that, plain and simple," said Lynn, who was particularly hurt by elevated pitches. "When you put your bullpen in that situation, what happened tonight happens. You don't want to do that and I can't do that again. I've got to do better."
The tenuous 4-2 lead he left behind crumbled quickly. In his first appearance with the Cardinals, Randy Choate allowed a sacrifice fly. Kelly then served up a two-run homer to Paul Goldschmidt.
An inning later -- after the Cardinals had pulled back ahead -- Martin Prado took Kelly deep with a two-run shot. That evened the game at 7.
"I was just falling behind hitters," said Kelly, who gave up four hits in his 1 2/3-inning outing. "They were hacking early. It looked like that was their game plan -- hunt the fastball and then try to hit it."
Those behind him would hardly fare better. Given a one-run lead with Yadier Molina's seventh-inning homer, Rosenthal lost it when Arizona connected for three straight eighth-inning hits.
Four innings later, St. Louis inched in front after Pete Kozma delivered a two-strike RBI single. Boggs followed and gave it back in his first save opportunity since 2011. A leadoff single and subsequent hit batter stung him in that 12th inning.
"When it's a one-run game like that, the last thing you want to do is put the first two guys on," Boggs said. "It wasn't ideal and I wasn't able to get out of that. I'm not going to use being in a different role as an excuse. I went out there the same way I always do and that's trying to be aggressive and attack the strike zone."
The Cardinals couldn't get to reliever Josh Collmenter again in the ensuing four frames, which gave Arizona sufficient time to muster one last rally, which began with Salas walking the leadoff hitter in the 16th.
"I just kept saying I don't want to hurt the kid, but he kept saying he was fine," Arizona manager Kirk Gibson said of Collmenter, who tossed five innings. "He actually threw the ball better as he went along."
The Cardinals' bullpen troubles overshadowed a night in which there was offense aplenty. By the seventh inning, seven of the Cardinals' eight starting position players had already scored a run. By the end, five players drove in at least one. Descalso tallied a career-best four-hit game.
The Cardinals jumped out to a 4-1 lead with a four-run third that featured RBI hits from Craig and Molina. Descalso's two-run double highlighted a three-run sixth. After Arizona tied the game again, Molina followed with a go-ahead solo homer in the seventh.
"We put up nine runs and got a lot of hits," Craig said. "We had some spots where we could have gotten some more. We just couldn't get it done. We just didn't get that extra hit."
Craig played all 16 innings despite wearing a "pretty big scrape" on his left knee from a second-inning collision with the wall along the right-field foul line. He said the incident -- which induced flashbacks to Craig hurting his right knee on a similar play in Houston in 2011 -- did not affect him the rest of the night.
Had the game gone deeper, Matheny was prepared to send catcher Tony Cruz or Descalso out to the mound next. As for good news, there was one additional bit of it. The Cardinals don't have to take the field again until Friday.
"The off-day," Matheny said, "is a big deal for us."
Jenifer Langosch is a reporter for MLB.com. Read her blog, By Gosh, It's Langosch, and follow her on Twitter @LangoschMLB. This story was not subject to the approval of Major League Baseball or its clubs.