No offense, but Blue Jays aren't concerned
Drop second straight, despite Bautista's game-tying HR in ninth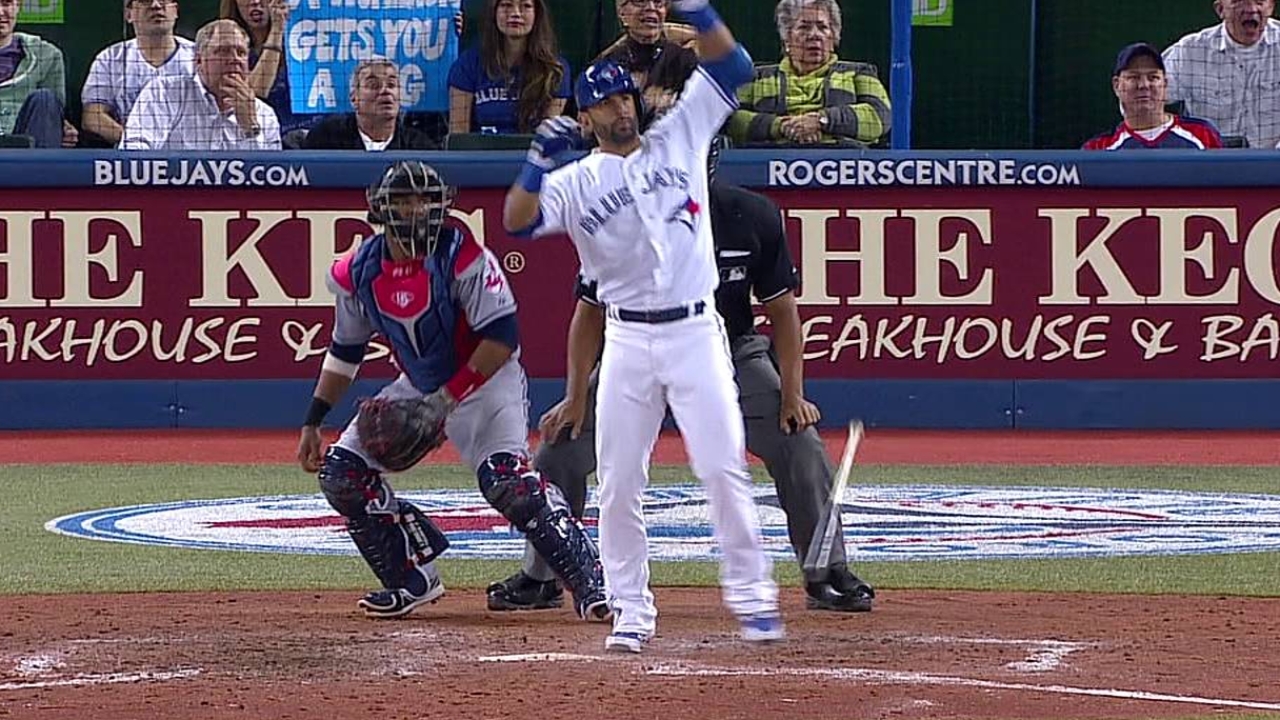 TORONTO -- The Blue Jays' offense has yet to live up to the offseason hype. But with the club just two games into the season, it's far too early for anyone in the clubhouse to get overly concerned.
Toronto's lineup was held mostly in check for the second consecutive game by the Indians pitching staff. The batting order has a total of just nine hits and three runs over its past 20 innings, en route to the club's first 0-2 start since 2004.
The lack of offense helped contribute to a frustrating Wednesday night at Rogers Centre, which was capped in the 11th inning when Mark Reynolds took a pitch from Sergio Santos and sent it over the wall in left field to give Toronto a 3-2 loss.
"There are going to be stretches when we're not going to score six, seven runs a game," right fielder Jose Bautista said. "This is just one of them that happened now at the beginning of the season.
"We haven't been getting on base too much and we haven't been getting a lot of hits. But it's only two games and I don't think anybody in here is concerned about that."
The nine hits tied a Blue Jays record for the fewest through the first two games of a season. Toronto's ballclubs in 1990 and '98 both had similar starts, but went on to finish 14 and 12 games over .500.
There's no reason to panic, but the problems do become magnified when they happen at the beginning of the season, when there is no track record to fall back on.
Right-hander Justin Masterson limited to the Blue Jays to just one run over six innings on Tuesday, and the following day it was Ubaldo Jimenez who recorded the exact same line for the Indians.
Despite the struggles, Blue Jays manager John Gibbons knows all it takes is one game to have the momentum start going back in his club's favor.
"I think it's too early for that," Gibbons said of the pressure facing his lineup. "I think they've pitched good against us. There were maybe some times when we're been overly aggressive.
"But I can't take anything away from them, I have to tip my hat to them. They've pitched very good and then they get to their bullpen, the bullpen has pretty much shut us down."
The bottom half of the Blue Jays lineup certainly misses Brett Lawrie, who is currently on the 15-day disabled list with a strained left oblique muscle. But Lawrie's absence also has been felt on the defensive side.
Infielder Maicer Izturis has experienced more than his fair share of difficulties while filling in for Lawrie at third base. Izturis homered in the third but also committed a pair of defensive miscues, including a throwing error in the eighth that allowed Michael Brantley to score all the way from first base for a 2-1 Indians lead.
Izturis' other miscue occurred in the third, with right-hander Brandon Morrow on the mound. Cleveland's Michael Bourn led off with a soft liner to third. The ball bounced off Izturis' glove and Bourn was credited with a double, but could easily have been charged with an error.
Bourn eventually came around to score on an RBI single by Brantley to give Cleveland its first run.
"I think he just misjudged the timing of his jump," Gibbons said. "He's not a big guy, he can only go so high, but I think he just mistimed it a little bit. Then we had the chance for the double play, he threw low and let the go-ahead run in. But he also got a big home run for us to tie it early, so he's going to help us this year."
There was a glimmer of hope in the bottom of the ninth when Bautista stepped into the batter's box. With his team trailing 2-1, Bautista promptly hit a line drive solo homer over the wall in left field.
Bautista's first homer of the year ensured that Indians closer Chris Perez would be off to a similar start as last season. Perez attempted to close out last year's Opening Day game versus the Blue Jays, but instead surrendered three runs en route to a blown save.
"I was looking for a good pitch to hit, ideally a fastball," Bautista said. "I had a pretty good swing on a terrible pitch the pitch before. For whatever reason he decided to throw a fastball in the zone, which is what I was looking for with the first pitch and the second pitch.
"I was lucky enough that he missed his spot, came into my zone that I like to hit the ball in, middle in, and I connected. I know it was a big hit in the moment but I would have rather had the win."
Santos entered the game in the 11th and quickly got ahead 0-2 on Reynolds before eventually leaving a 96 mph fastball up in the zone.
Cleveland's designated hitter didn't miss out on the opportunity, as he drove the ball into the second deck in left-center field. It was Reynolds' first homer of the season and also Santos' first loss, after he threw a scoreless two-thirds of an inning on Tuesday night.
"It's huge, we were talking about that on the bench, we've got to pick [Perez] up," Reynolds said. "He's out there doing his thing and he gave up a homer to one of the best home run hitters in the league. It happens. We came back, put some good ABs together in the 10th and then came through in the 11th."
As for the panic some Blue Jays fans might be feeling early in the year, the same reaction is not being felt in the clubhouse. When Bautista was asked if his club was pressing at the plate he had a simple and definitive answer.
"No, that's a big N-O, both capital letters."
Gregor Chisholm is a reporter for MLB.com. Read his blog, North of the Border, and follow him on Twitter @gregorMLB. This story was not subject to the approval of Major League Baseball or its clubs.