Pitching struggles continue in loss to Rox
Weeks comes within triple of hitting for cycle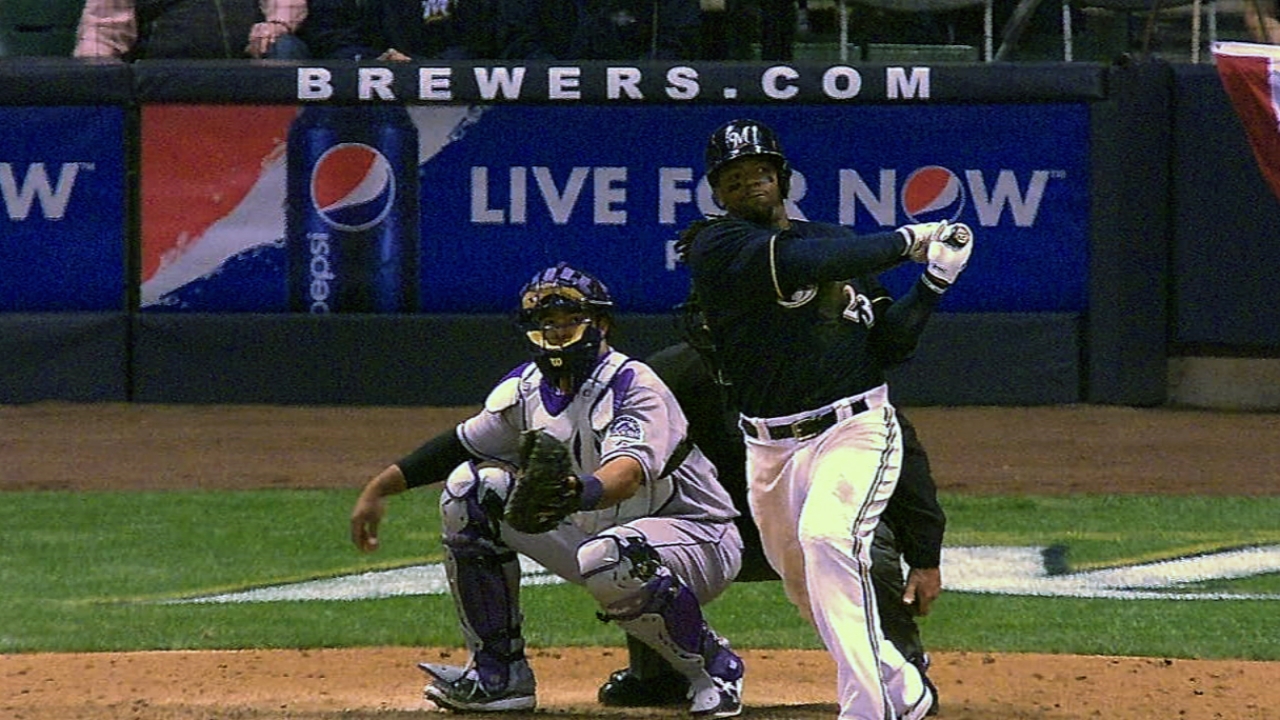 MILWAUKEE -- Here's one instance in which all of the winter prognosticators might have been right. The season is only three games old, but the Brewers look like a team with a pitching problem.
The Crew fell to 0-for-3 in the quality-start department when Wily Peralta was knocked out in the sixth inning on Wednesday, and closer John Axford heard boos after surrendering two more home runs in a 7-3 loss to the Rockies at Miller Park.
The Rockies collected 41 hits, including eight home runs, to win the opening series, two games to one.
"We need to pitch better," manager Ron Roenicke said. "I know it's early, but we still need to pitch better."
Asked whether he worried about the Brewers' pitching, center fielder Carlos Gomez answered twice: "It's only three games. It's only three games."
Gomez went 0-for-4, but saved a run by leaping at the center-field fence to pull back a Carlos Gonzalez home run in the sixth. Second baseman Rickie Weeks finished a triple shy of the cycle and left fielder Ryan Braun reached safely all four times, with two hits, two walks, a run scored and an RBI in the seventh inning that cut the Brewers' deficit to 4-3.
Peralta took the loss after allowing four runs on six hits in 5 1/3 innings, leaving Brewers starters with a 6.46 ERA. Newcomer Kyle Lohse will seek some quality when he debuts against the D-backs on Friday night.
Of equal concern was Axford, who converted 17 of his final 18 save opportunities to reclaim closer duties last year, has recorded fewer outs (five) then he has surrendered hits (six, including three home runs) so far. He worked Wednesday with the Brewers trailing by one in the ninth and allowed a two-run home run to Michael Cuddyer and a solo shot to Dexter Fowler, the same Rockies outfielder whose homer on Opening Day handed Axford his first blown save.
Most alarming was that Axford's first four fastballs registered 91-92 mph on the radar gun, when he typically touches 97 mph. He did get up to 94 mph before Roenicke called for Tom Gorzelanny after Axford surrendered the fifth hit of the inning.
"It was way down," Roenicke said of his closer's velocity, "so we'll talk to him and see how he's doing."
Axford reported feeling "fine."
"I don't know what to say," Axford said. "I don't know."
Roenicke wondered aloud whether the fact Axford was pitching with a 4-3 deficit could have played a role. Considering he had not pitched Tuesday, and the Brewers are off Thursday, Roenicke wanted to give Axford an inning to keep him sharp, but noted that closers often struggle for some reason when pitching in non-save situations.
What did Axford think of that explanation?
"It shouldn't be [a factor]," he said. "I've never made it one. You want to go out there with the same intensity, the same enthusiasm, no matter what the situation is. That's a one-run ballgame right there, you know? If I put up a zero, we have a really good opportunity to win that game in the ninth, especially with our offense. I just didn't come through, didn't do my job of holding us there."
Rockies right-hander Juan Nicasio was the first starting pitcher in the series to log a win, holding the Brewers to two runs on seven hits in six innings. He walked two and struck out two.
Peralta, who entered the season as the Brewers' top prospect, set the tone for a long night when he fell behind six of the Rockies' first seven batters.
"He's got great stuff, but he's got to learn to get it over the plate, get ahead of hitters," Roenicke said. "These guys [the Rockies] are pretty hot right now swinging the bat, but we've got to do a better job of pitching."
"It was early in the season and my rhythm was a little off," Peralta said. "That's all. … It's early. It's the first start for me, first outing for everybody. I think we're going to be good."
Peralta exited trailing 4-2, but the Brewers made it a one-run game in the seventh inning with back-to-back doubles from Weeks and Braun. That brought Ramirez to the plate with the tying run in scoring position, but Rockies reliever Chris Volstad caught Ramirez looking at a called third strike to end the threat.
"That's as tough a 3-4 to get through in the league," said Rockies manager Walt Weiss, referring to Braun and Ramirez. "Volstad made a great 3-2 pitch, a breaking ball. It was a gusty pitch. It was going to take a real good effort from all our guys who threw tonight, but they all came through big."
Ramirez's whiff left the score at 4-3 until the dismal ninth inning.
Axford urged patience in forming opinions about the Brewers' pitching.
"It's way too early," Axford said. "I was off to a worse start in 2011. People formed opinions then, too, and things can change. It's a long season."
Adam McCalvy is a reporter for MLB.com. Read his blog, Brew Beat, and follow him on Twitter at @AdamMcCalvy. This story was not subject to the approval of Major League Baseball or its clubs.