Gio a force with arm, bat in win over Marlins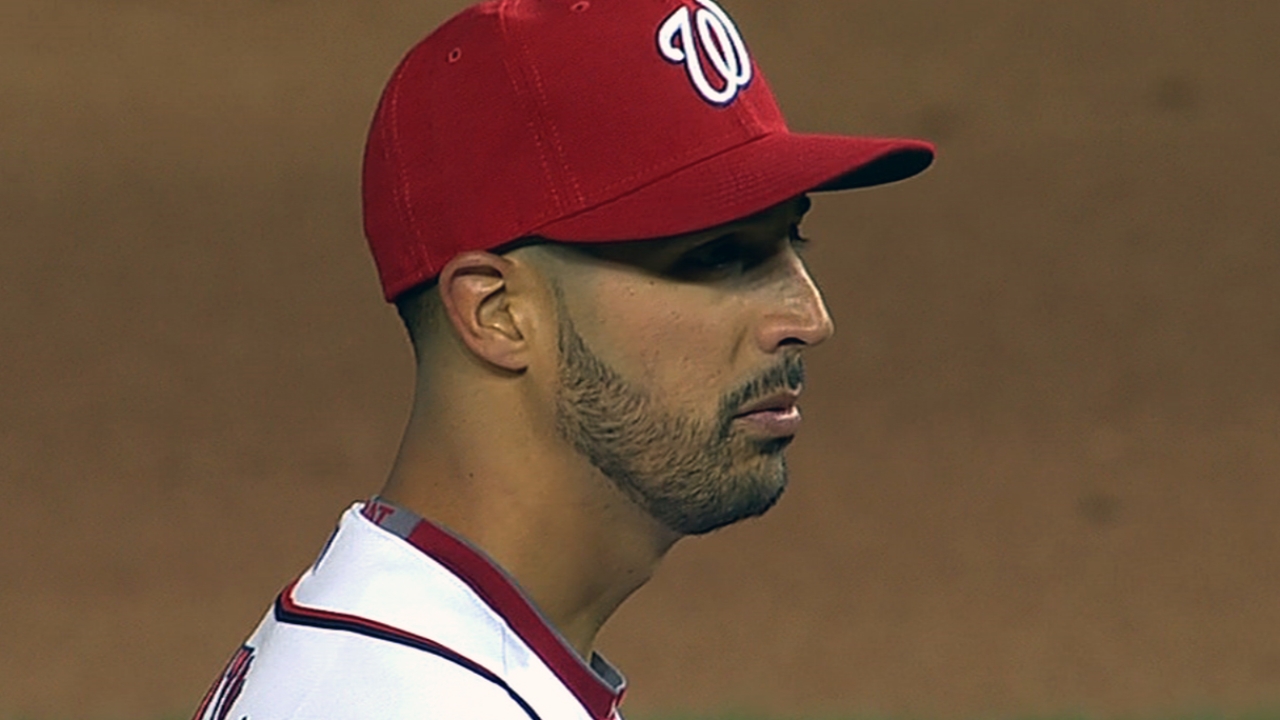 WASHINGTON, D.C. -- Left-hander Gio Gonzalez used his arm and his bat to help the Nationals blank the Marlins, 3-0, at Nationals Park on Wednesday night. Washington has now held Miami scoreless in its last 19 innings, extending back to last season.

According to Elias, with the victory, the Nationals became the 13th team since 1900 to open a season with two straight shutout victories.

"With the stuff they've got, it's pretty special, and it doesn't surprise me at all one bit," catcher Kurt Suzuki said about the pitching staff. "You look at the bullpen, too, it's tough."

It was 45 degrees at game time, and it was cold in the dugout. In fact, the team had a tough time with the heater. When the heat finally came on, hitting coach Rick Eckstein's pants were singed and almost caught fire, though he was was not injured during the mishap.

"[Eckstein] started talking to one of the hitters and he was standing close to the fire. His pant leg is all burned out," manager Davey Johnson said.

Furthermore, the bats were cold on both sides until the bottom of fifth inning.

Then, with one out, Gonzalez swung at the first pitch he saw from starter Kevin Slowey and sent it over the left-field wall to give Washington a one-run lead. It was Gonzalez's second career home run.

"It was a lucky swing," Gonzalez said. "It's just one of those lucky things. I don't want guys getting the wrong idea that I can hit. It was just one of those things where I was trying to get in there and let the rest of those guys go up there and swing the bat. I just wanted to get on base and do something. I didn't expect that."

Neither did Denard Span.

"I was putting my doughnut on the bat," Span said. "I'm still getting used to hitting behind the pitcher. I'm used to pitchers going up there and taking a half-hearted swing or a half-hearted at-bat. When the ball went off his bat, it definitely took me by surprise."

Slowey wanted to throw a slider down in the zone, but the ball stayed up, and Gonzalez crushed it.

"I tried to throw a really good [slider], and I got underneath it. It's a shame to have that happen, but that's how it goes," Slowey said.

Gonzalez pitched six shutout innings, struck out five and walked two. The Marlins' only threat came in the fifth inning. Justin Ruggiano led off with a double and Miguel Olivo followed by a walk, but Casey Kotchman hit into a double play and Adeiny Hechavarria struck out to end the threat.

"Gio is a pretty smart pitcher," Marlins third baseman Placido Polanco said. "When he has to throw a little bit harder, he knows when to do it. He is good at mixing speeds. He had a good curveball going today, and a good changeup, too."

That Gonzalez went six innings was a feat in itself. After throwing in the bullpen before the game, he came down with a headache. The training staff massaged his temples and he took Advil, and the headache subsided by the fifth.

The Nationals had a chance to give Gonzalez an insurance run in the bottom of the sixth inning against Slowey. With one out, Ryan Zimmerman tripled down the right-field line. After Adam LaRoche walked, Slowey left the game in favor of right-hander Ryan Webb, who got Ian Desmond to hit into an inning-ending double play.

The Nationals were able to get their insurance run off Webb in the following inning. With runners on first and third and one out, Span hit a slow roller to second baseman Donovan Solano. Solano collided with pinch-runner Roger Bernadina for the second out but was unable to get Span to complete the double play, and Danny Espinosa scored.

"I was confused. I was glad I was actually running," Span said. "When I hit it, I thought [Bernadina] was going to keep going to second. When he ran into Solano, I thought it was interference on Bernadina. I think the umpire was saying that Solano caught the ball first. I don't know. Whatever that meant, I was glad I was able to get the run in."

Bryce Harper scored the third run of the game on a single by Zimmerman, who went 2-for-4.

Ryan Mattheus, Drew Storen and Rafael Soriano blanked the Marlins over the final three innings.

"You give us the ball with the lead, more often than not, we are going to close the game out," Mattheus said. "I told Suzuki, the amazing thing is, we still have Tyler Clippard, Craig Stammen, Zach Duke and Henry Rodriguez sitting down there, and we used three guys. So we could have pitched another four or five innings strong, I think. It's a great group of guys down there."