Rox take rubber game behind Nicasio-Rosario battery
Colorado finishes with eight homers in series, most in Majors thus far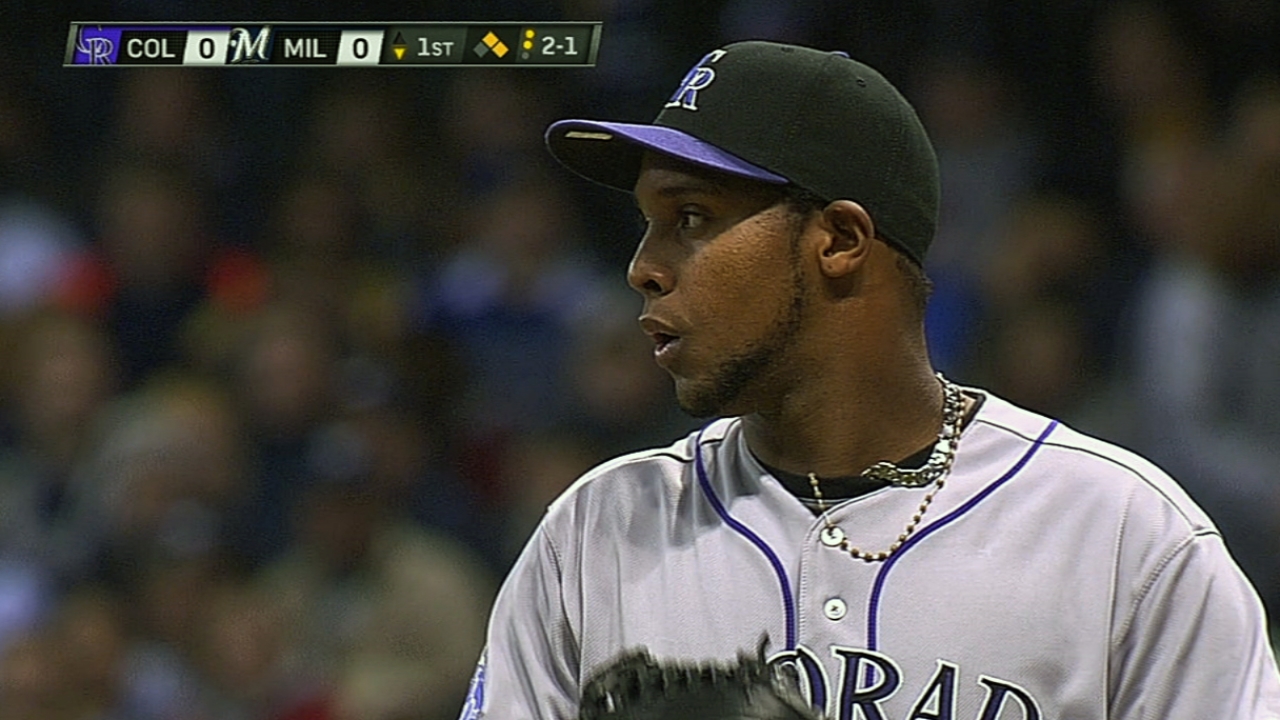 MILWAUKEE -- Rockies right-hander Juan Nicasio was understandably eager for his first start of the season. But once he realized his enthusiasm was working against him, he gave the Rockies a pitching performance they can be excited about.
Nicasio held the Brewers to two runs in six innings and benefited from a 15-hit offensive attack to earn his first career road victory, 7-3, over the Brewers at Miller Park in front of 25,766 on Wednesday.
After dropping Monday's season opener -- the debut for manager Walt Weiss -- the Rockies took the final two games, for their first season-opening series victory since 2009, when they took two of three against the D-backs at Arizona. The Rockies will be off on Thursday, and will host the Padres on Friday for their home opener at Coors Field.
Hitting was a huge piece of the success. Wilin Rosario's two-run homer in the second inning, Michael Cuddyer's two-run shot in the ninth followed by Dexter Fowler's solo laser brought the Rockies' home run total for the series to eight -- the most by any Major League team thus far. The Rockies also brought their series hits total to 41.
But the Rockies have a history of hitting, win or lose. They finished in the top two in the National League in many significant categories last year and still lost a club-record 98 games.
They can win with pitching like they received Wednesday when Nicasio (1-0) showed more savvy than one would expect from a pitcher whose previous experience is two injury-shortened seasons.
Nicasio labored through a 30-pitch first inning, but escaped without a run scoring. But he put down the second in nine pitches and spread the rest of his 97 pitches efficiently through his six frames.
"In the first inning, I threw a lot of balls because I was excited and I tried too much," Nicasio said. "Then I started pitching to contact. I said, 'I know I have 30 pitches, so I'm going to try to for 10 per inning.'"
Nicasio ended up with his first win anywhere since April 30. The Rockies were 1-5 in his final six starts last year, a slump that ended on June 2 when he suffered a season-ending right knee injury. In 2011, he was called up in late May, but his season ended on Aug. 5 when a line drive from the Nationals' Ian Desmond bounced off his right temple and left him with a broken neck.
"All the stuff he's been through, this has to be a great feeling for him," Weiss said.
Rosario, who caught many of Nicasio's starts in the Minors, said: "The only thing I know is he likes to fight. He likes to compete. That's something you could see back in the Minors, and he never lost it."
Nicasio spent most of Spring Training learning to mix his slider and developing changeup with a fastball that regularly travels at 94 mph. He was more effective mixing pitches than in the past, but he still threw 74 fastballs. That was a case of him Rosario reading Brewers swings. Nicasio threw first-pitch strikes to 20 of the 26 batters faced and recorded two strikeouts and two walks.
"I threw my fastball inside, away, and nobody can hit my fastball," Nicasio said. "The hitter needs to show me he can hit my fastball inside. If he does, OK, I'm going to throw my breaking ball. But if nobody can hit it, I'm going to throw it."
It was a nice start for Rockies pitching, considered a weak spot coming into the season. Jhoulys Chacin hummed for 6 2/3 innings of the opener, but the Rockies lost in extra innings. Jorge De La Rosa was removed after 4 1/3 innings for strategic purposes, but the bullpen won it on Tuesday.
"Get good starting pitching and it tends to fall into place for you," Weiss said.
The Brewers narrowed the difference to 4-3 in the seventh on Ryan Braun's RBI double. Righty Chris Volstad, in his Rockies debut and in his first relief appearance since his Major League debut for the Marlins against the Rockies on July 6, 2008, froze Aramis Ramirez with a full-count curveball to escape the inning. Ramirez is 6-for-18 with five RBIs career against Volstad.
The Rockies spent three games showing they could hit most anything the Brewers threw -- and hit it a long way. The show was disconcerting for Brewers manager Ron Roenicke.
"We need to pitch better," Roenicke said. "I know it's early, but we still need to pitch better."
Rosario, who hit 28 homers as a rookie last year, launched his second-inning homer off Brewers top prospect Wily Peralta (0-1). Cuddyer, who didn't start, but pinch-hit for Nicasio in the seventh, homered off John Axford. Two hitters later, Fowler victimized Axford with a homer for the second time in the series.
Rosario had three hits. Gonzalez added two and finished the series 6-for-15. Jordan Pacheco and Reid Brignac each singled and doubled while making their first starts.
The run-scoring potential is one reason the Rockies turn a deaf ear to predictions of more misery.
"That's what we talk about, putting pressure on teams and putting us in situations to do those type of things," Cuddyer said. "And our hitters are capable of it."
Thomas Harding is a reporter for MLB.com. Read his blog, Hardball in the Rockies, and follow him on Twitter @harding_at_mlb. This story was not subject to the approval of Major League Baseball or its clubs.