Slowey steady, but Marlins blanked by Nationals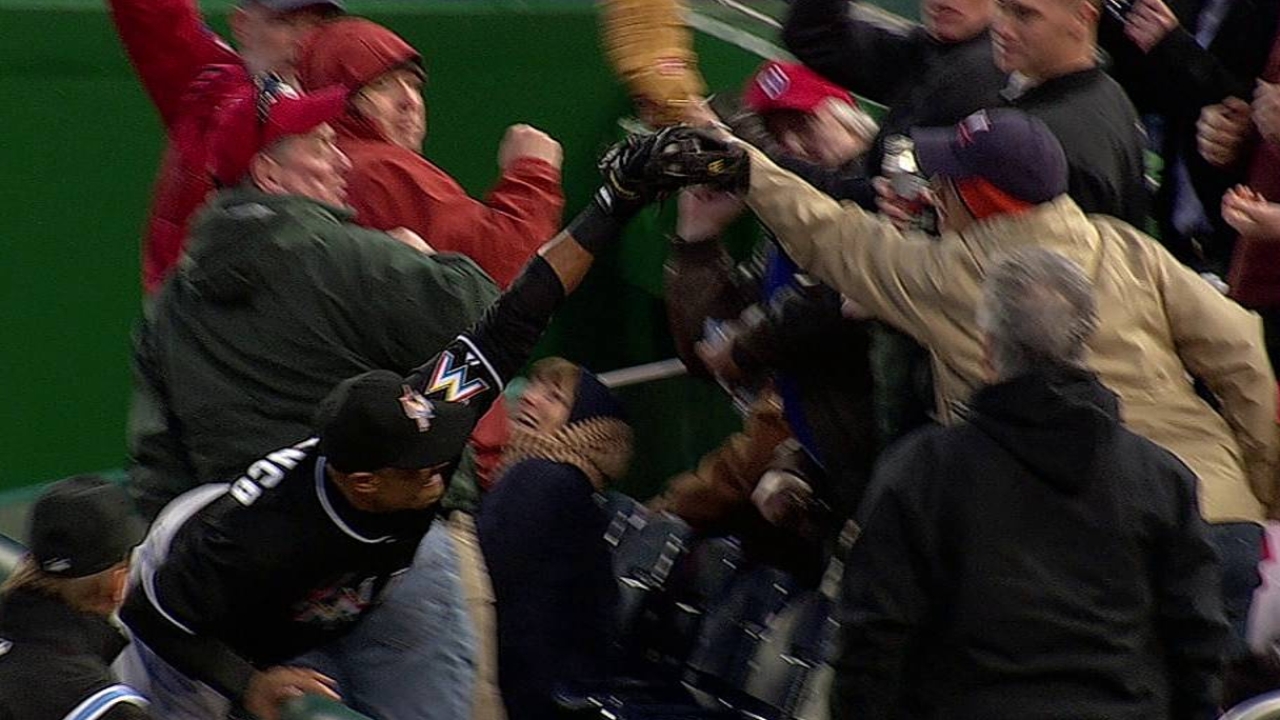 WASHINGTON, D.C. -- Their pitching has made things interesting, but the Marlins' offense is off to a historically slow start.
For the first time in its history, Miami has been shut out in its first two games.

Nationals left-hander Gio Gonzalez threw six scoreless innings on Wednesday night and chipped in with a solo home run in Washington's 3-0 victory over Miami at Nationals Park.

The Marlins have been blanked through 18 innings, breaking the club's previous longest drought -- 13 innings in 1996 -- to open a season without a run.
Miami has been limited to seven total hits thus far in the series, which concludes on Thursday, with first pitch at 4:05 p.m. ET.

A team has thrown back-to-back shutouts to open a season just 13 times in Major League history. The last team to do it was the 2002 D-backs.

"We've had some chances," manager Mike Redmond said. "But they made some good pitches and have gotten out of some situations as well.

"We've got a couple of guys who may be pressing, too, but we'll be fine. We've just got to continue to go out there and keep grinding it out; get that first run across and take the pressure off guys."

Making his first big league start since Sept. 26, 2011, right-hander Kevin Slowey held the Nationals in check, with the homer by Gonzalez the lone run he allowed over 5 1/3 innings.

"The home run was a slider that I actually tried to bury," Slowey said. "I tried to throw a really good one, and I got underneath it. It's a shame to have that happen, but that's how it goes."

Slowey has now lost nine straight decisions following a win on Sept. 28, 2010. But overall, the veteran was effective, throwing against a tough lineup in less-than-ideal conditions.

The game-time temperature was 45 degrees, with 17-mph winds. Such a setting can affect a pitcher's secondary pitches.

"Probably a little more difficult, but we're both playing in it," Slowey said. "That's part of the game, that's part of the beauty of baseball. Weather does affect things."

His counterpart, Gonzalez, struck out five and allowed two hits.

Gonzalez complained of a headache before the game, but it was the Marlins' offense that suffered.

"He pitched a great ballgame," Nationals manager Davey Johnson said. "He made pitches when he had to. He threw a lot of pitches one inning, but other than that, he was good."

In Monday's season opener, Stephen Strasburg threw seven scoreless innings against Miami, scattering three hits with three strikeouts.

"It's only two games. We've faced good pitching," said Placido Polanco, who had one of Miami's four hits on Wednesday. "We've got to keep trying. We've got to put together a couple of hits and score some runs. If we don't score, we're not going to win. Very simple. Our pitching has been really good. What do you do? You just turn the page tomorrow, and keep battling."

Gonzalez and Strasburg have combined for 13 scoreless innings, scattering five hits while striking out eight.

"With the stuff they've got, it's pretty special, and it doesn't surprise me at all one bit," Nationals catcher Kurt Suzuki said. "You look at the bullpen, too, it's tough."

In addition to shutting down the Marlins from the mound, Gonzalez did damage with his bat.

The left-hander, who bats right-handed, connected on a one-out home run to left field in the fifth inning.

That fifth inning turned out to be a painful one for Miami.

In the top of the frame, veteran Casey Kotchman strained his left hamstring while tumbling over first base.

With runners on first and second, he bounced into a 1-6-3 double play. Sprinting hard down the line, he stumbled as he crossed the bag and immediately reached for his left hamstring.

Greg Dobbs replaced him at first base.

At the minimum, it looks as if Kotchman will be out a few days. If the injury is more serious, a stint on the disabled list is a possibility.

"He's listed as day to day. We have to wait and see how he is tomorrow," Redmond said. "I watched him going down that line, and he grabbed that thing right away, and then went down in a heap. Those things typically are pretty sore the next day."
Joe Frisaro is a reporter for MLB.com. He writes a blog, called The Fish Pond. Follow him on Twitter @JoeFrisaro. This story was not subject to the approval of Major League Baseball or its clubs.