Rallying Angels gamble, lose in ninth inning
Homers help erase four-run deficit before Reds' Votto makes club pay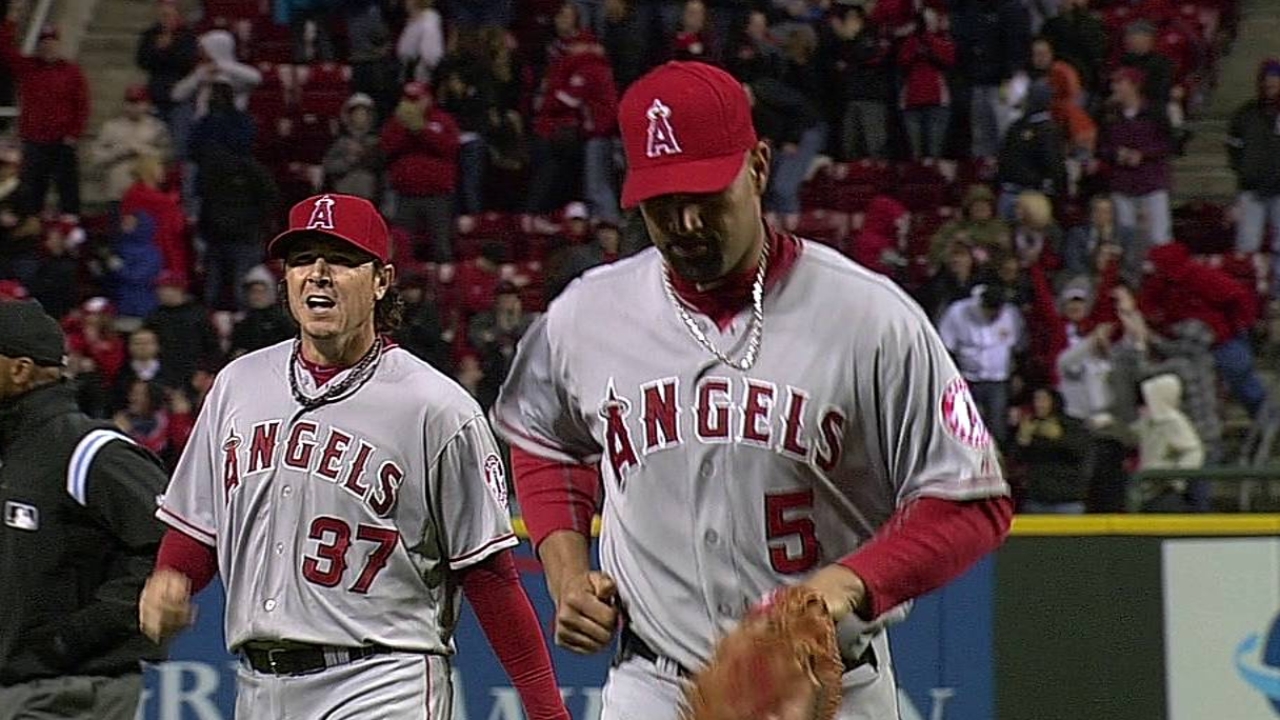 CINCINNATI -- The general rule in sports is that you don't let the other team's best player beat you.
For the Angels on Wednesday night, it was a little more complex than that.
In a tied game in the bottom of the ninth, with the winning run in scoring position and first base open with one out, the Reds had their best hitter, Joey Votto, at the plate and the Angels had their sage lefty reliever, Scott Downs, on the bump. Angels manager Mike Scioscia thought about walking Votto, but he liked the lefty-lefty matchup, saw the right-handed-hitting Brandon Phillips on deck and played the percentages.
The result was a hard short-hop off Albert Pujols' glove, scoring Shin-Soo Choo from second base and handing the Angels a 5-4 walk-off loss at Great American Ball Park.
"He's a good hitter -- tip your cap to that," Downs said. "I made the pitch I wanted to make, he put the good swing he wanted to put on it, and he got the best of it."
The Angels had come back from a 4-0 deficit against a devastating Mat Latos, thanks to a solo homer by Howie Kendrick, a two-run shot by Alberto Callaspo and an eighth-inning RBI groundout by Mark Trumbo.
And one game after pitching seven innings of one-hit ball in a 13-inning victory, the bullpen stepped up in relief of C.J. Wilson, holding the Reds scoreless through the next couple of frames and keeping the Angels in the game.
Then Downs checked in for the bottom of the ninth, trying to protect a 4-4 tie, and his first pitch hit Choo.
"Just one of those things, it got away from me," Downs said. "Move on to the next one."
The next one, Chris Heisey, dropped down a sacrifice bunt a few feet in front of home plate. Downs charged it like a freight train, picked it up quickly and glanced at second base, but it was too risky. He got the out at first instead.
"I thought about it," Downs said. "I got to the ball fairly quickly, and I knew he was going to be bunting, so if I could get to it I might have a chance at second. But with the circumstances, you take the out and go from there."
Then came Votto, who's historically better against righties (with a .321/.425/.574 slash line) but only slightly (he's a career .304/.394/.504 hitter against lefties).
With first base open, Scioscia said walking Votto is "always in the back of your mind." But with fellow lefty Sean Burnett already used and the lefty-hitting Jay Bruce in the hole, the Angels' skipper wanted to take advantage of the lefty-lefty matchup. If Votto was retired, he'd probably walk Phillips, who blasted a three-run homer off Wilson in the fourth, to use Downs against Bruce.
"It's pick your poison," Scioscia said. "They've got a strong middle of the order, their guys hit both lefties and righties."
Downs' first pitch to Votto was a 72-mph curveball on the outside corner, which caught just enough of the plate for the Reds' first baseman to extend his arms and hit it hard to the right side. Pujols turned to his right, got on a knee and tried to make the stop, but it snuck under his glove and just out of the reach of a sprawling Kendrick in shallow right field, allowing Choo to score easily.
"I was expecting that ball to come up and it stayed down, hit the tip of my glove," Pujols said. "I thought at least I would knock it down. But I should've had it. It's a play I probably make eight out of 10 times."
Eight out of 10 times, perhaps Votto isn't even given a chance in that situation.
"I was prepared beforehand, so I wasn't stunned if they were going to pitch to me or if they were going to walk me," Votto said after making his first career plate appearance against Downs. "I want to be surprised every time I get intentionally walked. That's what I tried to do. I think that's the right way to play the game."
It doesn't come to that if the Angels get the production they expect out of their big free agents. But over the first two games, under chilly conditions that are making GABP play a lot bigger than it normally does, the Angels' big bats have gone cold, with Pujols and Josh Hamilton combining to go 0-for-15 with five strikeouts and four walks.
"Those guys are going to hit in the middle," Scioscia said. "We just have to keep controlling on the defensive side and we're going to be fine. Tonight we got back into it but couldn't get enough done."
Alden Gonzalez is a reporter for MLB.com. Read his blog, Gonzo and "The Show", and follow him on Twitter @Alden_Gonzalez. This story was not subject to the approval of Major League Baseball or its clubs.