Injury-plagued Yankees fall to Red Sox
Kuroda forced out in second inning after bruising right middle finger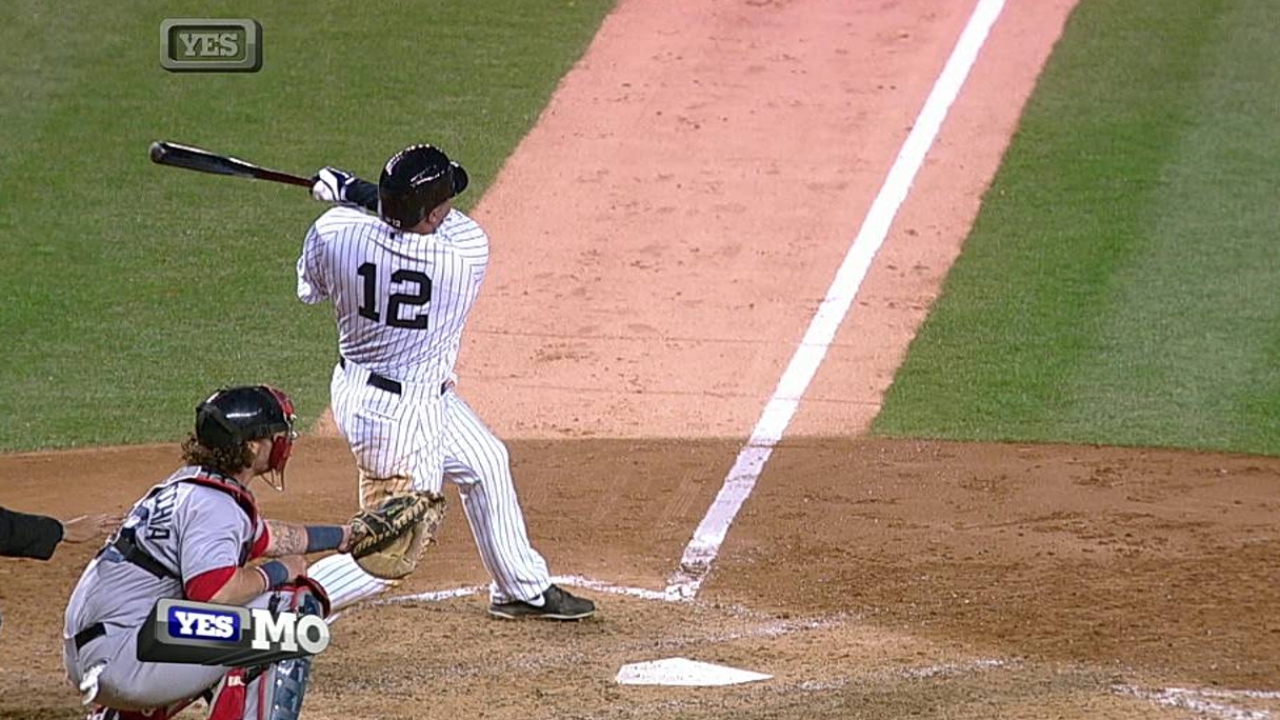 NEW YORK -- The last thing the injury-plagued Yankees need right now is another scare, but that was exactly what they received when starter Hiroki Kuroda was forced to exit in the second inning after taking a line drive off his pitching hand.
Fortunately for the Yankees, they learned that Kuroda had suffered just a bruised middle finger. That was about the only positive news of the night for the Yanks, as they never recovered from the early blow and suffered a 7-4 loss to the Red Sox on Wednesday at Yankee Stadium.
"It's definitely not what we want to see," said outfielder Vernon Wells, who hit a three-run homer. "I think there's enough injuries going around where we don't need that to happen. Hopefully he's OK. We need to get back out and play better baseball tomorrow."
While Kuroda was putting the Yanks' fears to rest by submitting to an X-ray and a CT scan, reliever Cody Eppley was charged with four runs in 1 1/3 innings of work before Adam Warren restored order, limiting Boston to a run over 5 1/3 innings of long relief.
"It's definitely a game you probably wouldn't expect to come in, with Kuroda pitching," Warren said. "I've been talking to these guys a little bit, just picking their brains [to] stay mentally ready all the time. You never know what's going to happen in that situation."
Kuroda had allowed a first-inning RBI single to Jarrod Saltalamacchia and was opening work in the second inning when Shane Victorino torched a line drive up the middle. Kuroda stuck his hand up and made contact with a glancing blow as the ball sailed into center field.
After a brief examination, Kuroda stayed in the game, but he could not find his command, issuing a walk and hitting two batters to force home Boston's second run.
"I thought I was going to continue to pitch," Kuroda said through an interpreter. "But against the lefties, I wasn't able to make the pitches, so I felt like I couldn't go anymore."
"We knew it wasn't him; at that point, he wasn't on," catcher Chris Stewart said. "It was time to get him out of there."
Manager Joe Girardi said that the Yankees will not need to make a roster move for Thursday's game, even though Warren threw 86 pitches in relief. He lauded the work turned in by the 25-year-old, who made one start for the Yankees last season and lasted just 2 1/3 innings.
"He did a tremendous job," Girardi said. "He saved our bullpen with the amount of innings he was able to give us today. I thought he threw the ball extremely well and mixed his pitches."
Kuroda said that it is too soon to know if he will need to miss his next start. The righty will throw a bullpen session on Friday, but he is relieved that there was no fracture on his fingertip.
"No swelling. The skin was good," Kuroda said. "The [test] result was good, so we'll see how it goes. I'll talk to the doctor tomorrow and talk about the next outing."
Back on the field, Victorino and Jackie Bradley Jr. added RBI singles off Eppley in the third inning, and Jacoby Ellsbury greeted Warren with a two-run single to center field.
That was plenty of support for Red Sox starter Clay Buchholz, who limited the Yankees to one run -- Travis Hafner's fourth-inning homer, his first in pinstripes -- over seven innings.
"It's always good to get off on the right foot," Buchholz said. "First start of the year, get it out of the way, especially this place pitching against this team. It's never an easy task coming in here and throwing to these guys."
Buchholz scattered six hits, walking two and striking out four, as the Red Sox pocketed the first two games of the season. The Yankees started 0-3 last season.
"It's not unusual to lose two games in a row," Girardi said. "It's somewhat glaring when it's the first two games. We didn't start out too well last year either and things turned out OK. I thought we swung the bats really well tonight, even better than the four runs that we had. I thought we squared some balls up, so I felt good about that."
Dustin Pedroia knocked home Ellsbury with the seventh Red Sox run in the sixth inning, and Wells closed the deficit with his first homer in a Yankees uniform, a three-run shot in the eighth off Sox reliever Alfredo Aceves.
"You never want to lose games," Wells said. "Obviously they're going to come, but we haven't played good enough baseball to win. That's the bottom line. We haven't clicked in all three phases of the game. It's just a matter of time before we do. It'd be nice for it to happen sooner than later."
Bryan Hoch is a reporter for MLB.com. Follow him on Twitter @bryanhoch and read his MLBlog, Bombers Beat. This story was not subject to the approval of Major League Baseball or its clubs.