Take two: Buchholz stifles Yankees
Righty allows just one run over seven frames; Bradley gets first hit, RBI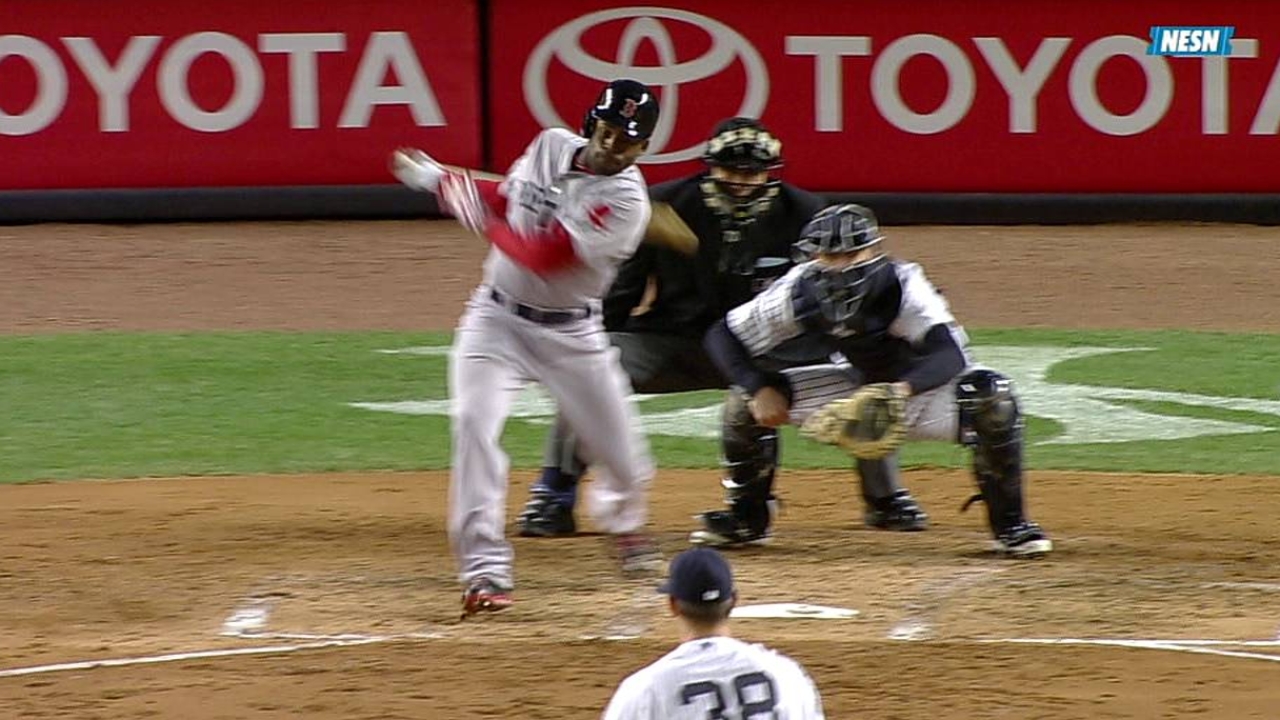 NEW YORK -- Opening the season with two wins hardly seems monumental, but for the Red Sox of recent times, it is unfamiliar territory, and therefore, an accomplishment to enjoy.
Backed by a steady supply of offense, Clay Buchholz pitched Boston to a 7-4 road victory over the injury-riddled Yankees on Wednesday night.
This is the first time the Red Sox have opened the season with back-to-back victories since the 1999 team, which got strong pitching performances by Pedro Martinez and Bret Saberhagen out of the gate.
Jon Lester and Buchholz are the starters who have helped manager John Farrell to a successful start in his first two games as manager.
After starting 2-10 in 2011 and 1-5 last year, this year's opening is a much better feeling for the Red Sox.
"Yeah, first game of the season the last couple years out, it's been tough getting started," said Buchholz. "Jon went out and did what he did and won that game [on Monday]. To not have any added pressure or anything and to go out and feel good for a change, it's definitely a lot better than going out and throwing three innings."
You'd have to go back a lot further than 1999 to find the last time the Red Sox opened the season on the road and scored seven-plus runs in the first two games. That would be '19, Babe Ruth's final season in Boston. The 1995 Sox opened with nine-plus runs in two straight home games.
Backed by the hot start of Shane Victorino (4-for-11 in the first two games) and mixing in energetic young players Jackie Bradley Jr. (first Major League hit on Wednesday) and Jose Iglesias (2-for-4), the Red Sox have looked dynamic offensively.
"Yeah, 2-0, that's a good start," said Victorino. "Can't complain. Every aspect of the game we're playing well. We're running the bases well, taking extra bases, swinging the bats, pitching well, playing good defense, that's what it's about. That's how you win ballgames. It's a positive start for us."
Farrell could not have drawn it up any better for his first two games in the dugout.
"We've been able to bunch some hits together," Farrell said. "We've worked some deep counts. We've taken walks when we've had our opportunities. You can't say enough about some two-out base hits to drive in some runs."
Nor can you say enough about the pitching. Buchholz went seven innings while allowing six hits and one run. He walked two and struck out four.
"It's always good to get off on the right foot first start of the year, get it out of the way, especially this place pitching against this team," said Buchholz. "It's never an easy task coming in here and throwing to these guys."
In this one, the elements were perhaps Buchholz's toughest obstacle. The game-time temperature was 43 degrees, but it felt a lot cooler. Most Red Sox players wore ski masks to stay warm.
"It was cold, man. That's probably the coldest I've been while I was pitching," said Buchholz. "There were some long innings where I'd sit down, cool off, get back out there. The wind, I think, was what got me. I was able to get through it."
Despite an off-day on Tuesday, the Red Sox picked right up where they left off on Opening Day. Daniel Nava, making his first start of the season, opened a rally in the first with a single to left. Dustin Pedroia followed by looping a single to right. Jarrod Saltalamacchia came through with an RBI single to right and Boston had a 1-0 lead.
Victorino got a rally started in the second when he belted a single up the middle against Hiroki Kuroda. It was a hit that had implications, as Kuroda bruised his right middle finger when he instinctively reached up for the ball. He would come out later in the inning. Bradley was hit by a pitch and Jacoby Ellsbury drew a walk to load the bases.
When Nava was hit by Kuroda to force in a run, it was clear that the right-hander's finger was bothering him, and that's when he was lifted. Reliever Cody Eppley prevented the inning from getting out of hand when he got Pedroia to hit into a double play.
In the third, however, Eppley didn't have as much luck. Saltalamacchia got things started with a one-out single and moved to second on a wild pitch. With two outs, Victorino ripped a single to left to bring in Saltalamacchia. Then it was time for Bradley's first Major League hit, a single up the middle that gave Boston a 4-0 lead. Jose Iglesias kept the rally going by hammering a double into the corner in left, and Ellsbury gave the game a blowout feel by drilling a two-run single up the middle against Adam Warren to make it 6-0.
"I think it's a lineup that's going to pick each other up," said Saltalamacchia. "You have a lot of big bats in the lineup. We've got a lot of different things we can do on the bases. We can get innings started with infield hits and just keep it moving."
Buchholz breezed through the first three innings, but Travis Hafner put the Yankees on the board with a solo homer to right-center in the fourth.
It was Buchholz's only blemish on the night.
"He's good. He always has that stuff," said Yankees outfielder Vernon Wells. "He's throwing strikes, keeping the ball down, and when he does that, he's very effective. Lester and him, they've obviously shown early on that they're back to where they can be. When those two are at the top of their rotation throwing the ball the way they have, they're going to be a good team."
The Yankees pulled closer in the eighth when Alfredo Aceves served up a three-run homer to Wells.
But Joel Hanrahan came on in the ninth and nailed down his first save with the Red Sox, who will go for the sweep on Thursday night.
"It feels a lot better to start the season 2-0 than 0-2, that's for sure," Saltalamacchia said. "It's a great start, but our focus isn't going to be on how many games we're going to win this month or this year. It's game to game. We're going to enjoy this one and then focus on tomorrow."
Ian Browne is a reporter for MLB.com. Read his blog, Brownie Points, and follow him on Twitter @IanMBrowne. This story was not subject to the approval of Major League Baseball or its clubs.