Making Astros debut, Humber strong in defeat
Right-hander allows one run, but offense silenced by Texas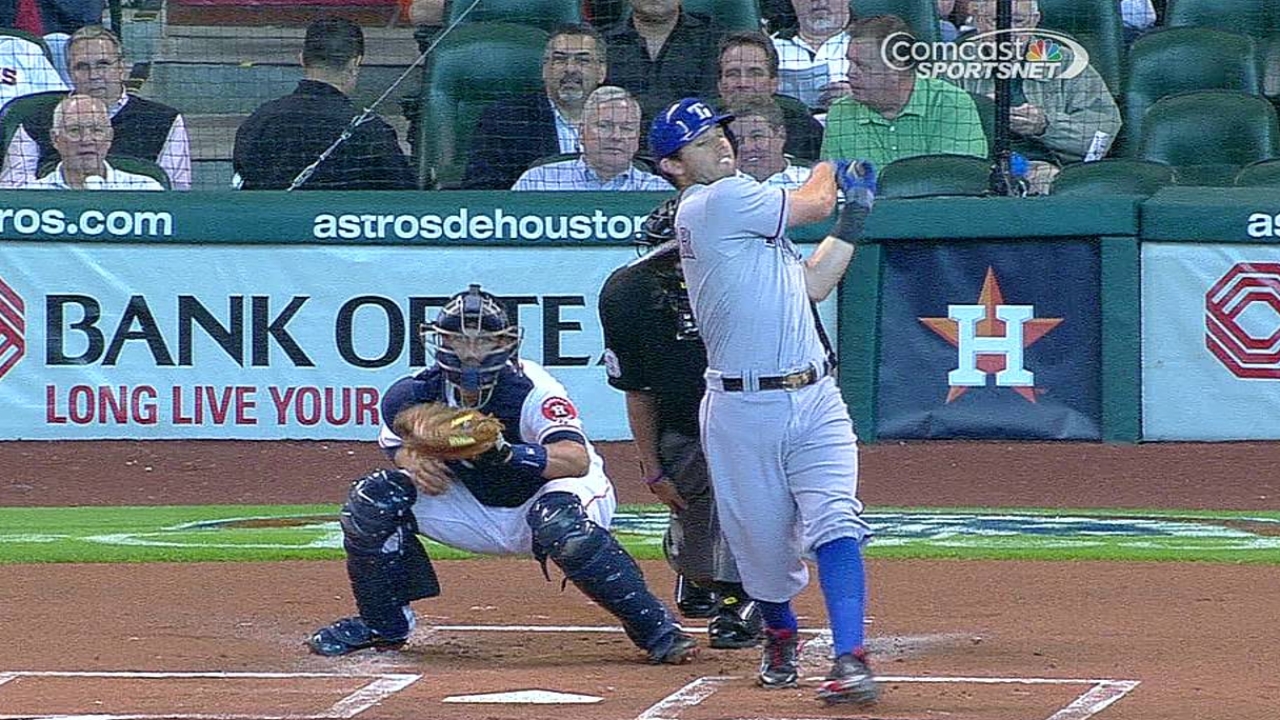 HOUSTON -- Astros manager Bo Porter didn't prepare to be a Major League manager for much of his adult life, or spend two months at Spring Training putting together his team, to reach for the panic button after an alarming amount of strikeouts to begin the season.
"I don't believe in drastic," Porter said.
That doesn't mean Porter is happy with the Astros striking out a 43 times in three games against the Rangers to start the season, including 15 in a 4-0 loss to the Rangers in Wednesday's series finale at Minute Maid Park.
Rangers starter Alexi Ogando wasn't as dominant as Yu Darvish's near-perfect game a night earlier, but he was plenty good. The right-hander held the Astros to four hits and struck out a career-high 10 in 6 1/3 scoreless innings to lead Texas to a second consecutive shutout victory.
"I think yesterday was more about their guy and today was more about our guys," Porter said. "Our guys expanded the zone way too often today, and it's something we need to make an adjustment and do a better job of. Even the fastballs we had an opportunity to hit in the count, we either fouled them off or didn't put them in play hard."
The Astros struck out 13 times but still beat the Rangers on Opening Night, and then were one out away from Darvish throwing a perfect game with 15 strikeouts on Tuesday. Texas relievers struck out the final five Astros batters on Wednesday, including Joe Nathan striking out the side in the ninth.
"They're young and they're aggressive," Rangers manager Ron Washington said. "They are going to do some striking out. But under Bo Porter and his crew, they'll figure it out."
The Rangers set a Major League record for the most strikeouts in the first three games of a season, as did the Astros, on the flip side of the record books. The 1966 Indians struck out 42 times in the first three games. The Astros heaped praise on Ogando, a hard-throwing righty who also fed Houston a steady diet of offspeeed stuff.
"A lot of times you're facing a guy that has plus velocity and he's expanding the zone with his secondary stuff," Porter said. "You have to make sure that you really zone in and get a good pitch you can drive and you're not helping him out by expanding the zone."
Astros left fielder Chris Carter echoed Porter's sentiments about being worry-free this early in the season. Carter went 0-for-4 with three strikeouts after some terrific at-bats against Darvish the night before, and also made a costly error in left.
"It's early in the season and they had a veteran catcher [A.J. Pierzynski] back there, and I think he's taking advantage of our aggressiveness that we were swinging early," Carter said.
Philip Humber's debut with the Astros was a good one, even though he wound up with a tough-luck loss. He worked 5 2/3 innings and gave up one run, five hits and two walks, improving the Astros starters' ERA to 2.08 through the first three games.
Humber, who pitched his way out of a bases-loaded jam in the second inning, allowed a run in the sixth when Nelson Cruz hit into a double play with the bases loaded, pushing home Lance Berkman. That was the last batter Humber faced.
"I was kind of fighting myself the whole day," said Humber, a Texas native who played college ball at Rice University in Houston. "That's going to happen and you're not going to feel your best every single time out there. I wasn't in a good rhythm today. We had to mix it up on them because you're out there throwing 88, 89 mph and you have to make your pitches."
Jose Altuve led off the game with a double, and Ogando retired 19 of the next 23 batters, giving up a single to Ronny Cedeno in the third and infield hits to Carlos Pena in the sixth and Justin Maxwell in the seventh.
Still, for the second game in a row, the Astros trailed only 1-0 after the sixth, but the Rangers scored three times in the seventh against Hector Ambriz. All three runs were earned, but the Astros gave Texas two extra outs with some shoddy defense.
Carter dropped a Pierzynski sacrifice fly in left field for the team's first error of the season, and shortstop Ronny Cedeno dropped a ball after recording an out at second base, erasing the possibility of a double play.
"We are a solid defensive inning away from having an opportunity to come in and really have a chance to win the ballgame," Porter said. "They ended up putting up three runs that made it a bigger lead. Last night, the guy pitched the game of his life and you have to tip your cap. The whole three-game series, we were in every ballgame."
Brian McTaggart is a reporter for MLB.com and writes an MLBlog, Tag's Lines. Follow @brianmctaggart on Twitter. This story was not subject to the approval of Major League Baseball or its clubs.