Vargas feels OK despite down outing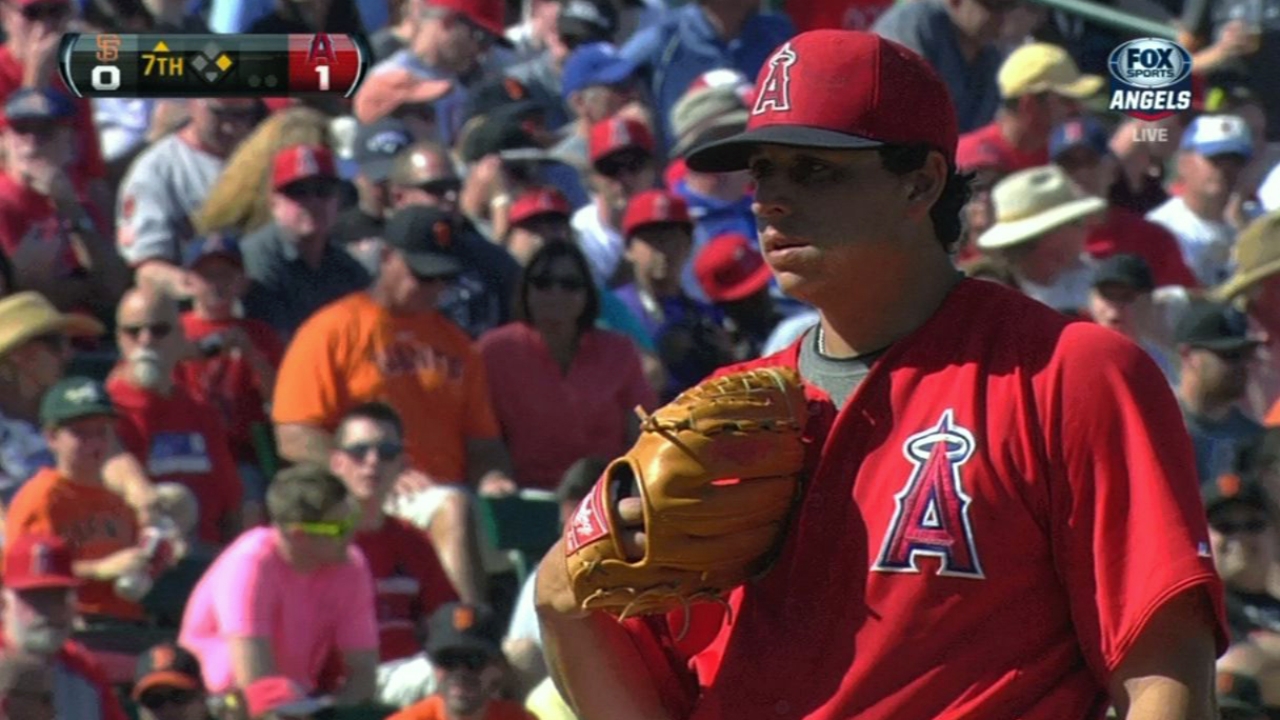 LOS ANGELES -- There were plenty of negatives about Jason Vargas' final spring outing Friday: the eight runs, the lack of command in the zone, the 60 pitches that produced just 34 strikes and the inability to work out of a pair of jams.
But the lone positive outweighed them all: When all is said and done, none of those dreadful numbers will matter.
Vargas capped an up-and-down Spring Training with an outing that was definitively "down." He gave up eight runs on seven hits in just an 1 1/3 innings in the Angels' game against the Dodgers at Dodger Stadium.
But the poor line will likely prove far less consequential than Vargas' assertion that he's physically ready for his regular-season debut, which is tentatively slated for next Friday in Texas.
"I got behind in the count, let them see too many pitches and got hit hard with runners on base," Vargas said. "They put some good swings on some bad pitches and some good pitches. There's nothing I can do about it. Just prepare for the next start. You've got no choice but to be ready [for the regular season]."
The disappointing outing comes after Vargas looked sharp in tossing six innings of one-run ball against San Francisco on Sunday. In Cactus League play, the former Mariner posted a 4.71 ERA in 21 innings -- the most of any Angels pitcher.
How does Vargas evaluate his spring as a whole? In a word: "OK." He was pleased that he was able to build to a high enough pitch count in his previous five starts, even though the results weren't always there.
Vargas' night couldn't have started off much worse than it did. He surrendered four first-inning hits -- the last of which was a grand slam by Dodgers catcher A.J. Ellis. On a 2-1 pitch, Vargas grooved a fastball that Ellis crushed to straightaway center field.
"I wanted it down and away, and it was just up and out over the plate," Vargas said. "I probably got a little too amped up and was trying to do too much with it, and he put a good swing on it."
It didn't get much better in the second. Dodgers pitcher Josh Beckett singled to start the frame, and Vargas' night ended when Luis Cruz's two-run double gave the Dodgers an 8-3 lead.
AJ Cassavell is a reporter for MLB.com. Follow him on Twitter @ajcassavell. This story was not subject to the approval of Major League Baseball or its clubs.