MLB.com Columnist
Jonathan Mayo
Ciuffo dazzles behind plate in NHSI opener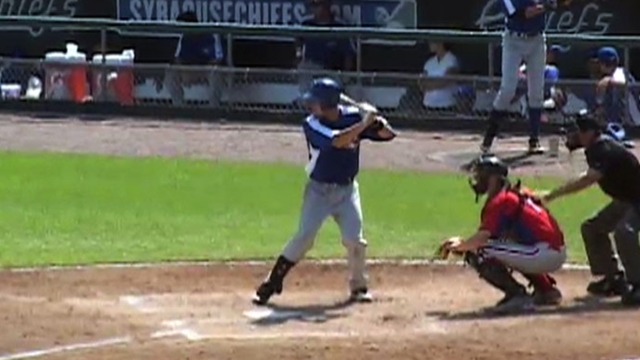 CARY, N.C. -- There's a picture in the Ciuffo family album that speaks volumes about where son Nick is today. It's a summer vacation shot at the beach. Dad Tony is pictured, as one would expect, in a bathing suit. Nick, age 3 or 4, is decked out in full catching gear.
It surprises no one, then, that Nick Ciuffo is one of the top catching prospects in the Draft class of 2013. The Lexington (S.C.) High School star, ranked No. 33 on MLB.com's Top 50 Draft Prospects list, is here at USA Baseball's National Training Complex competing in the second annual National High School Invitational. Ciuffo, of course, drove in a big run in Lexington's 4-0 win over Florida Christian in the opener on Wednesday and threw out a runner from behind the plate.
"I've always been a catcher," Ciuffo said. "I've played shortstop, but it wasn't fun for me. I like to be in every single pitch."
Ciuffo is no stranger to playing here at USA Baseball's facilities. He played for the 16 and Under National team in 2011, winning gold at the IBAF World Youth Championships. Ciuffo's experience last summer, however, wasn't as storybook. He was here for the Tournament of Stars and made the 18 and Under trial team. But when Ciuffo had to deal with arm soreness, he was cut and left off the final roster that went on to win the first 18U world championship for the U.S. since 1999.
"It's awesome to be back here," Ciuffo said. "Cary is a great place. The people in the community are great. The people at USA Baseball are great. It's a first-class program here. I told the guys, 'Let's try to make this one end better than it did for me this summer.'"
The scores of scouts in attendance for the NHSI watched Ciuffo intently on Wednesday afternoon and while the game was fairly uneventful, he did post a sub-2.00 second pop time (the time from the pitch hitting his mitt to getting down to second base) when throwing out that baserunner. The attention was nothing new for Ciuffo, who's been "a guy" for a while now. A natural leader -- Lexington coach Brian Hucks calls him the team's heartbeat -- the left-handed-hitting catcher has helped put his team at ease under a brighter spotlight.
"I tell them they're not here for me, they're not here for any of them, they're here for our guy who hits infield, to watch him hit popups," said Ciuffo, who first got used to the extra eyes when catching eventual sixth-round pick Drew Cisco as a freshman at Wando High School back in 2010. "We try not to pay attention to it too much."
It's not going to go away any time soon, as Ciuffo has the chance to be one of a group of elite high school catchers taken early on Draft day. Another one of them, Chris Okey (No. 45), is also at the NHSI with Eustis High School from Florida. So is Jeremy Martinez (No. 50) from Mater Dei. He played with Reese McGuire (No. 30) on that 18U national team over the summer. Jon Denney (No. 10) rounds out a very good crop of prep catchers in this year's class. Ciuffo loves the competition and the inevitable comparisons that have come.
"I've been compared to guys my whole life," Ciuffo said. "I try to compare myself to guys to see what I have to work on. If there's something Okey's doing better than me, or something McGuire can do better, then I want to work on those things."
That "get better every day" attitude is serving him well as the heat of the Draft starts to intensify. Ciuffo knows it's there, but the University of South Carolina commit figures that whatever happens comes June, he's going to be a happy young ballplayer.
"The Draft is the farthest thing from my mind," Ciuffo said. "If I get drafted and sign, that's great. If not, I go to South Carolina. It's a win-win for me. I play for the best team in the country or I get paid to play the game I love."
And that's not until June. It's not a scenario he wants to even consider now, not with a state title to win and, more short-term, a strong showing here at the NHSI on his agenda.
"If I can help the team win, that's all that matters," Ciuffo said. "If I go 0-for-4, but I do things to help us win behind the plate, I won't be thrilled, but I'm OK with that. I want to get four wins here and go home with a trophy."
Jonathan Mayo is a reporter for MLB.com and writes a blog, B3. Follow Share This