Padres have optimism despite early injuries
Roster that surged in second half last season awaits Headley's return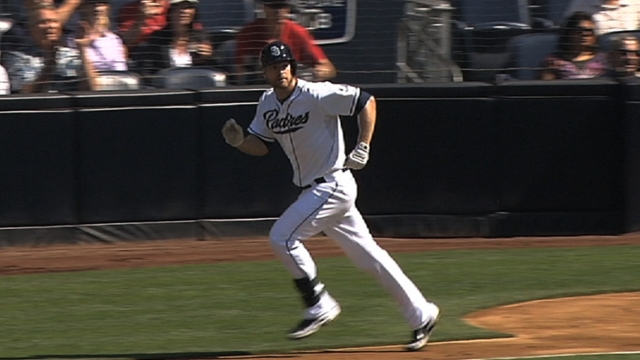 PEORIA, Ariz. -- Recently, Padres manager Bud Black was leaning back in a chair in the media workroom, talking about some of the averages of his hitters in Spring Training.
"Statistically, you don't look at a lot in Spring Training," Black said. "... But come April 1, it's a different ballgame."
The regular season is nearly here for the Padres, who broke camp in Arizona on Thursday and headed to San Antonio for games Friday and Saturday against the Rangers.
From there, the team heads to New York for the April 1 opener against the Mets at Citi Field.
Their spring won't so much be remembered for noted performances in Arizona, though rookie infielder Jedd Gyorko, catcher Nick Hundley and pitcher Tyson Ross, among a handful of others, impressing the coaching staff and front office.
Instead, the Padres inch closer to Opening Day after a somewhat tumultuous spring, as third baseman Chase Headley, who won a Silver Slugger and Gold Glove Award last season and led the league in RBIs (115), begins the season on the disabled list with a fractured tip of his left thumb.
The news was worse for rotation candidate Casey Kelly, who will have reconstructive surgery on his right elbow April 2.
Also, left fielder Carlos Quentin, aggravated his surgically repaired right knee earlier this month and only played in his first Spring Training game Tuesday.
"If we can keep the pitching healthy, we can hang in there," Black said. "Then we wait for Chase's return and to get Quentin back to normal. But you don't want to rush that."
That won't be easy in one of baseball's toughest divisions -- the National League West -- and the Padres have 20 games against division foes in the first month alone.
All of that said, center fielder Cameron Maybin stood in the middle of the clubhouse in Arizona recently, looked around and made a proclamation.
"We really like the guys we have," Maybin said.
The Padres, who made few changes to the roster from the team that played well during the second half of 2012, return nearly their entire grouping of position players.
"You hope to carry over from last year, that run production," Black said. "Last year's second half was pretty good offensively."
Hundley, who has improved his mechanics with hitting coach Phil Plantier, will get most of the catching duties during the first 50 games as Yasmani Grandal serves his suspension.
Gyorko showed in spring he could handle second base defensively, and there are few questions about his bat after he hit a combined 30 home runs in the Minor Leagues last season.
First baseman Yonder Alonso, entering his second full Major League season, had 39 doubles a year ago and could benefit from the fence medications at Petco Park, as could other left-handed hitters. The fence in right field has been brought in 11 feet.
The Padres like their right-field platoon of Chris Denorfia and Will Venable, who a year ago combined for the eighth-best OPS (on-base plus slugging percentage) in baseball.
The Padres were aggressive in the spring, jumping on pitches early in the count. That's something you can look to continue in the regular season. On the bases, the Padres vow to be aggressive. A year ago, only the Brewers (158) stole more bases than the Padres (155).
A year ago, the Padres scored the fifth-most runs in the National League over the final 86 games of the season. They're hoping for a carryover in 2013, though doing so, initially at least, without Headley and Quentin won't be easy.
"Hopefully we'll get them back sooner [rather] than later," Maybin said.
The back end of the Padres' bullpen will be in good hands with closer Huston Street and eighth-inning specialist Luke Gregerson, who might be one of the most underrated late-game relievers in the game today.
The rotation will look a lot like last season with Edinson Volquez, Clayton Richard, Jason Marquis and Eric Stults holding down the first four spots. Because of injuries and inconsistency, only Volquez and Richard made more than 16 starts a year ago. If the team is to improve on its 76 victories from last season, it will need dependability and durability from the starters.
The Padres still need to decide on a fifth starter, though Tyson Ross, obtained from the A's, could be in the mix after an impressive spring that included a 15 1/3 scoreless-innings streak that ended March 22. Andrew Cashner, who suffered a lacerated tendon in his right thumb in December, has recovered fast and pitched well. The Padres won't need their fifth starter until April 6.
"I really like our starting five. It's going to be a tough day facing those guys," Maybin said.
Catcher John Baker, beginning his second season with the team, knows the team has had some bumps and bruises in Spring Training. That said, he thinks there are better days ahead for the team.
"Everything we've done in Spring Training points toward us being better than we were last year," Baker said. "It's going to be difficult to sneak up on people. That's fine. We like our chances."
Corey Brock is a reporter for MLB.com. Keep track of @FollowThePadres on Twitter. This story was not subject to the approval of Major League Baseball or its clubs.