Venters likely headed to DL with elbow sprain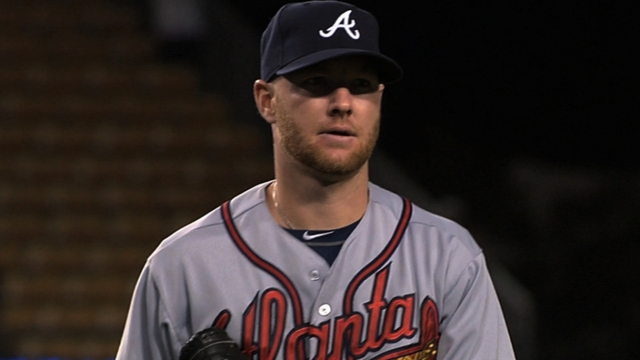 LAKELAND, Fla. -- After nearly going through Spring Training without any of their players suffering a significant injury, the Braves are approaching the start of the regular season with uncertainty surrounding reliever Jonny Venters, who exited Tuesday's 6-5 win against the Tigers with a left elbow sprain.
Venters surrendered two hits and issued two walks while recording just one out before signaling for manager Fredi Gonzalez and assistant trainer Jim Lovell to come to the mound. After a brief evaluation, Venters was sent to the clubhouse.
"He called us out and said it didn't feel right, which is good on his part," Gonzalez said. "At that point, there was no point in messing with it."
Venters was on the disabled list in July with a left elbow impingement, and he encountered multiple setbacks after undergoing Tommy John elbow surgery in 2005. He experienced some discomfort over the course of the past month and the Braves shut him down for 10 days after he issued four walks in one inning against the Cardinals on March 13.
Venters completed one inning in a Minor League game on Saturday in pain-free fashion, but this latest setback created the likelihood that he will begin this season on the disabled list. The Braves will provide more information after re-evaluating him on Wednesday.
"I can't assume anything," Gonzalez said when asked how much time Venters could miss.
With Venters sidelined and right-handed reliever Jordan Walden on track to be ready for the start of the season, it appears Atlanta's Opening Day roster will include Cristhian Martinez and Anthony Varvaro, a pair of right-handed relievers who are out of options.
Wirfin Obispo, a right-handed reliever who was reassigned to Minor League camp on Sunday, could possibly take one of those spots, Gonzalez said. Obispo recorded two strikeouts in a scoreless inning against the Tigers on Tuesday. He has surrendered one hit in five scoreless Grapefruit League innings.
Venters has made 230 appearances since he made his Major League debut on April 17, 2010. The only pitcher with more appearances since the start of the 2010 season is Cincinnati's Sean Marshall (231).
The heavy workload appeared to take a toll on Venters, as he compiled a 4.45 ERA and surrendered six home runs in his first 40 appearances last year. In the 164 appearances Venters made during the 2010 and '11 seasons, he posted a 1.59 ERA, surrendered three home runs and held opponents to a .300 on-base percentage.
After missing two weeks in July last year, Venters looked more like he had the previous two seasons. He compiled a 1.71 ERA, did not allow a home run and limited opponents to a .292 on-base percentage in his final 26 appearances.
Mark Bowman is a reporter for MLB.com. This story was not subject to the approval of Major League Baseball or its clubs.