Utility man Galvis can play nearly every position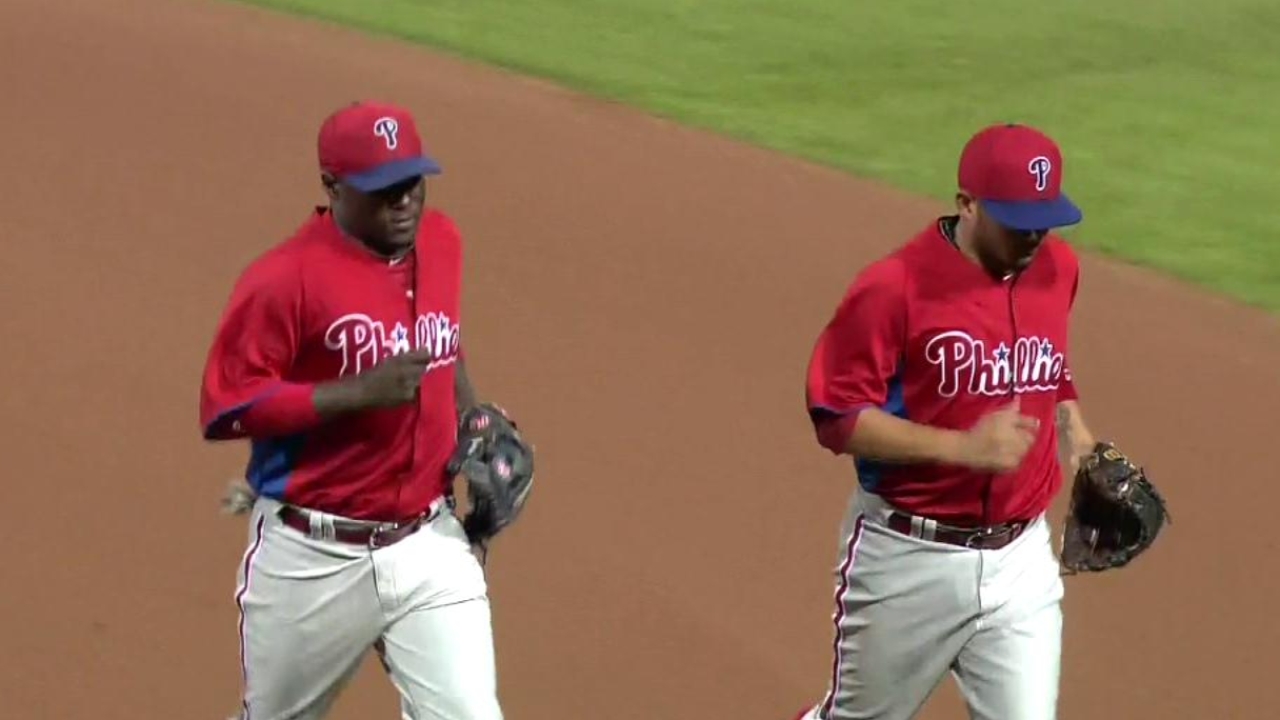 CLEARWATER, Fla. -- Freddy Galvis has played everywhere in the infield except first base and everywhere in the outfield except center field.
Has he played catcher?
"PlayStation, maybe," he joked Tuesday morning at Bright House Field.
Galvis, who essentially has made the Phillies' 25-man roster as a utility player, started Tuesday's 10-1 victory over the Rays in left field. It is just another way for manager Charlie Manuel to get one of his favorite players onto the field, although Galvis has made some noise this spring with his bat. He is hitting .300 (21-for-70) with seven doubles, two triples, three home runs and 11 RBIs. He has 12 extra-base hits, which is tied for second most in baseball this spring.
"I would say just an emergency-type situation," third-base coach Ryne Sandberg said of Galvis' chances to play outfield regularly at this point, although he showed good instincts there on Tuesday. "It could be another piece to the ballclub. It could create some more opportunities for him. If he shows he can play out there and take the defense he'd normally bring to the infield to the outfield in a game situation, then he'll be ready."
Galvis, who played a few innings in right field Saturday, is content with that.
"I love baseball," he said. "That's what I have to say. Wherever they put me, I'm going to try to do the job."
Galvis has played shortstop his entire life, so that is where he is most comfortable. He played second base like a Gold Glover last season when Chase Utley missed nearly three months because of bad knees. He also played a little bit of third base in winter ball, and he regularly caught fly balls in the outfield during batting practice using the lefty glove of Phillies teammate Ender Inciarte.
Galvis, who is a right-hander, has his own outfielder's glove these days after using Minor League outfielder Carlos Tocci's for a bit.
But Galvis is an infielder, first and foremost, so expect to see him in the infield more often. If Galvis shows an aptitude at third base like he has at shortstop and second base, he could spell Michael Young on occasion.
"It's good," Galvis said of his limited time at third. "It's a little bit harder than shortstop and second base because it's quicker. The ball gets quicker to you. But I like it."
He also will like making his second Opening Day roster. He is a virtual lock at this point.
"It looks like," he said. "They don't tell me nothing yet, but it looks like it. I'm going to keep working and see what happens."
Todd Zolecki is a reporter for MLB.com. This story was not subject to the approval of Major League Baseball or its clubs.