Overbay plays waiting game as Red Sox mull his fate
Tuesday an important day in determining whether first baseman makes roster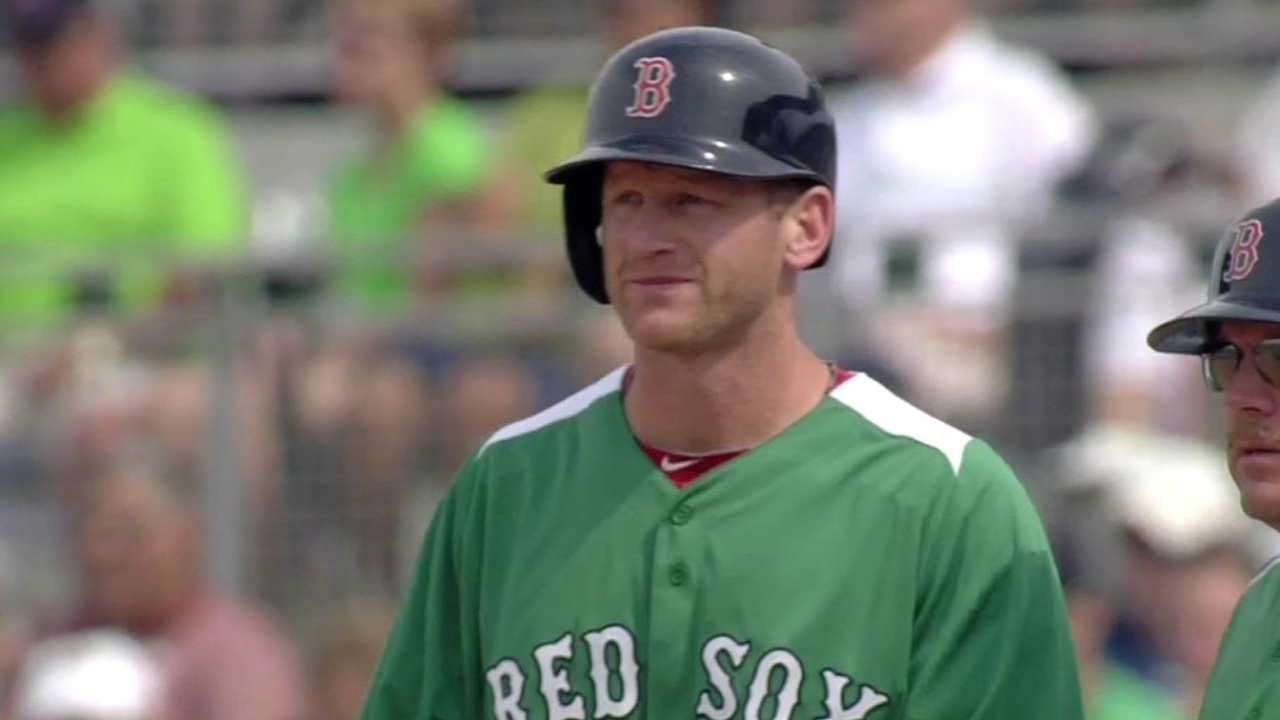 SARASOTA, Fla. -- As much as Lyle Overbay tried to downplay it, Monday was more than just another day for him in the grind of Spring Training.
Not only did he make the start at first base against the Orioles, but it was likely his final appearance before the Red Sox decide his fate.
The team is off on Tuesday, which is when they can take some time to form some final evaluations for the Opening Day roster. That also happens to be the date Overbay can be released if he doesn't receive assurances that he will be added to the 40-man roster within 48 hours.
"It's going to work out either way. If it's meant to be, it's meant to be," said Overbay, who went 1-for-5 with a run scoreed in a 12-9 loss to the Orioles. "I'm just kind of getting ready for the season, doing what I need to do. I'm not going to lie and say you're not thinking about it, but it's something you can't really control, so it's something I'm going to put on the backburner and not worry about it."
With a professional approach from the left side and a solid glove at first, Overbay will probably have no trouble finding a landing spot if things don't work out with Boston. The rival Yankees are without Mark Teixeira for a significant chunk of the regular season, and also have several other players hobbling, which could make Overbay a good fit.
"Hopefully there's something out there that will work if this isn't the right place for me," Overbay said.
Overbay's preference is still the Red Sox.
"That's why I signed up with this team. This was the opportunity that I liked and it excited me," Overbay said. "Those are things from the beginning and they haven't changed."
The 36-year-old Overbay has pretty much been the player the Red Sox expected when they signed him. Now, it's just a matter of how he fits into the team's overall roster construction.
"He's done what we thought, yes. He's been as advertised," said Boston manager John Farrell. "The way he's performed over the last couple of years, he's moved into that bench role. He's pretty accurate with who he is as a player and what his strengths are. There's no surprises here."
It would seem that Overbay, Mike Carp and Ryan Sweeney could be fighting for one roster spot. Overbay and Sweeney are non-roster invitees, while Carp is already on the 40-man roster. All three of those players are out of Minor League options.
The fact that Daniel Nava -- who is expected to make the team -- has shown the ability to play first base could hurt Overbay's chances.
"Like I said, I understand there's numbers and it has to work out," Overbay said. "They have to be comfortable with what they're doing. I understand that. Hopefully they decide my way."
Sweeney, who went 0-for-4 on Monday, has an opt-out clause that can be triggered on Thursday.
"Before I was kind of worried about it," Sweeney said. "Sometimes I would be kind of thinking about making the team or whatever. But I've kind of just come to the realization that whatever's going to happen's going to happen. We'll see what happens. If I make the team, great. If not, then the opt out's there."
Ian Browne is a reporter for MLB.com. Read his blog, Brownie Points, and follow him on Twitter @IanMBrowne. This story was not subject to the approval of Major League Baseball or its clubs.