For openers, Nats, Angels, Giants top the rankings
Tigers, Blue Jays, Reds, Braves positioned right behind as season's beginning nears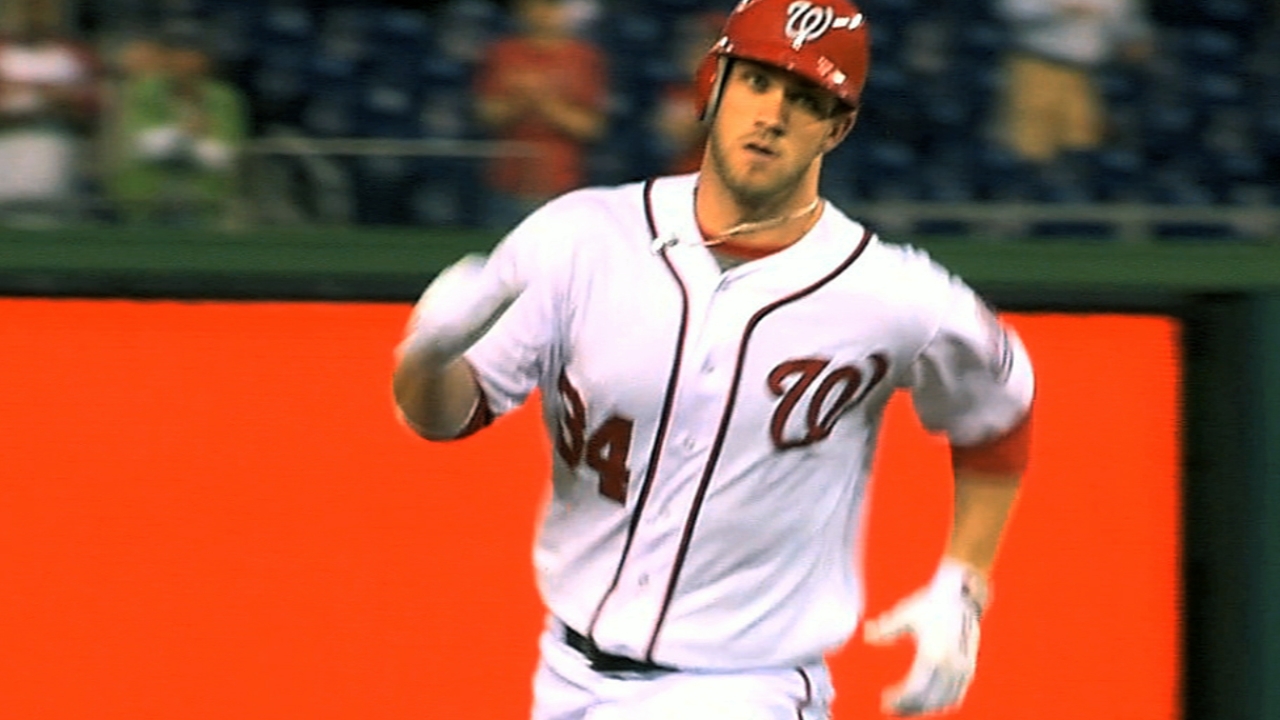 The Washington Nationals play in America's capital and had the best record in the Major Leagues last season in America's pastime.
That means they're the patriotic choice to win the World Series this year, but do they have the talent on their roster to go all the way? It's one of the many questions that exist as we wind down the days of Spring Training and head toward next week's Opening Day.
Meanwhile, many other teams have their sights on heading deep into October, which makes for a lively discussion when it comes to the MLB.com Power Rankings.
Sure, we can start with the Nationals, who are leading our rankings again, but fans are making their own lists.
They're paying attention in Atlanta, they're analyzing in Anaheim, deconstructing in Detroit and taking things apart in Texas. The Braves, Angels, Tigers and Rangers are all contenders, not only in their divisions but for the crown of the No. 1 team in all of baseball.
And then there are the Dodgers, who are expected to do great things this year, and the Reds, who won the National League Central last year and look like the favorites again.
Oh, yes, and there are the San Francisco Giants, who have won the World Series two times in the past three years, including the memorable run last season that ended with a Fall Classic sweep of the Tigers.
So who's the best with a week to go before Opening Day?
MLB.com has set up a panel of experts to vote on the top 15 teams each week. The group includes MLB.com vice president and executive editor Carlton Thompson, VP and executive producer Jim Jenks, columnists Mike Bauman, Hal Bodley, Anthony Castrovince, Richard Justice, Matthew Leach, Terence Moore and Tracy Ringolsby, reporters Barry M. Bloom, Marty Noble, Jesse Sanchez and Lyle Spencer, and MLB Network analyst Mitch Williams.
Agree? Disagree? The power to rank the teams is yours.
This Week's Power Rankings

| This Week | Movement | Power Player | Last Week |
| --- | --- | --- | --- |
| 1 | | They're loaded with bats, loaded with pitching, and who knows how good they can be if Bryce Harper even improves a little bit off his remarkable Rookie of the Year season? Stephen Strasburg will not be on an innings limit for the team with the best record in the Major Leagues last year. Watch out. | 1 |
| 2 | | The trio of Mike Trout, Albert Pujols and Josh Hamilton makes the Angels' offense a formidable one, on paper, and No. 1 starter Jered Weaver and a revamped bullpen figure to give Mike Scioscia all the arms he needs to make a serious statement in the American League West and perhaps beyond. | 2 |
| 3 | | The Giants stood pat more than any other in the offseason, and can you blame them? They did, after all, win the World Series for the second time in three years. The extra month of last season and the early start to Spring Training could be a concern, but when you add up their imposing starting rotation and assume that the bats will get better with first baseman Brandon Belt looking great this spring, there's a lot to like. | 3 |
| 4 | | The Tigers made it to the World Series before bowing out to the Giants, but they get Victor Martinez back and add Torii Hunter and get a serious talent in the bullpen in rookie right-hander Bruce Rondon. With further improvement from young hitters Andy Dirks and Austin Jackson, Detroit could be right in the thick of things again. | 4 |
| 5 | | We don't know how it'll all play out on the field, but the additions of Jose Reyes, Josh Johnson, R.A. Dickey, Mark Buehrle, Emilio Bonifacio and Melky Cabrera give Toronto a potent combination of offense and pitching and one that fits in very well in the AL East. | 5 |
| 6 | | Lasts week's revelation that Aroldis Chapman will stay in the closer role, in which he was so dominant in 2012, opens up the fifth rotation spot for Mike Leake and lends continuity to a club that ran away with the NL Central last year and might have gotten better with the addition of Shin-Soo Choo in center field. | 7 |
| 7 | | Let's see: Both Upton brothers in the outfield alongside Jason Heyward, an emerging talent at first base in Freddie Freeman, the best closer in the NL in Craig Kimbrel, a solid starting rotation even with Brandon Beachy still on the mend, and a youngster, Andrelton Simmons, who might be the best defensive shortstop in baseball. That's a pretty good team, right? | 8 |
| 8 | | Matt Kemp is healthy, Carl Crawford is back, Adrian Gonzalez is there, the pitching staff is potent, the lineup is strong, the bullpen is stacked, and the manager, Don Mattingly, is confident. And if that isn't enough, the hottest player on the planet this spring, outfielder Yasiel Puig, is waiting in the wings. | 6 |
| 9 | | Analysts are rightly pointing out the subtractions from the 2012 club, which include the ferocious bat of Hamilton plus Mike Napoli and Michael Young, but there have been some valuable additions. A.J. Pierzynski shores up the catching position. Yu Darvish has a full year of Major League experience and already seems like an ace. Alexi Ogando should do well as a starter. The Rangers should contend. | 9 |
| 10 | | How do the Rays do it every year? Well, it starts with pitching, and Joe Maddon's club has tons of it. We all know how good David Price is, but get ready for the emergence of Matt Moore, Alex Cobb and maybe even Chris Archer. Evan Longoria comes into the season healthy. The rest of the AL East has been warned. | 10 |
| 11 | | The D-backs suffered a blow this week when they lost their rookie outfielder, Adam Eaton, for at least six weeks because of a sprained elbow, but there's still plenty of talent on manager Kirk Gibson's roster. Martin Prado adds a good bat and veteran presence, and the young pitching staff should keep this team in a lot of games. | 11 |
| 12 | | The pitching is there, with ace Adam Wainwright a full season removed from Tommy John surgery and young right-hander Shelby Miller possibly ready to emerge in manager Mike Matheny's rotation. Jason Motte, David Freese and Carlos Beltran need to get healthy, but it seems like another optimistic year for the Redbirds. | 12 |
| 13 | | Last year's Cinderella darlings are pretty solid all the way around. The pitching staff, anchored by Brett Anderson and Jarrod Parker, is young and filthy. The bullpen is lights-out. The lineup has pop and depth, and the star of the team, Yoenis Cespedes, is ready to become an MVP-type star. | 14 |
| 14 | | The injuries don't help. The Yankees need Derek Jeter, Mark Teixeira, Curtis Granderson and Alex Rodriguez to be 100 percent if they're to have a shot at getting back to the World Series. The good news is that if all four do make it back healthy and are contributing, this becomes a powerhouse team just like the Yankees we all know. | 13 |
| 15 | | Here's another team that could be very dangerous with just a little health and return to form. Remember how good Ryan Howard and Chase Utley were before their injuries? Well, they're back, and the addition of Michael Young should help offensively while Cole Hamels, Cliff Lee and Roy Halladay still make for a strong starting staff. | 15 |