Spring is perfect time for clubs to run free
Players can test their limits on the basepaths before games count in standings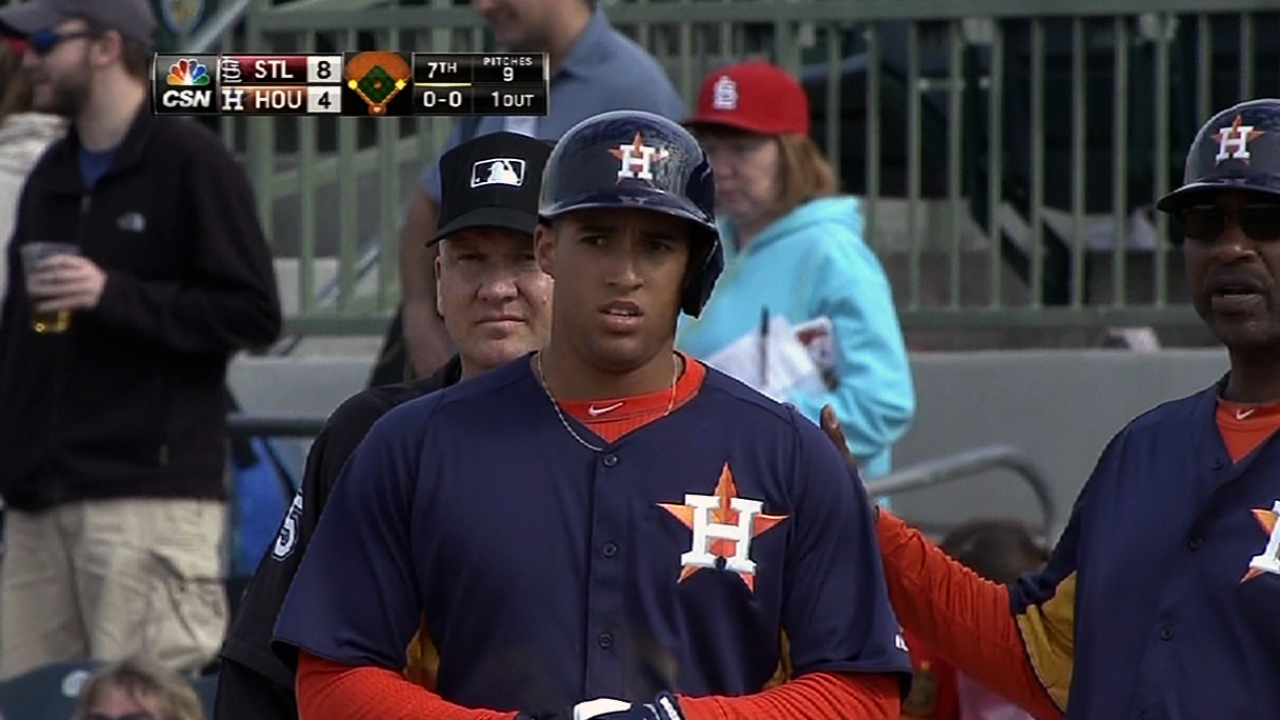 Through 24 games, no team in the Grapefruit League had stolen more bases than the 26 swiped by the Houston Astros. For that matter, no team in Florida is trying to steal more. And across all of baseball, only three other teams are running more than the Astros this spring.
Houston was toward the bottom quarter of the National League in terms of stolen-base percentage last season (ranked 12th, at 70 percent), so what better time than the exhibition season, under a new coaching staff and with a reinvigorated outlook, to wear out the basepaths?
"I think what [manager Bo Porter] is doing is getting to know his own team and utilizing Spring Training for the original purpose, which is to try things out and see what works with our team and our personnel," Houston general manager Jeff Luhnow said.
Spring Training provides an opportunity for teams to allow players to find their limits on the bases, often with an uninhibited green light. Porter said he's emphasized to his whole team that everyone has the permission to run.
Houston's first-year skipper stole just three bases in his three-year big league career, but he says it's his job to look at the pieces he has and utilize them the best way possible. In Houston's case, that may come down to taking extra bases whenever possible.
"If you give me a roster and we have eight guys in the lineup that hit 30 home runs, you're probably not going to run as much, because I like the three-run home run, too," Porter said. "But at the same time, if you give me a roster that doesn't possess that type of capability, as the manager, it's your job to take the lineup that you have and get the most of it."
Porter said that, often enough, just the threat of a team like the Astros -- who will likely be reliant upon running the bases well this year after losing players over the offseason who accounted for 46 percent of their home runs last season -- running can be enough to unnerve a pitcher and shake up an inning.
"The last thing you want, in a situation where you have as much opportunity as we have here, is to put rings around people, and now they can't really show you what they can do," Porter said. "It's always easy to pull a guy back. It's always hard to find out who has real natural aggression."
The Mets, through 22 games, were ranked 24th in baseball through Spring Training with just 12 swipes in Grapefruit League play. But veteran outfielder Marlon Byrd, brought in as a non-roster invitee this spring, said aggressive baserunning has to be a part of every player's game, and it starts in February.
"That's an everyday thing," Byrd said. "It's a constant thing. You have guys in the game like Derek Jeter [who are great baserunners], you have the whole Angels' organization. So it's about being aggressive, but being smart at the same time. And it starts with early work."
Like Porter, Marlins bench coach Rob Leary likes for guys to go all-out this time of year, and then rein it in, if need be. Leary describes it, in a nutshell, as a three-part process: Get a good lead, get a good secondary lead and make a good decision.
"They end up knowing the pitchers' times to the plate, the way different pitchers are going to hold the ball, different pickoff moves," Leary said. "It's really some of the finer fundamental parts of baserunning that we're teaching them and showing them. We've got video and all our things. We're trying to cover all our bases."
Literally.
Byrd said it amounts to, essentially, the situation and the setup -- where you are on the bases, the number of outs, who is playing the field and where they're situated all come into play. To be able to get a good read and advance on an infield grounder, or moving from first to third on a ball in the right-center-field gap can account for a run and be the difference in a ballgame.
"You have to be overly aggressive," Byrd said. "You can do that here in Spring Training, because if you're thrown out, it won't hurt you. Be overly aggressive, but know your limitations. It's about going and going and going. If a ball is hit to the outfield, and you're on first base, and it's hit to right-center field, can you go?
"Should you go? You should."
Joey Nowak is a reporter for MLB.com. Follow him on Twitter at @joeynowak. This story was not subject to the approval of Major League Baseball or its clubs.