Phelps pushing for spot on Opening Day bench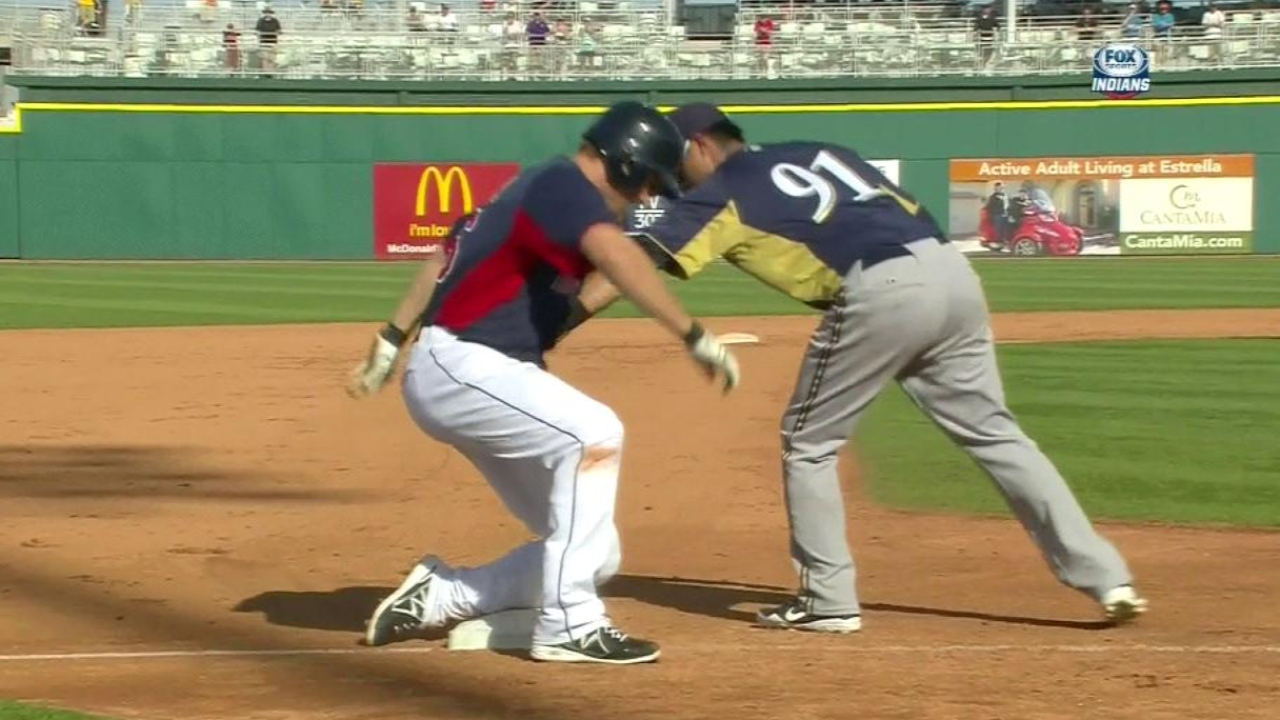 TEMPE, Ariz. -- Cord Phelps has opened plenty of eyes with his strong showing this spring for the Indians, but it is not clear whether the versatile infielder has played his way into being seriously considered for the Opening Day bench.
What is apparent is Phelps is firmly on Cleveland's radar.
"Regardless of whether he makes our team or not," manager Terry Francona said, "he's played to the point where he's going to help us win games, which we're thrilled about. I know we have decisions to make coming up in a couple weeks, but we're so happy with the way he's played.
"He can play second. He can play third. He can hit. He's going to go play first. His versatility, and the way he hits, is exciting for us as an organization. Does that start on April 1? We don't know yet. We'll see."
Through 18 Cactus League games this spring, the 26-year-old Phelps -- a switch hitter -- has hit at a .324 (12-for-37) clip with two home runs, three doubles, five RBIs and seven walks against six strikeouts. Last year with Triple-A Columbus, Phelps hit .276 with 16 homers, 34 doubles and 62 RBIs in 135 games. He posted a .368 on-base percentage and a .451 slugging percentage for the Clippers last year.
In parts of two seasons with Cleveland, Phelps has hit just .173 (18-for-104) in 49 big league games.
As things currently stand, the Tribe's Opening Day bench projects to include backup catcher Lou Marson and infielder Mike Aviles. There will be one or two more jobs available, depending on whether Cleveland begins the regular season with 12 or 13 pitchers. The Indians are weighing whether to carry an extra arm given that the team has 13 straight games with no off-days to open the season.
"We're discussing everything," Francona said.
Veteran Jason Giambi and utility man Ryan Raburn -- both in camp on Minor League contracts -- are leading candidates for cracking the Opening Day bench. Other players in the mix include catcher Yan Gomes and outfielder Ezequiel Carrera.
"It'll probably come down pretty much to the end," Francona said of the bullpen and bench decisions. "Because, even when you make your mind up, if something happens -- somebody sprains an ankle or something -- [things change]. We'll try to communicate as much as we can."
Jordan Bastian is a reporter for MLB.com. Read his blog, Major League Bastian, and follow him on Twitter @MLBastian. This story was not subject to the approval of Major League Baseball or its clubs.