Meulens receiving praise for managerial duties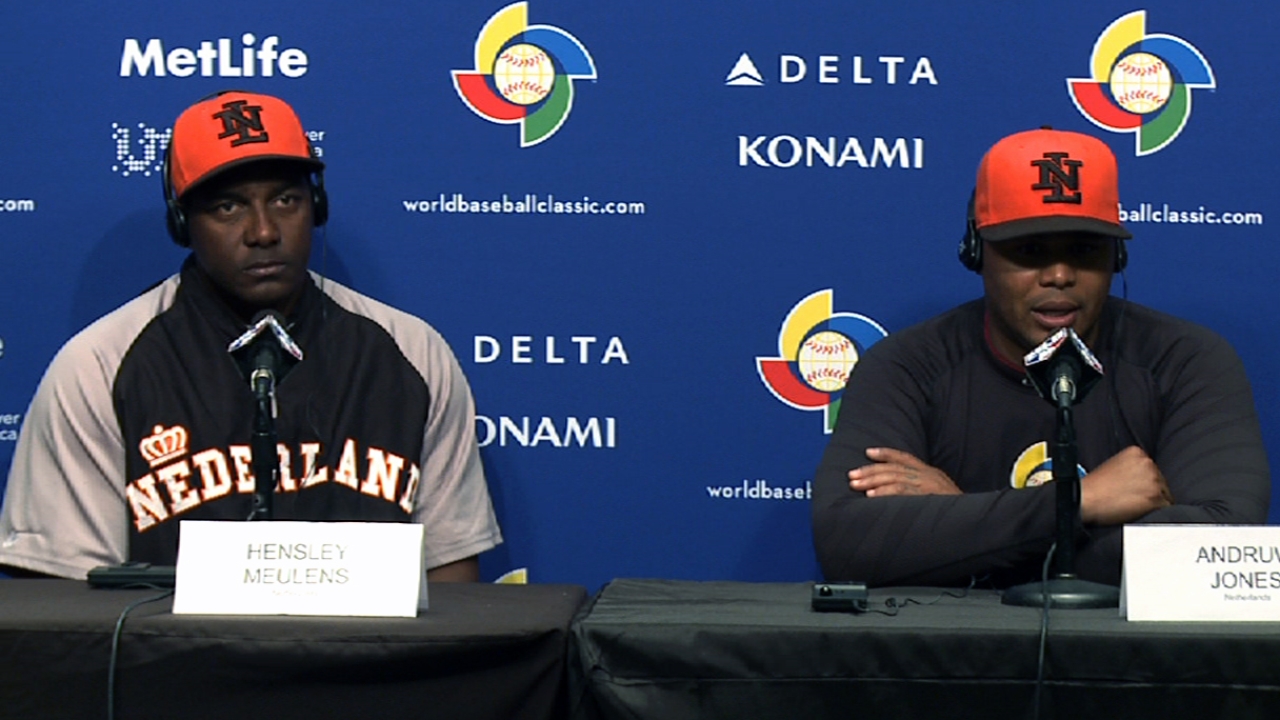 SAN FRANCISCO -- Major League coaches are of great value to their teams, but for the most part, they're out of the public eye.
They go about their business, do their jobs, chat with reporters when approached, but as far as speaking on behalf of the team and representing the club from a coaching standpoint, that duty belongs to the manager.
In that respect, Hensley Meulens has managed to fly relatively under the radar as the hitting coach of the defending World Series champion San Francisco Giants. His public status has changed in the last couple of weeks, however, due to the fact that he's managing a World Baseball Classic team that has played well enough to merit a spot in the Championship Round.
The further Team Kingdom of the Netherlands advances in the tournament, the more attention it receives. This has put the engaging and easy-going Meulens in the media spotlight, and people who were previously unfamiliar with the him are quickly learning why the 45-year-old Curacao native is considered to be a good shot for a Major League managerial gig someday.
Meulens isn't thinking that far ahead, but he did acknowledge this World Baseball Classic experience has been "amazing."
"I played 17 years myself, but I've been coaching now for 10, 11 years," he said. "But having to run a team, it's quite different. I've enjoyed it a lot. If in the future somebody wants to give me a chance, I'll definitely give it a shot. But as of right now, I'm still hitting coach for the Giants. That's what I know how to do best."
It's a small sample size time-wise, but Meulens' current Dutch players seem to enjoy playing for him.
"It's just the confidence that he gives us," Wladimir Balentien said. "He's a manager, he's a player, he knows how this goes, so he knows how to treat his players. And I think that's the biggest thing for us, because if you have a manager that treats you the way that you're supposed to be treated because he played the game, so that gives us a lot of confidence."
Alyson Footer is a national correspondent for MLB.com. Follow her on Twitter @alysonfooter. This story was not subject to the approval of Major League Baseball or its clubs.