Cano comes alive in Classic after playoff woes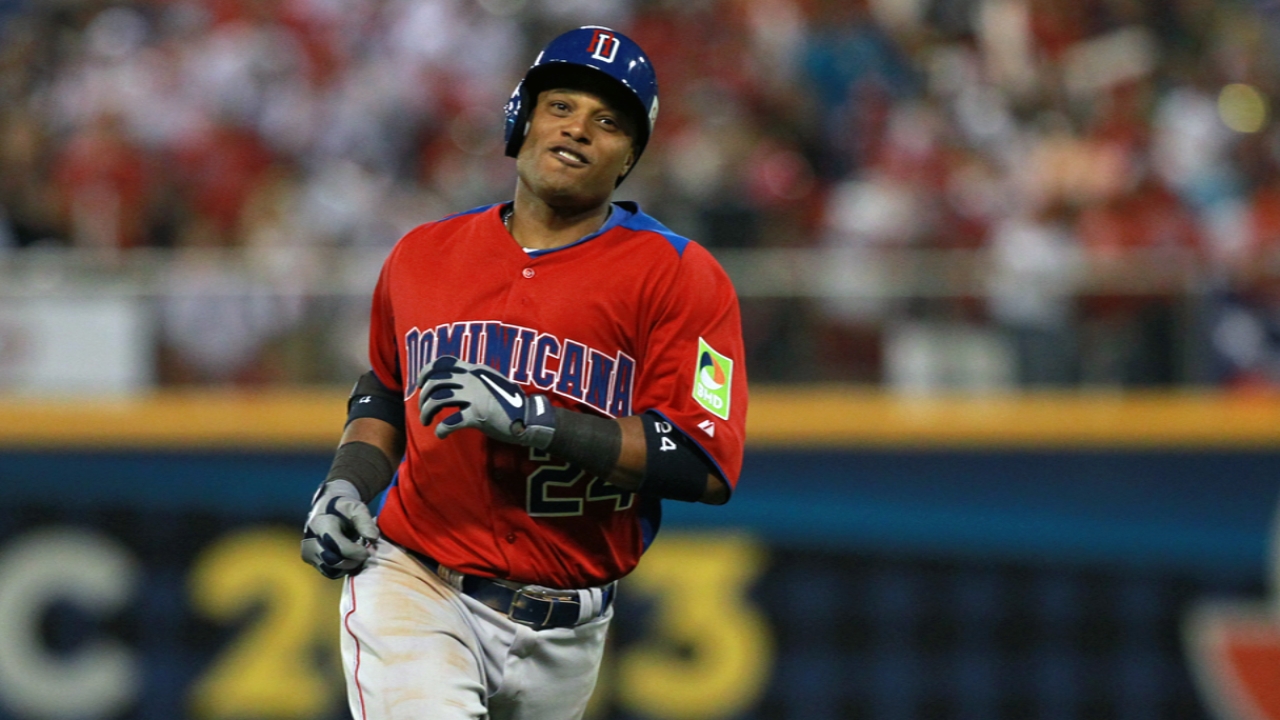 SAN FRANCISCO -- No hitter in the World Baseball Classic has been hotter than Dominican Republic superstar Robinson Cano, who carried a .519 batting average and slugging percentage of .889 into Monday night's Championship Round semifinal against the Netherlands at AT&T Park.
A victory would create an all-Caribbean final on Tuesday night matching the Dominican Republic against Puerto Rico, which eliminated two-time defending champion Japan on Sunday night.
Cano, who struggled mightily with the bat as the Bronx Bombers were swept by the Tigers in the American League Championship Series after subduing the Orioles in the AL Division Series, doesn't necessarily believe the freedom and camaraderie he feels with his countrymen from the Dominican Republic is a major factor in his offensive eruption five months later.
"I play the same way here or with the Yankees," Cano said. "I would say that's how you play Caribbean baseball. You go out and celebrate. That's how we play back home. I won't say I feel more relaxed. I feel the same in New York. The difference is it's a longer season in New York."
Cano would agree with Yankees faithful that it wasn't quite long enough in 2012.
While the Yankees had time to turn it around against the Tigers but were unable to generate enough offense, the Dominican athletes were facing a win-or-go-back-to-Spring Training situation against the Dutch. Nobody had to remind Cano and his teammates that it was the Netherlands that knocked the Dominican Republic out of the 2009 Classic in a stunning upset.
"We're not looking for revenge," Cano said. "We realize that to get to the final we have to win. We don't know about being the favorite. If we make it [to the title game], both teams are great teams. We are here because we've both got talent.
"So we've got to go out there and perform. You don't win on paper. You have to go out there and give it everything you've got and do the job, the little things, to win the game."
Tony Pena, the Dominican Republic manager, has seen Cano grow as a leader during the Classic. In New York, those roles have been assumed by accomplished veterans Derek Jeter, Alex Rodriguez and Mariano Rivera as Cano has matured into one of the game's premier players.
"I haven't thought about that," Cano said, "but I was trying to be the same guy. If there's a guy that I can help, I'll always be there. If I can say anything to help the team, I'm always going to be there. [In New York] you've got Jeter, A-Rod, Mariano. All those guys have been there before. What I'm trying to do right now is just go be with the team, be there for them and take the good and the bad.
"I would say one day [in New York] my time is going to come."
Lyle Spencer is a reporter for MLB.com. This story was not subject to the approval of Major League Baseball or its clubs.