Green brightens his future with solid spring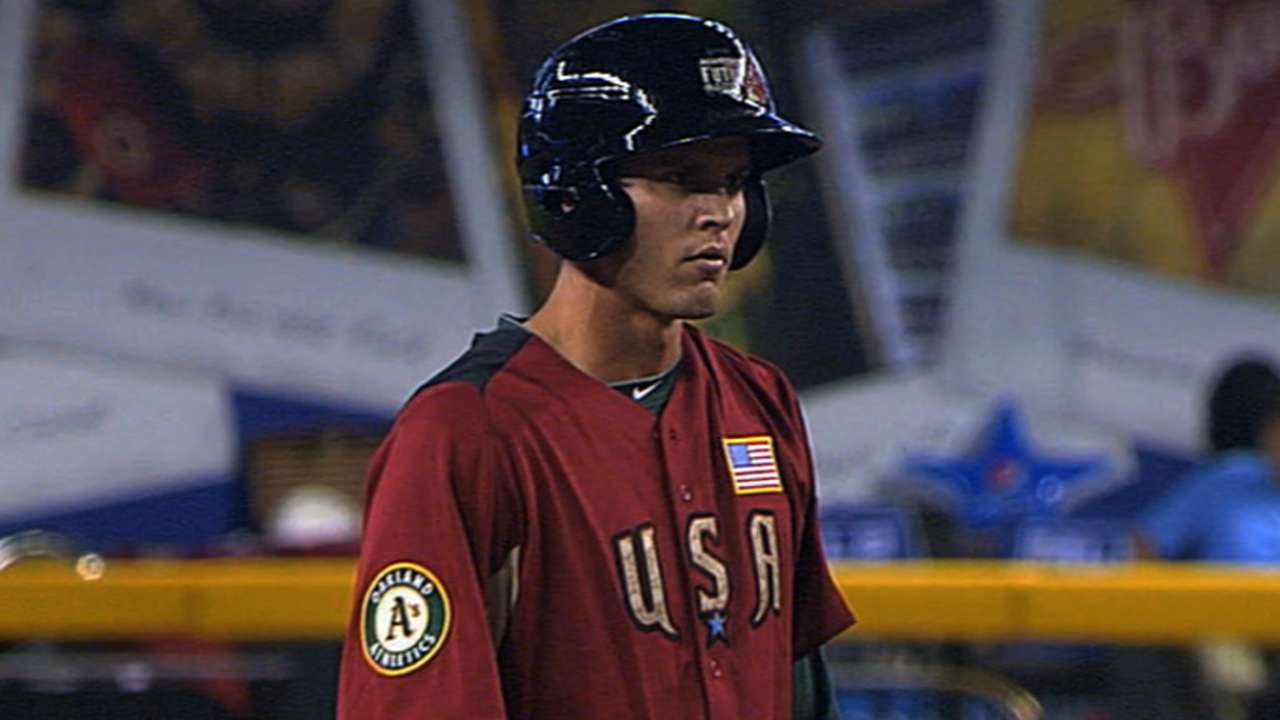 PHOENIX -- Grant Green is a Minor Leaguer who garners attention from fans as though he were a Major Leaguer.
That's because once upon a time, Green was considered to be the A's shortstop of the future. But four years have passed since he was taken in the first round out of the University of Southern California, and fans have been forced to temper any excitement surrounding his potential with patience.
The 25-year-old entered spring swimming in a deep, crowded infield pool, his chances of breaking camp with the team very slim. So despite the fact that he hit .409, with a good showing at his new home at second base, the decision to option him to Triple-A on Sunday wasn't much of a surprise.
Still, his performance was enough to convince a few in the front office that the talent is still there and that he very well may still have a future in Oakland once the crowded infield disperses.
"I think he's made terrific progress from what we saw last year, especially for a guy that's had to play multiple positions and get moved around," manager Bob Melvin said. "He didn't allow it to affect his at-bats. It was a really good showing for him this spring, and I think he's got the chance to get comfortable and be a real good second baseman."
Of Green's nine hits in camp, five went for extra bases. But hitting has never been the problem, as his .302 Minor League average would suggest. Defense has been the bigger question, and the A's have tried him at multiple positions in an effort to determine where he's best suited, including the outfield and third base.
They seem to have found the answer at second base. Of course, that's where the competition is fiercest these days. But even though he remains blocked, Green is staying put, it seems.
"He's a good enough athlete to probably play anywhere, and that probably works against him," Melvin said. "He's played in the outfield, was a shortstop coming out of school, now he's at second base. I'm sure he can play first. There's a lot of things he can do, but we feel he's going to be able to handle second base nicely."
Jane Lee is a reporter for MLB.com. Read her blog, Major Lee-ague, and follow her on Twitter @JaneMLB. This story was not subject to the approval of Major League Baseball or its clubs.