Medlen looking to move past shaky start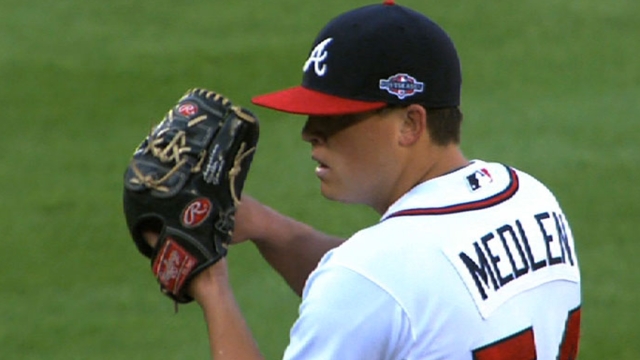 LAKE BUENA VISTA, Fla. -- At the end of a frustrating outing that proved much different than any other he had experienced in his life, Kris Medlen could take solace in the fact that Spring Training results are thrown out the window once the regular season begins.
But it is safe to assume Medlen will not easily forget what he experienced during Monday afternoon's 17-10 win over the Phillies at Champion Stadium. The Braves right-hander surrendered 14 hits and nine earned runs in five innings -- and still got the win.
These are not the results expected from any pitcher, especially one who compiled a 0.97 ERA in the 12 starts he made after transitioning from reliever to starter last year.
"I've never had an outing like that in my life," Medlen said. "I don't think it's ever good to have one of those."
But it is certainly better to experience this now rather than when he opposes the Phillies in two weeks during the first series of the regular season. As that start unfolds, his approach will be different than the one he used while pitching somewhat backwards during this exhibition game.
"I'm not making excuses at all," Medlen said. "I got crushed. But I think we would pitch them a little bit differently during the year. I felt like I had some 2-2 counts and some 1-1 counts where I would normally go to a changeup or offspeed pitch. But I went fastball and just didn't locate it."
After producing a perfect first inning, Medlen allowed seven hits and five runs in the second inning. Darin Ruf's double accounted for the only extra-base hit in the frame, which included a few seeing-eye singles and a Ben Revere single that fell between B.J. Upton and Jason Heyward in right-center field.
Medlen kept the Phillies scoreless in the next two innings and then started to show some fatigue as the Phillies posted four more runs with the help of Domonic Brown's two-run home run in the fifth inning.
"I felt like when I made a pitch they put it in a good spot," Medlen said. "When I didn't make a good pitch, they hit it hard. I got some ground balls and some well-placed ones. But that is a uniform that has never been too kind to me."
Medlen, who has compiled a 5.32 ERA in 13 career appearances (two starts) against the Phillies, could take solace in the fact that he threw 62 of his 84 pitches for strikes. He had needed just 49 pitches to complete 4 2/3 innings against the Marlins in his previous start.
"He might be trying to pitch a little backwards to these guys," manager Fredi Gonzalez said. "At least he got his pitch count up. He hasn't touched 80 pitches the whole spring. So that's good. I don't think he went out there and did it on purpose."
Gonzalez has not announced whether Medlen or Tim Hudson will make the Opening Day start against the Phillies on April 1. But with Hudson scheduled to pitch Thursday against the Nationals and on Tuesday against the Tigers, it appears the Braves could give their veteran the honor.
Mark Bowman is a reporter for MLB.com. This story was not subject to the approval of Major League Baseball or its clubs.