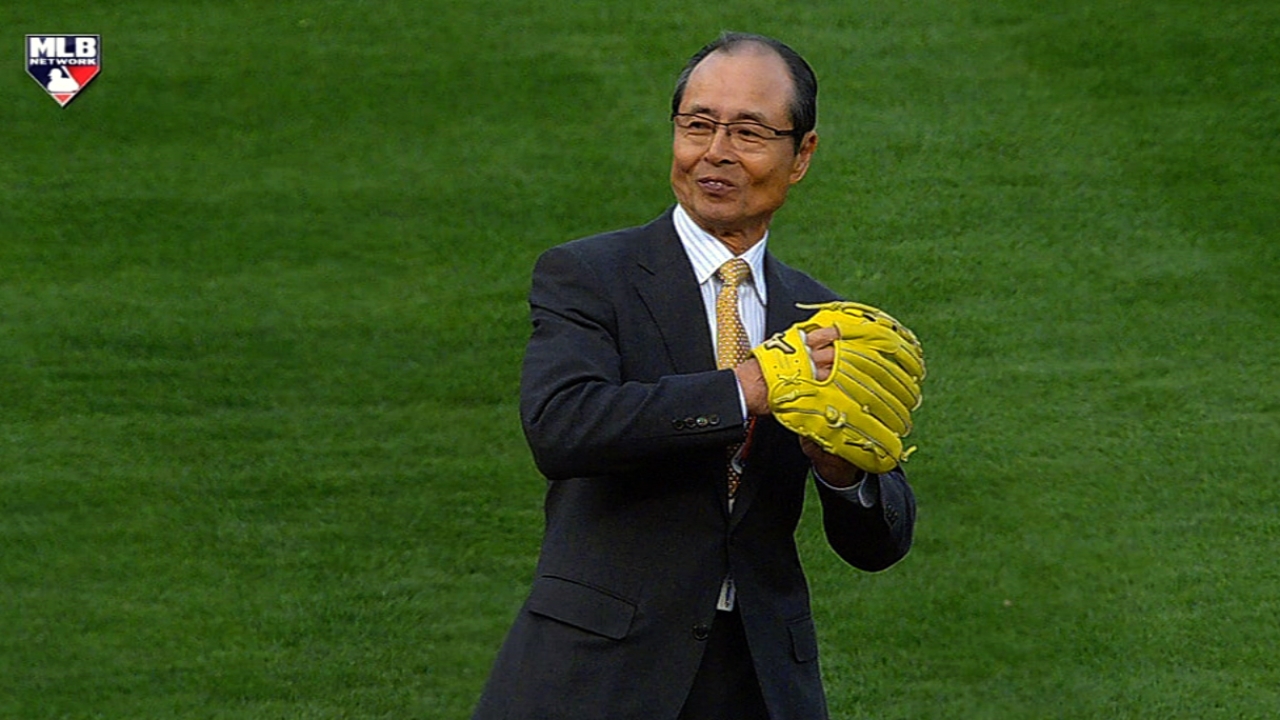 SAN FRANCISCO -- The opening ceremony for the World Baseball Classic Championship Round in San Francisco was a colorful display of international pride as the national teams from Puerto Rico and Japan met in the first semifinal contest Sunday evening.
Following a parade of flags across AT&T Park's outfield representing each of the tournament's 16 participating nations, the starting lineups for both teams were announced to great fanfare from an energetic crowd. The loudest ovation came for Angel Pagan, Puerto Rico's leadoff man and center fielder for the World Series champion San Francisco Giants.
Following the lineup announcements and the national anthems of Puerto Rico, Japan, and the United States, the AT&T Park crowd cheered for the former Japan managers who led their teams to win the first two tournaments.
The crowd greeted Sadaharu Oh, who hit a world-record 868 home runs for the Yomiuri Giants, and Tatsunori Hara, who succeeded Oh as the cleanup hitter on the Giants and hit 382 home runs, as they walked to the mound to deliver the first pitch.
Oh and Hara were welcomed by Hall of Famer Orlando Cepeda of Puerto Rico, a former San Francisco Giant, seven-time All-Star and 1967 National League Most Valuable Player.
Oh, a 1994 Japanese Baseball Hall of Fame inductee, set the standard for baseball greatness in 22 seasons. In addition to his home run record, he led the Giants to nine consecutive Japan Series titles from 1965-73.
"As I was remembering the time we won [the 2006 World Baseball Classic], I pitched with manager Hara tonight," said Oh in a statement released by Major League Baseball. "I was really happy standing on the mound on the field; it's the best feeling to stand on it like this. I'm cheering for Samurai Japan and hope they win."
Oh won the Japanese Central League's batting Triple Crown twice and drove in 2,170 runs while leading the league in home runs 15 times and earning nine MVP awards. Oh also managed in the Nippon Professional Baseball League until 2008 and won Japan Series titles in 1999 and 2003.
Hara was a third baseman for the Giants during his 15-year career in which he was an 11-time All-Star. He was the 1981 Rookie of the Year in the Central League and MVP in '82. Hara is the current manager of the Yomiuri Giants, where he's won three Japan Series Championships, including the 2012 title.
"To be on the international baseball stage of the World Baseball Classic and throw the ceremonial first pitch with Mr. Oh has been the single best first pitch for me ever," Hara said. "I didn't know that I was going to do it until I arrived tonight, but I gladly accepted."
Manny Randhawa and Sam King are contributors to MLB.com. This story was not subject to the approval of Major League Baseball or its clubs.