Nova's adjustments a work in progress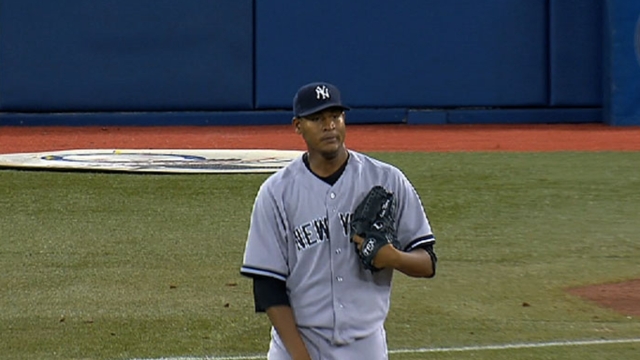 BRADENTON, Fla. -- Ivan Nova has been trying to work on making his arm action shorter this spring. While the Yankees' right-hander has seen some good results, it is still very much a work in progress.
"We keep working on that, and we're getting better," Nova said. "I've been throwing my balls with [a] better angle, and that's something positive. Like I say, I feel good."
Nova allowed four runs in five innings on Sunday, as the Yankees defeated the Pirates, 11-9, at McKechnie Field. Nova pitched three scoreless innings before the Pirates put up three runs in the fourth, as Pedro Alvarez, Gaby Sanchez and Travis Snider picked up RBIs.
Clint Barmes added a solo home run off Nova in the fifth on a fastball that he left over the middle of the plate. Yankees manager Joe Girardi said that Nova left some pitches up, but also said Nova showed a good curveball in Sunday's start, in which he walked one and struck out four.
"Any time you make an adjustment, it takes some time to get used to," Girardi said. "The only way to get better in this game is, a lot of times, you have to make adjustments and eventually it becomes second nature."
Nova said he and pitching coach Larry Rothschild are essentially using the shorter arm action from his curveball and expanding it to his other pitches. Nova is 1-0 with a 3.29 ERA in four spring starts, but said he isn't concerned with proving to the Yankees that he belongs in the rotation.
"Like I always say, for me, I don't think I've got to show [that]," Nova said. "I've got to just pitch my game, do the best that I can out there and they're going to make the decision. Even if I pitch good or not, it's their decision. It's not mine."