Braun, Lucroy reflect on Classic experience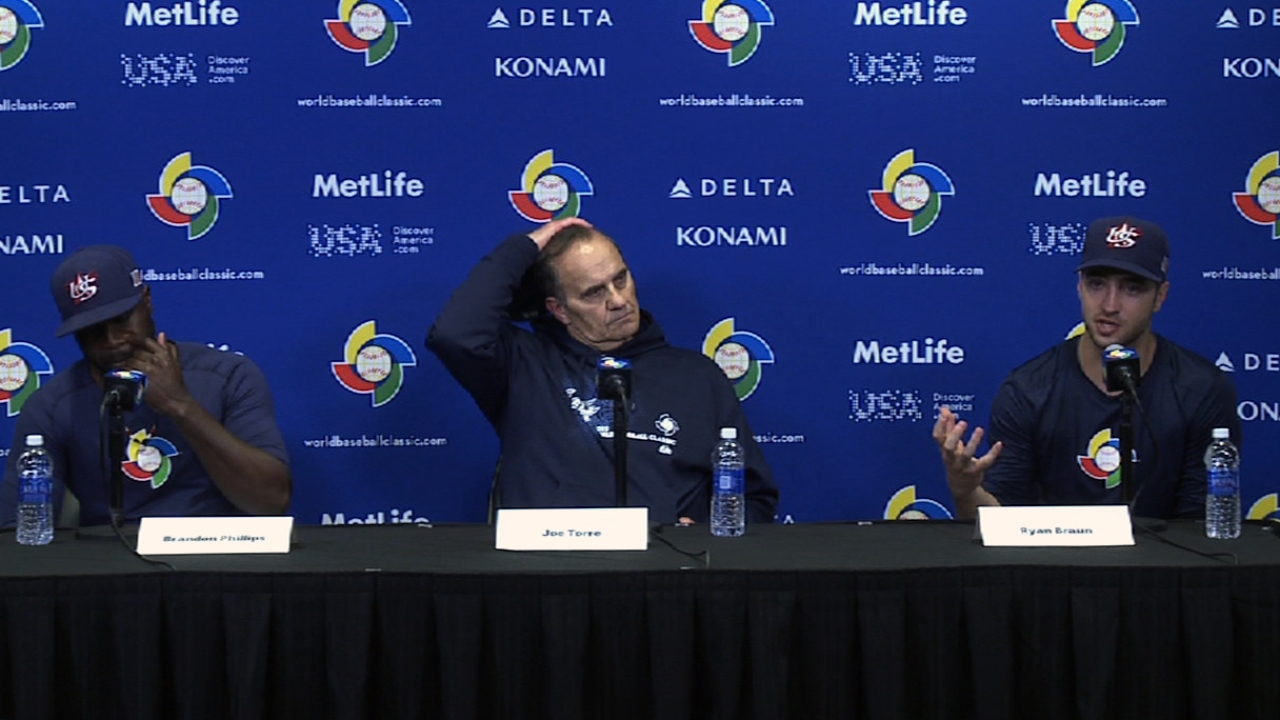 GLENDALE, Ariz. -- There's a dichotomy inherent in Team USA's experience in the World Baseball Classic that both Jonathan Lucroy and Ryan Braun pointed out as they returned to Brewers camp Sunday following elimination Friday from the second round of the tournament.
On one hand, there's a national pride and an unsurpassed atmosphere.
"It was unbelievable -- I've never felt any kind of energy like that ever," Lucroy said. "It was a great experience and a great time. The energy that the Dominican crowds, the Mexican crowds, the Puerto Rican crowds had -- the only thing that rivals that is the playoffs in 2011."
For Braun, there was no luster lost in his second Classic, and he echoed his teammate about the experience of playing for his country.
"It was amazing," Braun said. "Honestly, it was one of the best baseball experiences I've ever had. It's a lot of fun, it's really special. The atmosphere far surpassed any regular-season game I've ever played in. It was just as good as any playoff game, but completely different. The energy, the atmosphere -- a lot of that has to do with the Latin fans. The horns, the drums, the energy, the passion -- all game. It doesn't stop. For our [MLB] games, people get excited when something good or bad happens. But that atmosphere was nonstop."
Mixed in with the euphoria, however, was a profound sense of disappointment for Team USA's continued failure to reach the final and, for the second time in three Classics, missing playing a semifinal game.
"Everybody played their heart out and gave everything they had," Lucroy said. "There's always unfinished business there. Obviously we've gone three times without being in the final, so you want to go back."
Lucroy said he would definitely return if invited again, despite the challenge of finding a time that works for Major League players. Noting most of the other countries play baseball year round and treat the Classic like "their World Series," Team USA's players are focused on preparing for their season. They are not up to speed in early and mid-Spring Training; an extended break during the season would be too intrusive to the majority of Major Leaguers not participating; and playing at the end of an MLB season would be a hard sell for pitchers and other players coming off a 162-game season.
"Everybody's disappointed," Braun said. "It's impossible to be completely prepared, but at the same time, we all knew what we were getting into. By no means are those things a crutch or an excuse as to why we didn't play well, but it's also a fact. We're not where we would be a month or two from now. We lost to Mexico, the Dominican, and Puerto Rico, and all three of those teams were playing All-Star-caliber players on the other side. In short, one-game, playoff-type atmosphere, anything can happen and does happen."
Lucroy was back in the lineup for the Brewers on Sunday after limited game action serving as the backup catcher behind Joe Mauer for most of the tournament. Braun played six full games, however, and will not start for the Brewers before Tuesday or Wednesday.
Owen Perkins is a contributor to MLB.com. This story was not subject to the approval of Major League Baseball or its clubs.