Greinke tests elbow with a bullpen session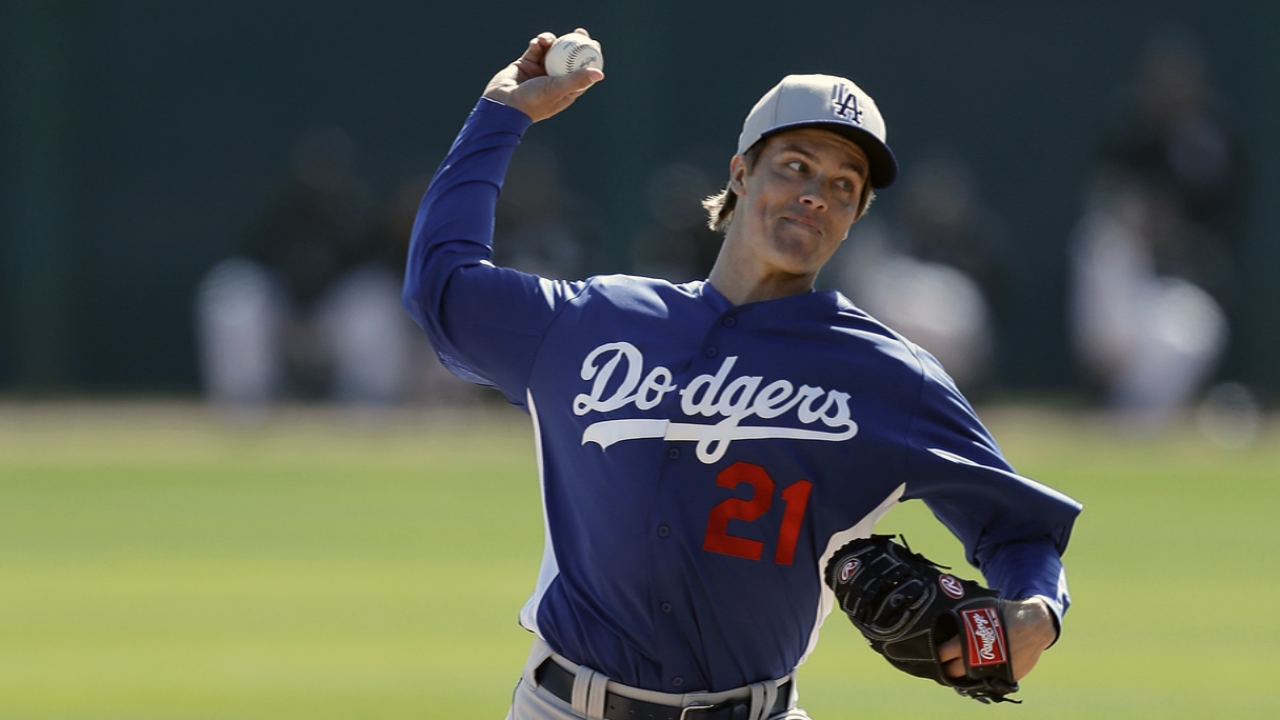 GLENDALE, Ariz. - Dodgers pitcher Zack Greinke said he felt good and had no issues after throwing a bullpen session Sunday, his first time off a mound since being shut down with elbow soreness.
Greinke wouldn't say whether he thought he'd be ready for his first regular-season start April 2.
"I felt good, working on stuff, trying to be sharp for the game," Greinke said. "I just want to do what's best for the team. It's not important what day."
Greinke threw all of his pitches in a 38-pitch bullpen session after a five-minute warmup in the outfield. He said he "probably threw a little more" than he expected to.
The session came six days after he received a platelet-rich plasma injection and medication for inflammation in the back of his elbow.
After a handful of throws from behind the mound, Greinke made 20 pitches out of the stretch, then 18 more out of the windup. Afterward, he spent five minutes talking to manager Don Mattingly and pitching coach Rick Honeycutt. Also attending the session was general manager Ned Colletti, vice president of medical services Stan Conte and a handful of other club officials.
"I'm just trying to get ready," Greinke said. "I don't think about it as a rehab."
Greinke has made just two starts this Spring for a total of five innings. His most recent start was March 1, when he went three innings.
Greinke missed a bullpen session with elbow discomfort on March 3 and missed a start with the flu March 6. He then threw a bullpen session on March 8 without apparent problems, but was scratched from his start this past Monday and was sent for an examination in Los Angeles, where he received the injection.
Because the inflammation arose the day after his previous bullpen session, club officials will wait until seeing how Greinke emerges on Monday before breathing a sigh of relief over their $147 million offseason signing. Greinke didn't sound concerned.
"I could have something, I don't know," Greinke said, referring to Monday. "I'm assuming I'm going to be fine and be on track to do whatever. I don't know for sure."
His first scheduled regular-season start is April 2, and it's unclear if he'll have enough foundational innings logged to make that.
"I'm just doing what's laid out to give everyone their best chance," Greinke said. "We've got other starting pitchers. I just have to be ready."
Greinke has exceeded 200 innings pitched in four of the past five seasons. He missed that mark in 2011 because of a broken rib suffered in a spring pickup basketball game that left him on the shelf throughout April.
Ken Gurnick is a reporter for MLB.com. This story was not subject to the approval of Major League Baseball or its clubs.