Donaldson undeterred by lack of Cactus League hits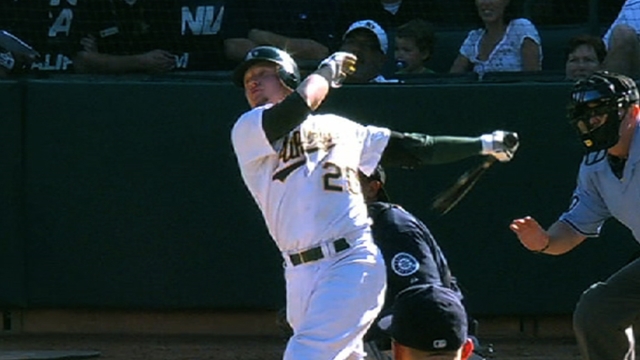 PHOENIX -- Numbers would indicate that Josh Donaldson is Oakland's worst hitter this spring. But there's plenty of evidence proving otherwise.
Donaldson entered Saturday batting .111 through 11 games, before he went 1-for-2 with a home run to bump it to .138. Still, that's the lowest mark of any A's player with at least 15 at-bats. Donaldson has 29, with just four hits in that span. But he thinks he should have a lot more.
"I actually feel pretty good about where I am right now," Donaldson said Saturday. "I think I've lined out about 15 times. It's one of those things where, by the time the season rolls around, they're falling in."
The A's third baseman does have two more home runs in his pocket that he literally saved for a rainy day. Both came in a rained-out game against the Mariners but didn't count.
Then again, do any spring numbers?
Not when you have job security, as Donaldson does. Since last August, when he was promoted from Triple-A to replace an injured Brandon Inge, manager Bob Melvin has consistently supported Donaldson as the everyday guy at the hot corner. The team even moved Scott Sizemore from third back to second to accommodate Donaldson.
"When I came up the last time, I remember Bob telling the media, JD is our starting third baseman from here on out," Donaldson said. "That's huge for me. Him saying that I was going to get the playing time kind of allowed me to take my mind off the hitting and concentrate on defense. I've always been able to hit a little bit, and when I wasn't thinking about it too much, I started coming around."
After batting .153 with one home run in 28 games over two stints with the A's before the All-Star break, Donaldson returned in mid-August and hit .290 with eight home runs over his final 47 games. He also started all five games of the American League Division Series, batting .294.
"At times last year he was trying to do too much, trying to hit the ball out of the ballpark, which is something that he probably continually fights with a little bit," Melvin said. "But when he was successful last year, he knows he was hitting the ball all over the ballpark.
"They may not be falling in right now, but we're not worried about him. We like his approach."
Added Donaldson: "I feel like my approach is getting better every day, that I'm seeing the ball well and swinging at pitches that I want to swing at. Right now I'm just honing in on the zone, and that was a big part of what allowed me to turn it around last year. I was kind of swinging at everything, not really focusing on pitches I can hit. Now, I wait for them to show up. With two weeks left here, I feel like I'm right on pace."
And his defense, constantly in question since the day he removed his catcher's gear to play third base last spring, is now a non-issue.
"That's his strength," Melvin said. "He ended up being one of the top defenders in the league the last few months of the season -- one, because of hard work, [and] two, because he's a good athlete. He could literally probably play anywhere on the diamond."
Jane Lee is a reporter for MLB.com. This story was not subject to the approval of Major League Baseball or its clubs.