Brown in the lead to grab outfield spot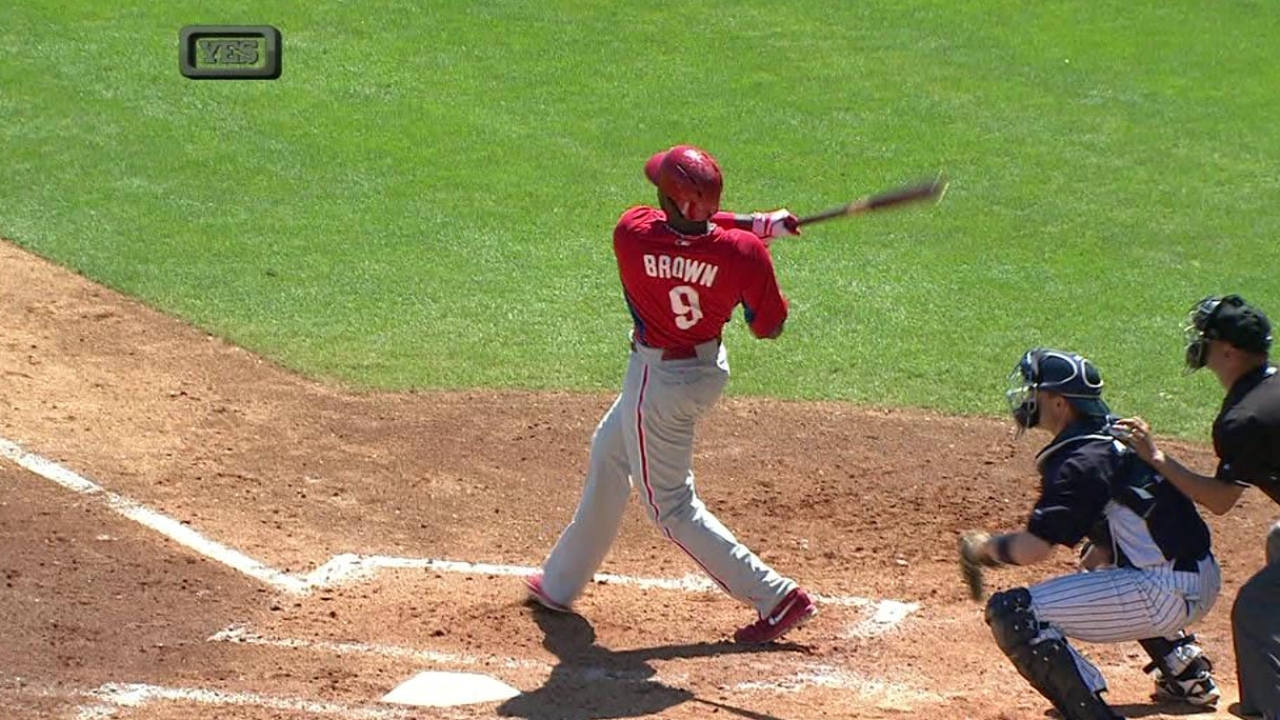 TAMPA, Fla. -- Outfielder Domonic Brown, once considered the Phillies' top prospect, was something of a question mark coming into Spring Training. And manager Charlie Manuel still isn't ready to announce who his corner outfielders will be.
But after Brown hit a big three-run homer in the fourth to start the Phillies on their way to a 7-0 win over the Yankees at George M. Steinbrenner Field on Saturday -- and also made a diving defensive gem -- Manuel admitted he definitely has the inside track to a starting spot in either left or right.
"Definitely is -- I'd say right now he's got the lead. Kind of like Smarty Jones or Big Brown out front," Manuel said. "He had a big game, especially the ball he went for in the gap and dove. That's the best catch I've seen him make. He's definitely gotten better in the outfield, and his hitting is real good. He's got good balance at the plate. He's lowered his hands some. And he's catching the ball at an angle out front. That's when his power plays for him."
Said Brown, who is hitting .365 with four homers in Grapefruit League play:
"It feels good on my end. I'm just feeling confident, going out there and playing hard. I just try to square it up. I'm not thinking about being a power hitter or nothing like that. I'm just going out and playing baseball. If I catch it at the correct angle, I know I can hit a couple home runs.
"I just haven't been worried about anything. I've just been going out there, playing hard and making sure I'm doing the little things. I'm going out, doing my early work and working my butt off. If you do that, the game should be easy for you."
Paul Hagen is a reporter for MLB.com. This story was not subject to the approval of Major League Baseball or its clubs.