Young Marlins closer Cishek embraces World stage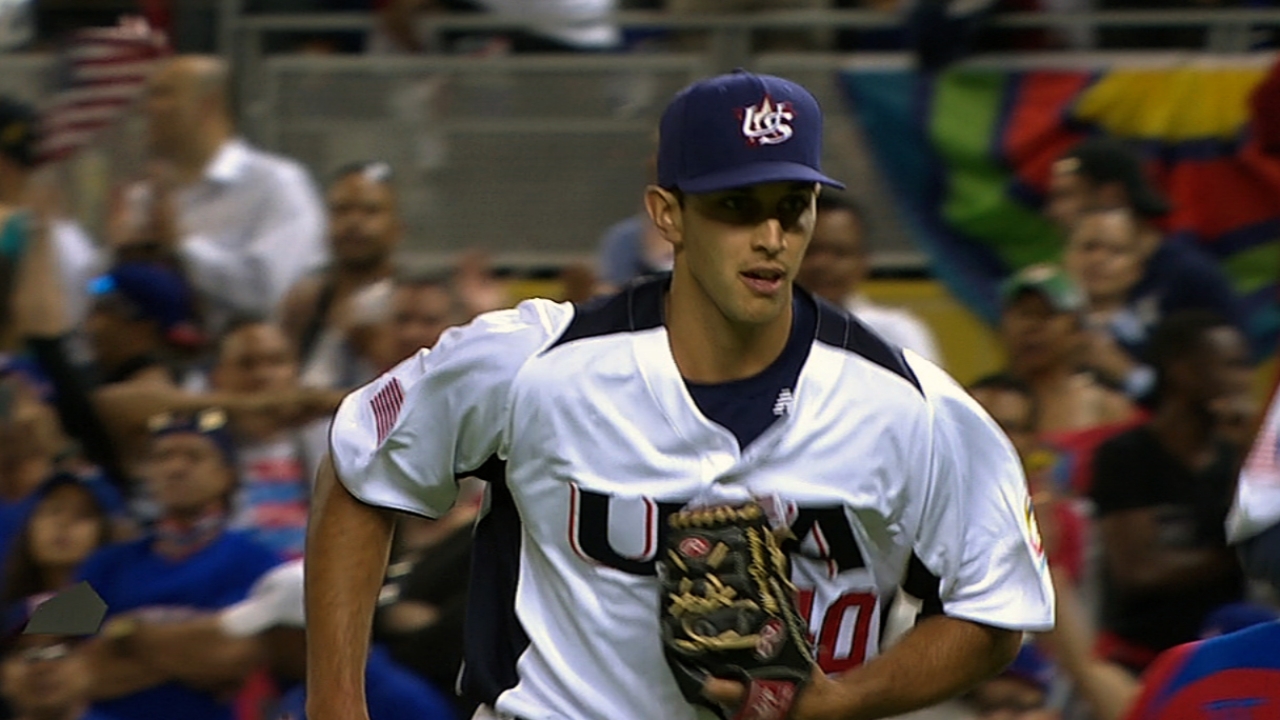 MIAMI -- The international stage certainly is giving Marlins closer Steve Cishek plenty of recognition.
Cishek has already made a couple of impressive showings in the World Baseball Classic, including retiring all four batters he faced in the late innings of Team USA's 3-1 loss to the Dominican Republic on Thursday night.
Cishek entered in the seventh inning of a tie game with runners on first and second and two outs. He was able to retire Miguel Tejada on a slow roller back to the mound.
And in the eighth inning, Cishek was dominant, striking out Robinson Cano and getting Edwin Encarnacion on a groundout to shortstop. The inning ended when Cishek struck out Hanley Ramirez, his former Marlins' teammate, on three pitches.
"I didn't know a whole lot about him," U.S. manager Joe Torre said. "The people that have seen him basically talked him up because of his ability. But I think we've seen a pretty good taste of it, and a pretty good example of his passion, too. He's been pumped up after he's done the job. He's special. There is no question."
A rangy right-hander with a decisive sidearm delivery, Cishek is quiet and humble by nature. In the tournament, he's showed some intensity on the mound.
After catching Ramirez looking on a slider, he glared in the direction of home plate. Initially, it appeared like he was staring at his ex-teammate. Cishek clarified that he was more relieved, and happened to be looking toward the plate.
"Someone else said that too," Cishek said when asked about the glance. "It was more a sigh of relief. When I released it, I was like, 'Oh no, I hung a slider.' He ended up looking at it. It was more of a blow of relief. I was just fired up that he didn't swing at it, basically."
The beauty of the Classic is it is giving international exposure to players who don't always get the attention. Cishek is one of them. He's soaking in the energy and enthusiasm of the games. Against the Dominican Republic, it was an electric atmosphere.
"It was crazy," Cishek said. "I don't know what to compare it to. The fans were just yelling non-stop the whole game. When you get out there, it's like a whole different level, people just screaming all the time. It was just unbelievable. It gets your blood flowing. You just can't wait to get out there."
Joe Frisaro is a reporter for MLB.com. He writes a blog, called The Fish Pond. Follow him on Twitter Share This