Vitters happy to get game action under way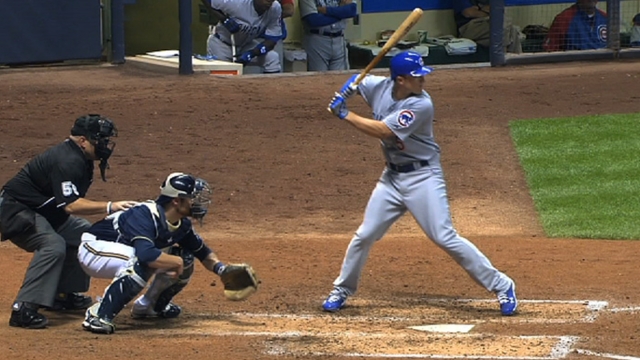 MESA, Ariz. -- Josh Vitters finally got in a game for the first time since Feb. 21, and it didn't take long for him to get tested.
Vitters, 23, sidelined with a sore left quad, subbed in the Cubs' game in Glendale against the Dodgers on Thursday.
"I got to test [my leg] on the first ball I hit, I hit a grounder to shortstop," Vitters said. "It's kind of good that I had a couple ground balls and got to test it out. I didn't push it quite to 100 percent, but I picked it up pretty close."
It's been a frustrating spring for Vitters, the Cubs' No. 1 Draft pick in 2007 and the club's No. 14 prospect. The Cubs project him to start at Triple-A Iowa this season, but Vitters wanted to show he was better than the .121 he put together in 36 games with the big league team at the end of last season.
"I learned that the big leagues is hard, it's hard for a reason," Vitters said of his experience last year. "Obviously, the competition is really good and it's something you have to learn how to mentally prepare for and physically prepare for, and that's what I did over the offseason. Going into this year, I feel a lot more confident than I did last season."
Vitters hit .304 at Iowa last year before he was called up Aug. 5. He was frustrated when he was sidelined after the first intrasquad game this spring.
"It's terrible, it's awful, it really is," he said. "I had to work through it, and I'm just happy to be here every day, and really happy to be back on the field now."
Vitters started at third base for the Cubs in Friday's exhibition game against Team Japan.
Carrie Muskat is a reporter for MLB.com. She writes a blog, Muskat Ramblings, and you can follow her on Twitter @CarrieMuskat. This story was not subject to the approval of Major League Baseball or its clubs.