Dutch add Profar and Jansen to bolster roster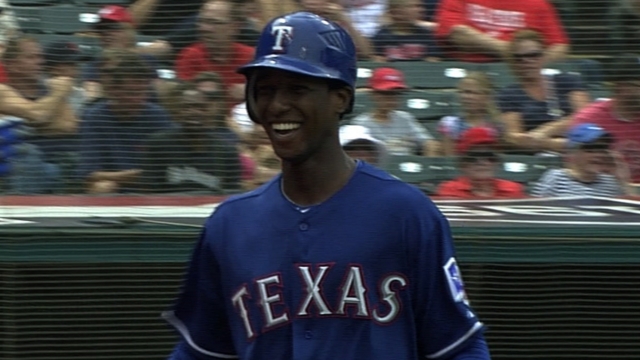 PEORIA, Ariz. -- The team from the Netherlands that's been taking names in the World Baseball Classic added a few more big ones Thursday.
Top Texas Rangers prospect Jurickson Profar was officially added to the roster and will play second base, and Dodgers closer Kenley Jansen will join the team after his game for Los Angeles against Kansas City on Friday.
"We got better," manager Hensley Meulens said. "We got two big-league players."
Jansen, who has come along slowly this spring after undergoing surgery last October to correct an irregular heartbeat, said he was looking forward to getting into a game after watching as many highlights as he could of his team as it knocked out Cuba to advance from the second round in Tokyo to the semifinal round in San Francisco's AT&T Park.
The Kingdom of the Netherlands will play in the second semifinal game, which will be Monday at 6 p.m. PT. The Dutch will face the Pool 2 winner, which is still being contested at Marlins Park in Miami. The championship game will be Tuesday at 5 p.m. PT. All World Baseball Classic games can be seen on MLB Network and ESPN Deportes.
"I'm definitely excited," Jansen said after greeting his Dutch teammates, many of whom are from his native island country of Curacao. "I'm finally back in rhythm and back on track, and this is going to be exciting to help these guys win.
"Now I'm feeling fine and I'm ready. It's going to be exciting playing the final four. It's going to be great."
Jansen, who played for the Dutch team in the 2009 Classic as a catcher before converting to a reliever, also expressed gratitude that the Dodgers were willing to let him participate.
"They think it will be pretty good for me, especially if I'm ready for Opening Day, because it will be more competition for me," Jansen said. "It's going to be good."
Profar, meanwhile, was finally added to the mix, as expected, and Meulens penciled him in at second. Profar is a shortstop prospect, but played five games for the Rangers at second last year after a brief call-up. Meulens didn't want to move his starter at shortstop, Andrelton Simmons of the Braves, who has been brilliant in this tournament. Orioles farmhand Jonathan Schoop was at second but moved to third base, where he has played before. That relegated Red Sox prospect Xander Bogaerts to the bench.
Profar showed up on Thursday, took batting practice with his Dutch teammates, signed autographs and said that he's watched every game so far and is thrilled to be here. He was asked if he hopes the intensity of the tournament will help him prepare the season and he said, "I don't hope … I know it's going to help."
Meulens said he's been in touch with Profar all along and that it was only a matter of time before he would join Team Nederland.
"This guy has supported us this whole tournament," Meulens said. "We've talked to guys on the BlackBerry messenger and Twitter. It's not like he's just walking in and we haven't seen him or talked to him."
"And this guy has the chance to have the best of both worlds. He had a good Spring Training to show what he can do. They're saying he's ready to play in the big leagues. And now he's got a chance to represent his country in the final of the biggest tournament he's ever played. So it's a big deal for us. He's a great player and he made us better today."
Doug Miller is a reporter for MLB.com. Follow him on Twitter @DougMillerMLB. This story was not subject to the approval of Major League Baseball or its clubs.