Crawford rehabs with Minor League at-bats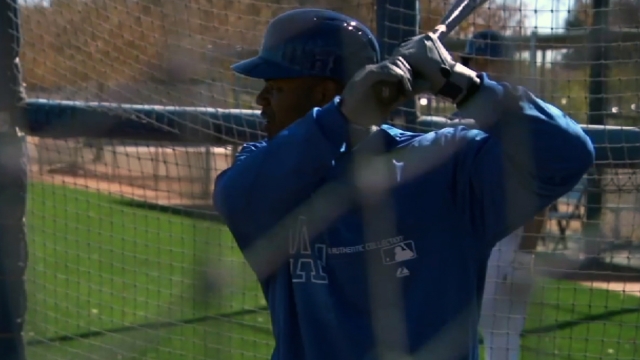 GLENDALE, Ariz. -- The Dodgers had only four hits in an 8-1 loss to the Cubs on Thursday, but over on the Minor League side, Carl Crawford was making steady progress in his bid to join the lineup.
Crawford took six at-bats in a camp game against Meiji University of Japan, then played catch from 60 feet for the first time since being shut down 13 days ago with nerve irritation in a rehab setback from Tommy John surgery.
"Everything's good and I hope to do more tomorrow," said Crawford, still intent on being ready for Opening Day.
"It's a good step," said manager Don Mattingly, who said he might ask opponents to reinstate the designated hitter so Crawford can see Major League pitching. He hasn't played in a Cactus League exhibition game yet. "We've talked about it. He needs to get over here."
While Mattingly was pleased with Crawford's news, he was disappointed with his team's energy level Thursday.
"I don't know if it was sloppy, but it was one of those days," said Mattingly. "It feels like we've been here a long time now. Our defensive drill work was pretty good but we got into the offensive routine and I saw no energy. I've got a feeling it's not just us, but I still don't like it.
"You get bad habits when you play without energy. You've got to push yourself through it. I've been there, but you've still got to push through it."
On the pitching end, Mattingly got solid relief efforts from Kevin Gregg, Matt Guerrier and Mark Lowe, plus Ronald Belisario turned it on after a rocky beginning to his one-inning stint.
But starter Chris Capuano allowed five runs in the first three innings before righting his ship and retiring the last five batters he faced. Capuano said he had trouble with command of his fastball, especially out of the stretch. His spring ERA is 10.61.
"As the game went on, I just wanted to be more athletic and let the ball go a little more instead of being so focused on mechanics," Capuano said. "Once I did that, it was more natural and I hit my spots."
Ken Gurnick is a reporter for MLB.com. This story was not subject to the approval of Major League Baseball or its clubs.